Review: Patti LuPone: No Monkeying Around in Worcester
Patti LuPone in Don't Monkey with Broadway
Musical Direction/Accompanist, Joseph Thalken; Conceived/Directed by Scott Wittman
Also featuring The Worcester Chorus, directed by Chris Shepard
Presented by Music Worcester, Inc.
157th Worcester Music Festival
Mechanics Hall, 321 Main Street, Worcester, MA
September 20, 2016
Music Worcester had a grand opening to its 157th season last night at beautiful Mechanics Hall, a treasure in downtown Worcester, presenting Patti LuPone in her latest solo concert program, Don't Monkey with Broadway. The star of stage, film, television, and recordings knows something about longevity as she continues to be a hot commodity in her fifth decade in the business. This summer, LuPone starred with Christine Ebersole in the world premiere of the new Scott Frankel-Michael Korie-Douglas Wright musical War Paint, which was the most financially successful show in the history of Chicago's Goodman Theatre. The story of the rivalry between cosmetics titans Helena Rubinstein (LuPone) and Elizabeth Arden (Ebersole) is rumored to be heading for Broadway in the spring of 2017.
Sharing the stage with her fantastic musical director/accompanist Joseph Thalken, LuPone opened the program with Cole Porter's "Please Don't Monkey with Broadway," followed by some personal remarks about the changes she's witnessed in New York City and along the Great White Way since her youth. Lamenting what she referred to as the Disney Walk of Shame (42nd Street), and the swarms of people in Times Square taking selfies in front of theater marquees with no intention of seeing the show, it was clear that she still sees herself as a Broadway baby fulfilling her destiny. Her destiny includes two Tony Awards (Evita, Gypsy), three Drama Desk Awards, and numerous nominations, as well as two Grammy Awards, so far.
Hearing LuPone sing some of her signature songs live was thrilling. She evoked chills recreating Mama Rose ("Some People") and Eva Peron ("Don't Cry for me Argentina"), and came close to blowing the roof off as Reno Sweeney ("Blow, Gabriel, Blow"). Even though the 1976 show died out of town before she could make her Broadway musical theatre debut, The Baker's Wife provided her with a touching song ("The Meadowlark") to add to her canon. Having heard it on the radio many times, I found its message so much more compelling in person. Of course, LuPone is masterful in her ability to act a song, crafting a drama or comedy with her voice and personality.
This was shown to its greatest effect when she took on the dual roles of Anita and Maria in her hilarious rendition of their West Side Story duet, "A Boy Like That." Perhaps all artists are a little bit schizophrenic, but, hey - one might as well put it to good use! Naming the Leonard Bernstein/Stephen Sondheim creation as her all-time favorite musical, LuPone put her stamp on "Something's Coming" and "Somewhere," and then showed her Sondheim chops in selections from Anyone Can Whistle and Company. Two of her showstoppers came from the latter, a powerful "Being Alive," and, as an encore, a boozy, sardonic "Ladies Who Lunch." She may have one-upped Elaine Stritch, tossing her drink into the crowd at the end of the anthem to dilettantes.
The program focused on LuPone's history in the first act, including selections from shows that influenced her in some way, whether or not she played the character whose song she featured. The impressive range went from "Happy Talk" (South Pacific) and "Big Spender" (Sweet Charity), to Hair's "Easy to be Hard" (lovely, heartfelt) and James Taylor's "Millwork" from Working. "I Cain't Say No" (Oklahoma) represented Rodgers & Hammerstein before a Jule Styne interlude. She totally nailed the patter song "If You Hadn't, But You Did," and stopped the show again with "Some People."
After intermission, with the 75-plus members of The Worcester Chorus filling the stage behind her, LuPone et al did a rousing version of The Music Man's "Ya Got Trouble," "Sit Down, You're Rocking the Boat," and a mesmerizing "Sleepy Man" from The Robber Bridegroom. They joined her again on "Some Other Time" (On the Town), sung without amplification, giving it a lovely, throwback feeling. With the excellent acoustics in Mechanics Hall and her technical training, LuPone had no trouble making herself heard sans microphone. It could have been a wonderful conclusion, but the crowd was unwilling to let her go. When she returned for a final encore, an audience member presented her with a bouquet of roses. As she sang her a cappella version of "A Hundred Years from Today," she strolled to every corner of the stage, tossing long-stemmed flowers to yearning, outstretched arms in the mezzanine and on the main floor. With its message to enjoy life because what is done won't matter in a hundred years, the 1933 song was a fitting end to an evening when we all enjoyed life, thanks to the tremendous talents of Patti LuPone and Joseph Thalken.
From producing and starring in family holiday pageants as a child, to avid member of Broadway Across America and Show of the Month Club, Nancy has cultivated her love of the art and respect for the... (read more about this author)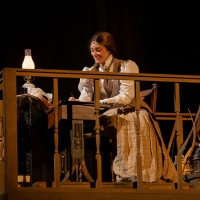 LITTLE WOMEN: THE BROADWAY MUSICAL

December 1, 2022

Have there ever been such devoted sisters as the four March girls, birthed by Louisa May Alcott in her postbellum semi-autobiographical novel LITTLE WOMEN? Director Ilyse Robbins shows her abiding affection for the story with her devotion to its heart and soul on display in the production of the 2005 Broadway Musical at Greater Boston Stage Company.
---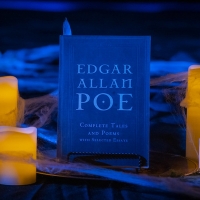 REVIEW: THE EDGAR ALLAN POE DOUBLEHEADER

October 28, 2022

If you have yet to reach your fright limit for the Halloween season, you still have two chances to experience chills of the dramatic variety at THT Rep at the BrickBox Theater in Worcester. Reprising the production she created for small, socially-distanced audiences of 20 in the early days of the pandemic, Artistic Director Livy Scanlon is performing THE EDGAR ALLAN POE DOUBLEHEADER in front of 290 stadium-style seats.
---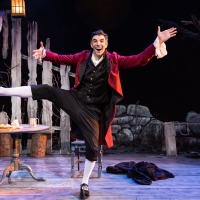 REVIEW: THE LEGEND OF SLEEPY HOLLOW

October 26, 2022

Two hundred years after Washington Irving introduced the little hamlet of Sleepy Hollow and its superstitious denizens to the canon of American literature, the legend remains among the most enduring of stories that capture the imagination of adults and children alike, inspire questions about the supernatural realm, and scare the bejesus out of its audience.
---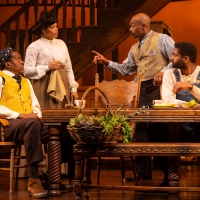 Review: AUGUST WILSON'S JOE TURNER'S COME AND GONE

October 22, 2022

JOE TURNER'S COME AND GONE was the first Wilson play produced at the Huntington in 1986, the beginning of a 19-year relationship that saw all ten of his American Century Cycle plays chronicling the African American experience in the 20th century performed on the local stage.
---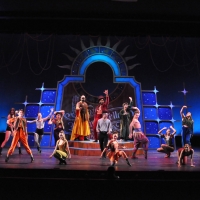 Review: PIPPIN: Growing Up Is Hard To Do

August 8, 2022

The second and final production of Reagle Music Theatre of Greater Boston's 2022 season is Stephen Schwartz's PIPPIN, originally produced on the Broadway stage in 1972 with direction and choreography by Bob Fosse, and revived/reimagined in 2013 by Diane Paulus at the American Repertory Theater before going to Broadway. Undaunted by following in those two very large sets of footsteps, RMT Artistic Director Rachel Bertone forges her own path to stage a version that leads with an enlarged heart and a healthy helping of fun and whimsy.
---