BWW Review: EQUIVOCATION at Actors' Shakespeare Project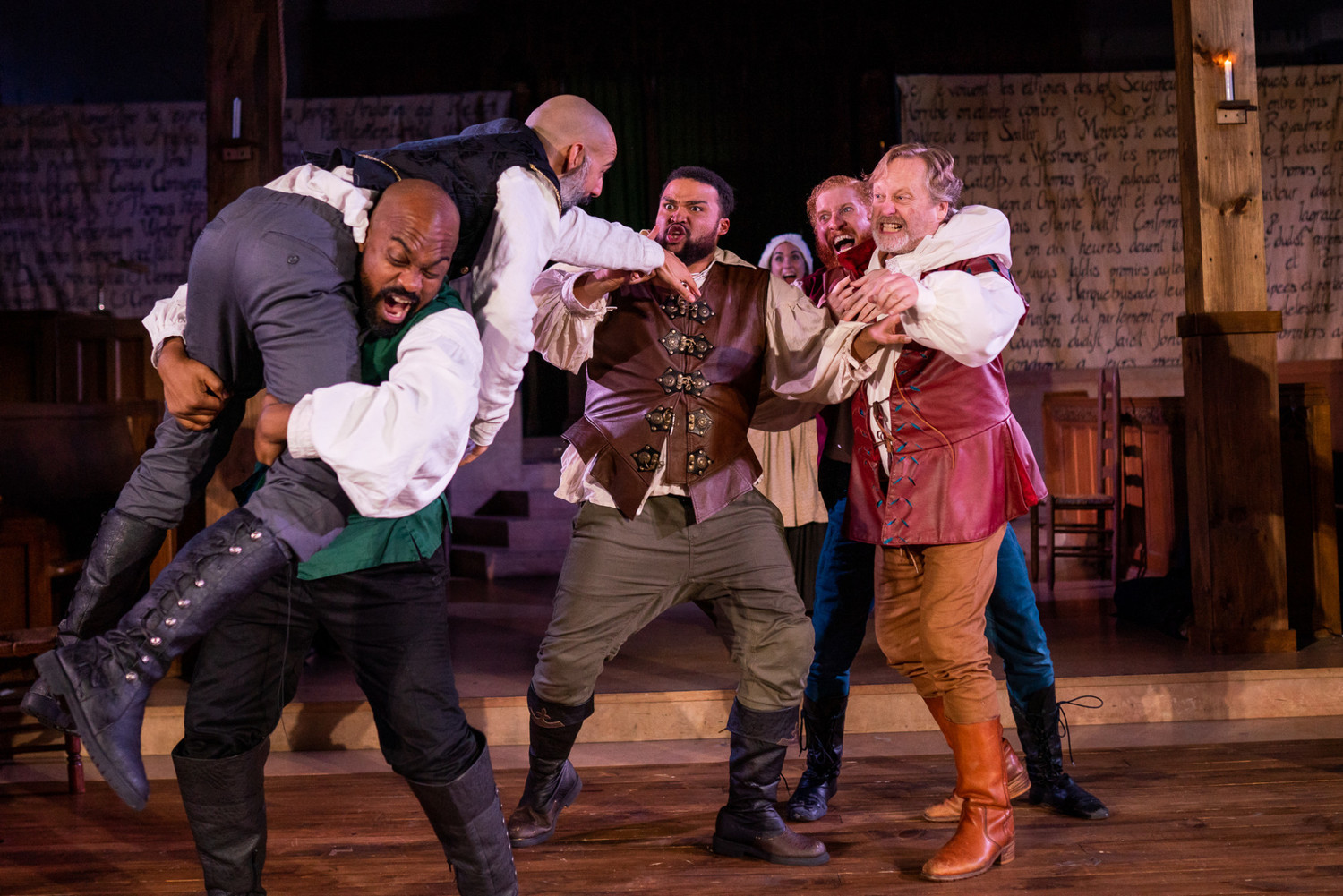 At the Saturday afternoon Matinee, at the United Parish Church, Brookline, MA, The Actor's Shakespeare Project presented Bill Cain's Play Equivocation. The result was a success in every way. This was my first viewing of this play and while it is a lot to take in, (more about that later) I thoroughly enjoyed myself in no small part due to the extraordinary performance by company member Steven Barkhimer as Shag, and the very strong performances by the ensemble.
The play takes place in 1605, Robert Cecil, prime minister to King James I of England, commissions "William Shagspeare" (Cain's spelling of Shakespeare) to write a play about the recent Gunpowder Plot -- an attempt to blow up the king and his court. The king simply requests that "Shag" add some flattering dialogue -- and witches -- to the plot. During the course of Bill Cain's play, "Shagspeare" and his company grapple with issues of artistry, politics, morality and -- perhaps most importantly -- life and death. If Shag accepts the commission, and the play inadvertently offends the king, both playwright and players could lose their heads. Shag must decide to what degree he is willing to equivocate about the truth, and how he can serve his king and still maintain his integrity, as an artist. This is a witty and poignant ensemble piece in which six actors play well over a dozen roles, some of which include snippets of Shakespeare's other plays-in-progress (one of which becomes the famous Macbeth).
This play truly is an ensemble piece with several actors taking on multiple roles, often times simultaneously, which requires great dexterity from the actors, and concentration from the actors and the audience alike to keep up. The play showcases exactly how a resident company can excel in this type of work. It is obvious that these actors know each other well and trust each other's instincts. I read some reviews for New York area productions that picked apart some of the plays supposed flaws. In this production none of those flaws existed, and perhaps that is why the play was lifted to a more successful and cohesive level. Each actor had their moments, and Mr. Barkheimer was consistently excellent throughout, especially in his scenes with Ed Hooperman as Thomas Wintour, with Nael Nacer as Henry Garnet, and with Maurice Parent as Robert Cecil. However, one of the finest moments was with the amazing Kimberly Gaughan as Shag's daughter Judith, when Shag is able to reconnect with her and see that her value in his life was just as important as his dead twin son's value. One of the best comedic moments was when Ed Hooperman as King James with a thick Scottish accent turns on a dime and switches back to a player in the company with an American accent, and back again to the king, in a moment.
This production worked where I think the New York productions may have been less successful, in large part, due to the strong direction by Chris Edwards, and the strong ensemble work by the actors. Mr. Edwards obviously has a deep understanding of Mr. Cain's intent, and with a deft touch guided this excellent company of actors to a deeper understanding and portrayal of Mr. Cain's characters, and found the right balance between the comedy and tragedy contained within the play. If you have not seen this excellent company this is the time, and the production, to see them perform.
Regular Performance Schedule: ?Wednesdays, Thursdays, Fridays at 7:30 PM, Saturdays at 3 PM and 8 PM and Sundays at 3 PM with post-show conversations through November 11th. Tickets are $25-$60.00 ($15 student rush) and can be purchased at https://www.actorsshakespeareproject.org/box-office/single-tickets/ or at the Box Office one hour before curtain, although selection may be limited. Senior discount tickets are $5 off of regular priced tickets. Groups of 10+ may reserve seats for select performances via 617.776.2200 x225. The Sanctuary at the United Parish 210 Harvard Street in Brookline, MA.
About Actors' Shakespeare Project (ASP) Actors' Shakespeare Project is an award-winning professional theater company with a Resident Acting Company and extensive education, youth and community programs. ASP performs and works in found spaces, schools, theaters and neighborhoods to present and explore the robust language, resonant stories, and deeply human characters in Shakespeare's plays and in works by other great playwrights. Our work is ensemble-based and focused on intimacy, storytelling, language, relationships, voice, risk and artistry within and throughout the Boston area.