Review: BORN FOR THIS - A NEW MUSICAL: Awake and Sing!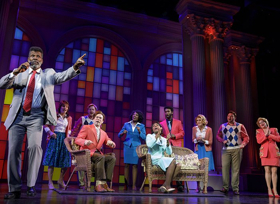 Born For This - A New Musical
Original Music & Lyrics by BeBe Winans, Book by Charles Randolph-Wright, BeBe Winans and Lisa D'Amour, Direction by Charles Randolph-Wright, Choreography by Warren Adams; Scenic Design, Neil Patel; Costume Design, William Ivey Long; Lighting Design, Jason Lyons; Sound Design, Jon Weston; Projection Design, John Narun; Hair & Wig Design, Paul Huntley; Production Management, Mary Duffe; Production Stage Management, Kurt Hall; Orchestrations, Arrangements & Music Direction, Steven Jamail; Music Supervision & Vocal Arrangements, Donald Lawrence
CAST (in alphabetical order): Maddie Shea Baldwin, Kurt Boehm, Phillip Brandon, Tynia Rene' Brandon, Matthew Griffin, Rod Harrelson, Gracie Jones, Liisi LaFontaine, Loren Lott, Jay McKenzie, Aashley Morgan, Nick Morrett, Jarran Muse, Milton Craig Nealy, Chaz Pofahl, Brad Raymond, Cullen Titmas, Donald Webber Jr., Nita Whitaker, Kirsten Wyatt
Performances through July 15 by ArtsEmerson: The World on Stage at Emerson Cutler Majestic Theatre, 219 Tremont Street, Boston, MA; Box Office 617-824-8400 or www.artsemerson.org
ArtsEmerson presents the New England premiere of Born For This - A New Musical, based on the life story of BeBe Winans and his sister Cece Winans, offspring of a spiritual, musical Detroit family, who made a huge splash as teenagers on the Praise the Lord network of Jim and Tammy Faye Bakker in the 1980s. With a book by Charles Randolph-Wright, BeBe Winans, and Lisa D'Amour, and original music and lyrics by Winans, the majority of which were written for the show, Born For This offers a longitudinal view of the Winans journey from music biz hopeful, to fledgling performer, to breakout R&B star, and award-winning (six Grammys) artist.
If you are expecting to see a typical jukebox musical at the Emerson Cutler Majestic Theatre, think again. Unlike most shows of that genre that have a canon of songs and cram them into a story, Winans and company put the story front and center, inserting appropriate musical numbers to move the story forward and help the characters to evolve. The Winans family story is compelling, filled with good church-going folks who happen to be incredibly talented. Think of the Jacksons, only with loving, supportive parents. Before Bebe and Cece made their mark, four of their older brothers were performing as The Winans, a gospel quartet. They were mentors and role models for the young Bebe, as well as an established watermark that he could aim to surpass.
Under the slick direction of Randolph-Wright and music director Steven Jamail, the cast is extraordinary from top to bottom. Donald Webber Jr. (Bebe), who also comes from a family of artists, inhabits the lead role and handles the weighty assignment with apparent ease. He sings powerfully, dances lithely, and believably travels the arc of his character's story, from adolescence to adulthood. He has great chemistry with Loren Lott (Cece) as they are convincing siblings and sound heavenly when singing together. She conveys Cece's quieter personality, while also showing her growth and ability to assert herself. The Winans brothers (Matthew Griffin, Jay McKenzie, Jarran Muse, and Brad Raymond) are outstanding singers and performers, as are Pop (Milton Craig Nealy) and Mom (Nita Whitaker). Each has their musical moment in the spotlight, but are most impressive for the stable presence they provide throughout the story.
Those of us who were around during the heyday of the Bakkers remember their popularity, but more so their downfall. Born For This gives them their due in that they were the first to integrate their on-air service when they signed Bebe and Cece to the PTL network, but pulls no punches in portraying their foibles. Jim (Chaz Pofahl) gradually gives way to his baser instincts which lead to his ruin, while Tammy Faye (Kirsten Wyatt) is portrayed just this side of caricature. However, Wyatt is a force in the role and slides seamlessly between Tammy Faye's sweet, fervent tv persona and her tough-as-nails, scorned woman, off-screen. Another familiar artist who played an important role in the Winans' lives was Whitney Houston (Liisi LaFontaine), portrayed here as a down-to-earth church singer with a powerful set of pipes, before the ravages of fame and drugs took their toll.
It should be noted that Winans does not whitewash his own flaws and the temptations he faced, but, with his strong family foundation and ongoing support, he made it through and thrived. The inclusion of Houston is part of the autobiographical material, but, in a show that would benefit from a little trimming, there could be less time spent on that aspect of the story. That being said, LaFontaine is impressive and is favored with some of award-winning costume designer William Ivey Long's most stunning outfits. The quartet of PTL singers (Maddie Shea Baldwin, a sympathetic Penny; Gracie Jones, Nick Morrett, Kurt Boehm) are evocative of the white bread, feel good stylings of the television evangelists, but each of them also brings forth an individual personality. Rounding out the ensemble are a coterie of triple-threats (Phillip Brandon, Tynia Rene' Brandon, Rod Harrelson, Aashley Morgan, Cullen Titmas) who more than do justice to Winans' music and the inspiring choreography of Warren Adams.
Scenic designer Neil Patel uses a variety of drops and sliding set pieces downstage, which give way to reveal the bright television studio of the PTL. Jason Lyons' lighting design distinguishes each of the locations with a variety of hues, brightness, and concert-style spotlight effects, augmented by John Narun's projection design. Sound designer Jon Weston effectively balances vocals and musicians. Paul Huntley's hair and wig designs are spot on for the era. Thanks to the collaboration among the creative team, the cast, and the design team, Born For This looks and sounds like it's ready for prime time. More importantly, it is a positive, uplifting story that is balm for our troubled spirits.
Photo credit: Joan Marcus (Milton Craig Nealy and Company of Born For This)