BWW REVIEW: ANYTHING GOES with Sutton Foster and the Boston Gay Men's Chorus
What better way to kick off PRIDE month than with a concert celebrating the 35th Anniversary of the Boston Gay Men's Chorus? Held at Symphony Hall on June 4th and titled ANYTHING GOES, the show featured 175 chorus members and offered a lineup of music ranging from Leonard Bernstein to original work. The evening was topped off with a solo performance by two-time Tony winner Sutton Foster.
Past June concerts have featured Broadway names like
Nick Adams
and the incomparable
Laura Benanti
. The choice to include iconic musical theater talent has multiple marketing and artistic benefits, so it makes sense to invite
Sutton Foster
this year. (Come for the Broadway star, stay for the chorus.) Together, Ms. Foster and the Boston Gay Men's Chorus delivered a fully loaded evening making the double billing a satisfying and slightly hopeful concert.
Sutton Foster
took to the stage for an extended set in the second act and while she didn't dive into the depths of her vocal range, she gave us her signature crystal clear pitch with recognizable standards like "Not For The Life Of Me" from THOROUGHLY MODERN MILLIE, "N.Y.C." from ANNIE, and "Astonishing" from LITTLE WOMEN. As delightful as Ms. Foster sounded, her stage presence was timid, and her audience patter in-between songs felt tired.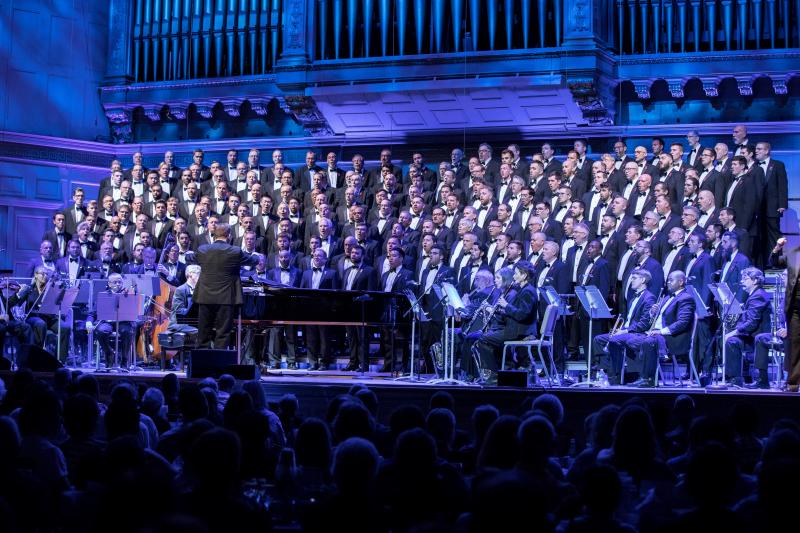 The musical line up by the Boston Gay Men's Chorus was an emotional set charting the history and empowerment of singing out proudly as gay men. Music Director Reuben M. Reynolds did an exemplary job finding the heart in the music and presented a concert touching all emotional peaks and valleys. "Beautiful Child" by Rufis Wainwright was the highlight of the evening and the poignant lyrics in "Brothers Sing On" by Herbert Dalmas and
Edvard Grieg
and "O What A World" by Rufis Wainwright struck a stirring cord.
Just when the concert was on the verge of feeling too heavy, we were taken in the opposite direction with a jubilant Bernstein Medley arranged by Assistant Music Director Chad Weirick. (The Leonard Bernstein Foundation approached the Boston Gay Men's Chorus to be a part of the composer's 100th Anniversary.) Weirick's composition was built in four movements, each full of surprises and featured Andy Chau, Geoffrey K. Hahn, Cullen Sutherland, and Benjamin Zavisza with a standout quartet.
ANYTHING GOES marks the end of 2016/2017 Boston Gay Men's Chorus season. Dates have already been announced for the 2017/2018 season, but more information won't be available until September. Visit the
website
for details.