Vlaamse Opera Presents SATYAGRAHA By Philip Glass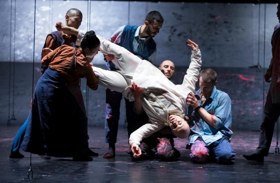 Satyagraha, by Philip Glass, comes to the Vlaamse Opera later this month. The opera is set to open Sunday, November 18, 2018 and close December 2, 2018.
Satyagraha is performed in Sanskrit with Dutch Surtitles.
Though Mohandas K. Gandhi (1869-1948) is primarily associated with the history of India, Satyagraha focuses on the years he spent as a young attorney in South Africa, from 1893 to 1914. The opera depicts the development of his philosophy of satyagraha (Sanskrit for "truth force"), which guided his concept of political struggle through active, loving, non-violent resistance. Gandhi's struggles and triumphs are linked to the past, present and future, celebrating the lasting effects of human goodness.
The opera, which premiered in 1980, was Philip Glass's first opera created for "traditional" operatic forces. The text is drawn from the Bhagavad Gita, the Hindu sacred text central to Gandhi's worldview, and the opera is sung in Sanskrit. LA Opera's presentation of Satyagraha marks the company's completion of Philip Glass's "portrait trilogy" of operas about powerful thinkers who changed the world, following Einstein on the Beach (2013) and Akhnaten (2016).
For more information check out: https://www.operaballet.be/nl/programma/2018-2019/satyagraha
Photo Credit: Koen Broos