Photos: First Look at Way Off Broadway's SINGIN' IN THE RAIN
The Way Off Broadway Dinner Theatre's upcoming production of SINGIN' IN THE RAIN runs now through May 31, 2014 and is based on the classic Gene Kelly film. Scroll down for a first look at the cast in action!
1920's Hollywood during the waning days of the silent screen era is the setting for this zany, light-hearted romantic comedy when many a movie studio found itself scrambling to salvage the career of its chipmunk-voiced silent picture stars. This fun musical theatre romp focuses on romantic lead Don Lockwood, his sidekick Cosmo Brown, aspiring actress Kathy Selden, and Lockwood's leading lady Lina Lamont, whose less-than-dulcet vocal tones make her an unlikely candidate for stardom in talking pictures.
Singin' in the Rain made its first "splash" as a movie musical in 1952. Directed by
Gene Kelly
and
Stanley Donen
, the film starred Kelly as Don Lockwood, Donald O'Connor as Cosmo Brown, and
Debbie Reynolds
as Kathy Selden. The film was only a "modest success" at the time of its release. It has only been since then that Singin' in the Rain has been recognized as a classic and included on the American Film Institutes Top 100 Movies list, coming in at #5. The first staging of the musical version of Singin' in the Rain did not come until 1983, 31 years after the release of the movie, in London's West End. Singin' in the Rain finally "crossed the pond" and had its American premiere on Broadway in the summer of 1985. The production played at the Gershwin Theatre for the next year, closing after 367 performances and 38 previews. The original, and only Broadway production, was directed by legendary choreographer
Twyla Tharp
and received Tony Award nominations for Best Book of a Musical and Best Performance by an Actor in a Musical. What has always been a signature of the various productions of Singin' in the Rain is the classic scene where Don Lockwood dances along the street as it rains on stage. After nearly 20 years since it last appeared in Frederick, Don Lockwood will once again dance in the rain with Way Off Broadway's spring production!

Curtain Call - Jordan B. Stocksdale as Don Lockwood, Jaimie Lea Kiska as Kathy Selden, Joseph Waeyaert as CosMo Brown, and cast members from SINGIN'' IN THE RAIN

Don and Cosmo - Jordan B. Stocksdale as Don Lockwood and Joseph Waeyaert as CosMo Brown

Kathy - Jaimie Lea Kiska as Kathy Selden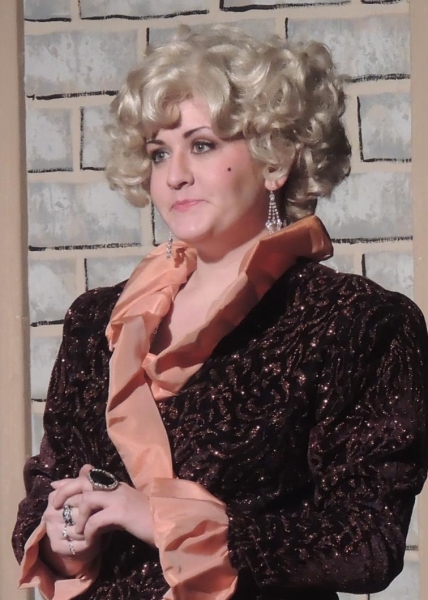 Lina - Melissa Ann Martin as Lina Lamont

Movie Premiere - Joseph Waeyaert as CosMo Brown, Tina M. Bruley as Dora Bailey, Jordan B. Stocksdale as Don Lockwood, and Melissa Ann Martin as Lina Lamont

Roscoe and Lina - Zane L. Oberholzer, Jr. as Roscoe Dexter and Melissa Ann Martin as Lina Lamont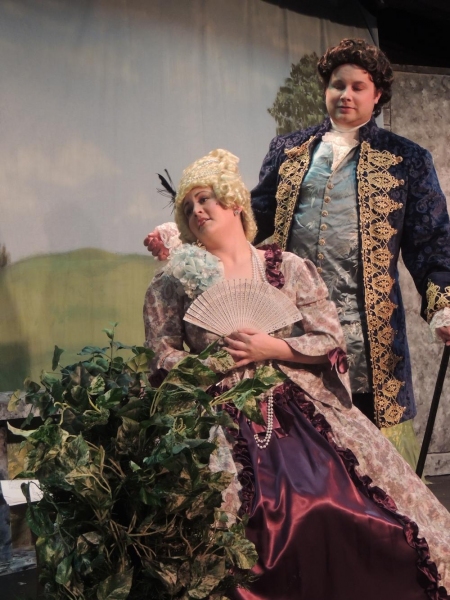 Filming - Melissa Ann Martin as Lina Lamont and Jordan B. Stocksdale as Don Lockwood filming THE DUELING CAVALIER