Click Here for More Articles on WAITRESS
BWW Review: WAITRESS at The Hippodrome is Two Parts Love Story and One Part Comedy with a Dash of Heart Sprinkled Throughout
The National Tour of Waitress - playing at the Hippodrome until February 4, 2018 - is the best version of this particular show I've seen. I originally saw the Broadway production last summer, but at the time, I just didn't get it. It seemed a little too disjointed for me. The first act is all fun, while the second act gets a little too dark for my liking. However, after seeing last evening's performance of this story played out by this fantastic cast, I'm fully on board with what the writers had in mind. These cast members are supremely talented and perfectly suited for their particular roles. They are able to bring the comedy, as well as the heart and every emotion in between.
This cast is superbly led by Desi Oakley playing Jenna, the aforementioned Waitress in the title of the show. Jenna is "messy but kind" and is all heart. She bakes pies and waits tables in a diner by day, but goes home to her hard-drinking, lout of a husband at night. In the diner, Jenna is supported by her two lovable fellow Waitresses, neurotic Dawn and tough-talking Becky played hilariously by Lenne Klingaman and Charity Angel Dawson. You can see exactly why these women are friends. Their love for each other and their friendship clearly shows.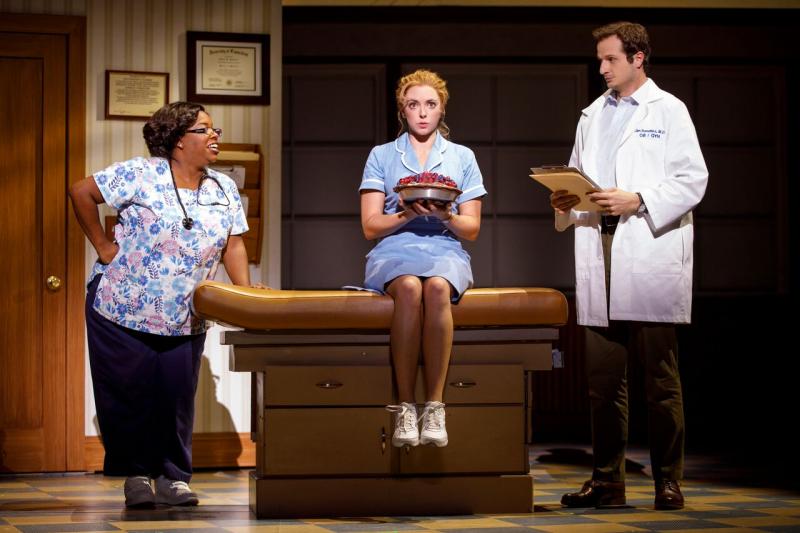 The bubbly Jenna, who's loved so much by her friends and customers immediately disappears when she arrives home at the end of each day. That warmth is replaced by sadness as soon as that door opens to Earl, her terrible husband. Earl is one major issue I still have with this show. He's utterly irredeemable. He has no good qualities whatsoever, so you're left wondering how the lovely Jenna ever fell for him in the first place. In this cast, he's played by the very talented Nick Bailey who took a terrible character and ran with him. But I did feel sorry for him at curtain call where he was booed by the same audience that was on its feet for the rest of the cast. In his defense, he seemed to see it coming, as he bowed with a sheepish grin and a silent "I'm sorry" to the fans. However, I have to believe that gets old night after night.
Luckily, at some point, Jenna is led astray from the horrible Earl, into the arms of someone who is the complete opposite of her jealous and demanding husband. Dr. Pomatter (Jenna's doctor and the other man) is lovably neurotic, and full of eccentricities. In this production, he is played perfectly by Bryan Fenkart. His nervousness with Jenna makes his character all the more endearing. The chemistry between he and Jenna was perfection, and after one meeting, you could see just how perfect the two were for each other.
The real strength of this show, is the cast of characters that surround Jenna. Each character has their own quirks, mannerisms and heart (well maybe not Earl...). They're not your everyday cookie cutter Waitress, doctor, or diner patron. Becky and Dawn could have been written as just the best friends - constantly supporting the main character, while never getting a story of their own. But Sarah Bareilles (the multi-talented singer, songwriter of Waitress) assured that that didn't happen to these women and men. You learn throughout the course of the story that Becky is taking care of an invalid husband, while Dawn has fallen in love with the high-energy Ogie whom she met on the internet - played by the standout Jeremy Morse. (Mr. Morse's solo for Dawn was clearly loved by the audience and was an unbelievably funny highlight of the show.) While the story never stops being about Jenna, these characters are given the chance to shine in their own lights - just as they would in the real world.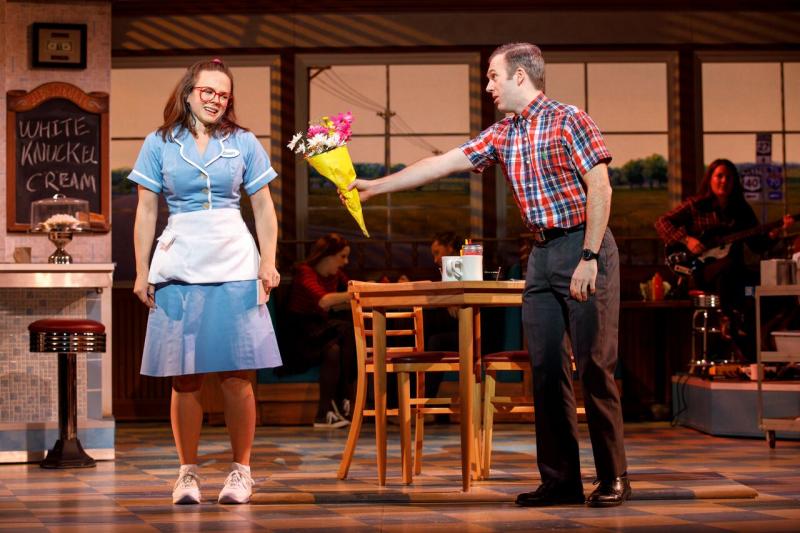 While extramarital affairs aren't usually a positive plot-point, the depth of Jenna's and Dr. Pomatter's anxieties help you to understand just why these two logical human beings would lead with their hearts instead of their heads; a very real struggle for many people. These affairs may not be a popular topic of conversation, but when they're discussed in a very real and intelligent way, you can see why relationships like this start. Though even with the drama of new loves, lost loves, and terrible husbands, in the end the story is about a girl forging her way on her own terms, and learning to be a strong woman. And if that's not a timely story, I don't know what is!
* The National Tour of Waitress is playing at the Hippodrome Theatre at the France-Merrick Performing Arts Center January 31 - February 4, 2018
Related Articles
Kristen first discovered theater by way of Jesus Christ Superstar in elementary school and fell madly in love with the idea of singing and dancing. (read more...)