BLUEBERRIES FOR SAL Extends For One Final Weekend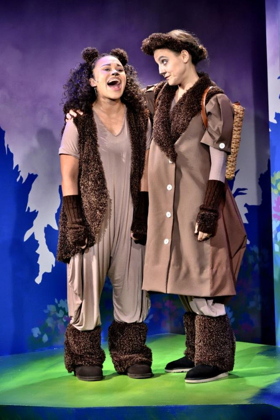 Adventure Theatre MTC (ATMTC), recent recipient of a Helen Hayes Award for Outstanding Play or Musical Adaptation, brings to the stage the world premiere musical, Blueberries for Sal, written by Washington, D.C. Helen Hayes Nominated playwrights Michael J. Bobbitt and Sandra Eskin and featuring new music and lyrics by William Yanesh (Caps for Sale, Winnie the Pooh). Celebrating the 70th anniversary of the book by Robert McCloskey, this female helmed musical is recommended for all ages and closes October 28, 2018. Extension week times are Saturday and Sunday at 11am, 2pm, and 4:30pm. Tickets are $20 each and can be purchased online at www.adventuretheatre-mtc.org or by calling 301-634-2270.
Kuplink, kuplank, kuplunk! Sal and her mother are picking delicious blueberries to can for the long winter months ahead to make delicious desserts. On the other side of Maine's Blueberry Hill, a mama bear and baby bear are filling up for the long hibernation. But somehow Sal and a baby bear have a mixed up adventure and lose their mothers!
Managing Director, Leon Seemann, says of the extension, "Kids and parents are loving this show because it really explores different types of parenting styles in an extremely entertaining way."
Michael J. Bobbitt, Artistic Director of Adventure Theatre MTC expounds, "The music by William Yanesh is certainly standout. All of our professional and parent feedback talks about the beautiful music he has composed for this perfect Fall tale."
Blueberries for Sal is recommended for all ages. Tickets are $20 each with Flexpass, group, and field trip rates available. All performances will take place at Adventure Theatre MTC, 7300 MacArthur Blvd, Glen Echo, MD, 20812 in the historic Glen Echo Park. For more information about Adventure Theatre MTC or Blueberries for Sal, call 301-634-2270 or visit www.adventuretheatre-mtc.org.
ABOUT ADVENTURE THEATRE MTC
Adventure Theatre MTC educates and inspires new generations of theater artists and audiences with exceptional theatrical experiences.
Photo Credit: Bruce Douglas