Sarah Dussome
Sarah Dussome is a freelance writer and contributing editor for BroadwayWorld.com.
A lifelong theatre fan, she loves being whisked away by sweeping music and caught up in the journeys of larger than life characters. She lives in Edmonton, Canada, where she writes, sings, and keeps an eye out for the latest in live theatre

MOST POPULAR ARTICLES
LAST 30 DAYS
BWW Review: THE COLOR PURPLE Captivates Edmonton
Posted: Sep. 29, 2019


LAST 365 DAYS

BWW Review: CIRQUE DU SOLEIL: CRYSTAL Dazzles Edmonton
Posted: Feb. 14, 2019



BWW Review: THE TEMPEST Takes the Citadel By Storm
Posted: Apr. 27, 2019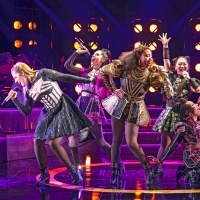 BWW Feature: Spurned Queens, Rock Legends, and Pie Connoisseurs Take Centre Stage in Edmonton This Fall
Posted: Aug. 26, 2019



BWW Review: THE ILLUSIONISTS Mystifies Edmonton
Posted: Jan. 2, 2019



BWW Review: MISS BENNET: CHRISTMAS AT PEMBERLEY Sweeps Edmonton off its Feet
Posted: Nov. 29, 2018


BWW Review: THE COLOR PURPLE Captivates Edmonton
Posted: Sep. 29, 2019


BWW Review: COME FROM AWAY Captivates Edmonton
Posted: Mar. 14, 2019


BWW Review: THE COLOR PURPLE Captivates Edmonton

September 29, 2019

Based on Alice Walker's Pulitzer-winning novel, The Colour Purple chronicles young Celie's journey from abused teen to confident woman. Poignant and powerful, the Citadel Theatre's adaptation of the beloved Broadway musical is not to be missed.
---
BWW Review: RENT Rocks the Northern Alberta Jubilee Auditorium

September 6, 2019

Ring in Edmonton's fall theatre season with dynamic smash hit Rent! It runs at Edmonton's Northern Jubilee Auditorium until July 8.
---
---
BWW Feature: Spurned Queens, Rock Legends, and Pie Connoisseurs Take Centre Stage in Edmonton This Fall

August 26, 2019

Want to start fall on a high note? Whether you're after family fun or a date night to remember, Edmonton's 2019 fall theatre season has a little something for everyone!
---
BWW Review: THE TEMPEST Takes the Citadel By Storm

April 27, 2019

Revenge, love, and sorcery wage war in The Tempest. The Citadel Theatre's haunting interpretation breathes life into William Shakespeare's tumultuous tale, showcasing hearing and deaf actors in a one-of-a-kind theatrical experience.
---
BWW Review: COME FROM AWAY Captivates Edmonton

March 14, 2019

On September 11, 2001, approximately 7,000 airline passengers were stranded in the sleepy Maritime town of Gander, Newfoundland. In a tremendous display of warmth and compassion, the townspeople opened their homes to the frightened newcomers, welcoming them like cherished friends. Their story is beautifully told in Come From Away, a beloved Broadway musical.
---
BWW Review: CIRQUE DU SOLEIL: CRYSTAL Dazzles Edmonton

February 14, 2019

Breathtaking acts, whimsical comedy, and eye-popping special effects combine in CRYSTAL, Cirque du Soleil's enchanting ice-themed spectacle.
---
BWW Review: THE ILLUSIONISTS Mystifies Edmonton

January 2, 2019

Mind reading, card tricks, and death-defying stunts take centre stage in this glitzy magical extravaganza.
---
BWW Review: MISS BENNET: CHRISTMAS AT PEMBERLEY Sweeps Edmonton off its Feet

November 29, 2018

Miss Bennet: Christmas at Pemberley invites audiences to experience the holidays through the eyes of the ever-scholastic Mary.
---
BWW Review: THE BOOK OF MORMON Says 'Hello' to the Northern Alberta Jubilee Auditorium

September 21, 2018

An exuberant blend of toe-tapping hits and raunchy comedy, The Book of Mormon knocked on the door of Broadway's Eugene O'Neill Theatre in 2011, later receiving 9 Tony Awards including the coveted title of Best Musical. Written by South Park creators Trey Parker and Matt Stone along with Avenue Q co-writer Robert Lopez, this flamboyant mega-hit pokes fun at Mormonism and musicals in general, daring audiences not to be swept away by a riptide of crude humour and blatant social commentary.
---