Sarah Dussome
Sarah Dussome is a freelance writer and contributing editor for BroadwayWorld.com.
A lifelong theatre fan, she loves being whisked away by sweeping music and caught up in the journeys of larger than life characters. She lives in Edmonton, Canada, where she writes, sings, and keeps an eye out for the latest in live theatre

MOST POPULAR ARTICLES
LAST 30 DAYS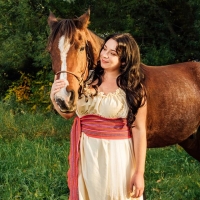 BWW Review: MARY'S WEDDING Haunts the Citadel Theatre
Posted: Sep. 3, 2021


LAST 365 DAYS
BWW Review: A BRIMFUL OF ASHA Delights at Edmonton's Citadel Theatre
Posted: Nov. 1, 2020


BWW Review: A Christmas Carol Shines in Citadel Theatre's Digital Production
Posted: Dec. 21, 2020


BWW Review: HEAVEN Charms the Citadel Theatre
Posted: Aug. 7, 2021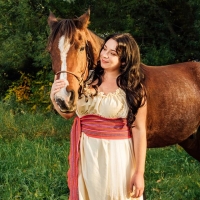 BWW Review: MARY'S WEDDING Haunts the Citadel Theatre
Posted: Sep. 3, 2021


BWW Review: MARY'S WEDDING Haunts the Citadel Theatre

September 3, 2021

Fall in love with this lyrical adaptation of Stephen Massicote's Canadian drama.
---
BWW Review: HEAVEN Charms the Citadel Theatre

August 7, 2021

Poignant and heartwarming, Heaven showcases unforgettable performances and evocative special effects.
---
BWW Review: A Christmas Carol Shines in Citadel Theatre's Digital Production

December 21, 2020

Treat yourself to David van Belle's stunning new adaptation of A Christmas Carol! The Citadel Theatre's beloved Yuletide tradition is available for online streaming until December 31.
---
BWW Review: A BRIMFUL OF ASHA Delights at Edmonton's Citadel Theatre

November 1, 2020

Warm, witty, and thought provoking, A Brimful of Asha is the unforgettable true story of a mother and son in the throes of a years-long culture clash.
---
BWW Review: AS YOU LIKE IT Gets a 1960s Makeover at Edmonton's Citadel Theatre

February 23, 2020

Shakespeare's 1599 comedy gets a 1960s makeover! Complete with professional wrestling and 25 Beatles hits, As You Like It is a rollicking comedic triumph.
---
BWW Review: DEAR EVAN HANSEN Captivates Edmonton

February 12, 2020

Humorous and heartbreaking, the acclaimed Broadway smash is a moving crowd-pleaser.
---
BWW Review: EVERY BRILLIANT THING is an Unforgettable Night of Theatre

February 8, 2020

Ice cream. Rollercoasters. The smell of old books. These are only a few of life's small pleasures. EVERY BRILLIANT THING celebrates the little joys that make life beautiful.
---
BWW Review: COST OF LIVING is the Citadel's Latest Tear-Jerker

January 18, 2020

Cost of Living, the Citadel's latest offering, paints a compassionate portrait of lives affected by disability. It runs until February 2nd.
---
BWW Review: A CHRISTMAS CAROL Enchants the Citadel

December 8, 2019

'Tis the season for a beloved theatre tradition! Treat your loved ones to the Citadel's dazzling new production of A Christmas Carol!
---
BWW Review: WAITRESS Charms Edmonton

December 3, 2019

Sweet and whimsical as its irresistible confections, Waitress is a little slice of heaven. Treat yourself to this Broadway hit at Edmonton's Jubilee Auditorium.
---
BWW Review: Broadway-Bound SIX Rules Edmonton

November 9, 2019

Tudor history gets a glitzy makeover in Broadway-bound Six. Join Henry VIII's wives at Edmonton's Citadel Theatre for a legendary pop concert!
---
BWW Preview: SIX at Citadel Theatre is a Broadway-Bound Royal Treat

November 6, 2019

Divorced. Beheaded. Died. Survived. The six wives of the infamous King Henry VIII star in in Six, the Broadway-bound smash and Citadel Theatre's latest offering.
---
BWW Review: RIGOLETTO Sets the Stage for Edmonton Opera's 2019-2020 Season

October 26, 2019

Love. Revenge. Tragedy. Giuseppe Verdi's 1581 opera Rigoletto chronicles a court jester's revenge on his daughter's philandering suitor.
---
BWW Review: FIGHT NIGHT Dominates Edmonton's Citadel Theatre

October 19, 2019

Five candidates. One winner. Poignant and comedic, the Citadel's production of Fight Night challenges audiences to vote in a riveting mock election.
---
BWW Review: THE COLOR PURPLE Captivates Edmonton

September 29, 2019

Based on Alice Walker's Pulitzer-winning novel, The Colour Purple chronicles young Celie's journey from abused teen to confident woman. Poignant and powerful, the Citadel Theatre's adaptation of the beloved Broadway musical is not to be missed.
---
BWW Review: RENT Rocks the Northern Alberta Jubilee Auditorium

September 6, 2019

Ring in Edmonton's fall theatre season with dynamic smash hit Rent! It runs at Edmonton's Northern Jubilee Auditorium until July 8.
---
---
BWW Feature: Spurned Queens, Rock Legends, and Pie Connoisseurs Take Centre Stage in Edmonton This Fall

August 26, 2019

Want to start fall on a high note? Whether you're after family fun or a date night to remember, Edmonton's 2019 fall theatre season has a little something for everyone!
---
BWW Review: THE TEMPEST Takes the Citadel By Storm

April 27, 2019

Revenge, love, and sorcery wage war in The Tempest. The Citadel Theatre's haunting interpretation breathes life into William Shakespeare's tumultuous tale, showcasing hearing and deaf actors in a one-of-a-kind theatrical experience.
---
BWW Review: COME FROM AWAY Captivates Edmonton

March 14, 2019

On September 11, 2001, approximately 7,000 airline passengers were stranded in the sleepy Maritime town of Gander, Newfoundland. In a tremendous display of warmth and compassion, the townspeople opened their homes to the frightened newcomers, welcoming them like cherished friends. Their story is beautifully told in Come From Away, a beloved Broadway musical.
---