Maria Bruun Fanoe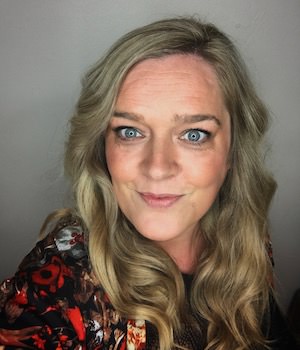 I've always been interested in theater. As a schoolgirl I skipped classes to rehearse plays to show to my classsmates. I danced ballroom on high level until I was 16. For a periode of 5 years I participated in summerplays (amateursI mostly as a dancer. In these years I went to a lot of theater especially musicals, which has stolen my heart. In 2010 I got the chance on a local newspaper to write about culture. In the beginning it was mostly books, but as years went by I visited theaters more and more through work. My husband became board member in the local theater, and we saw almost everything played for 3 years there. My day job is still as a cultural reviewer on a local paper.
You are welcome to follow me at instagram, where I feature premieres and theater visits among others

---
BWW Review: CABARET at Aarhus Teater

May 6, 2022

Forestillingen Cabaret er stadig højaktuel på trods af mange år på bagen. Aarhus Teater formår at sætte fokus på temaer, der stadig rører sig i samfundet i dag. Altsammen pakket ind i overdådige, glitrende kostumer, effektfuld scenografi og stærke skuespilpræstationer.
---
BWW Review: SNEFALD at Aalborg Teater

November 22, 2020

'Snefald' er en hjertevarm forestilling, der får julehumøret frem.
---
BWW Review: THE BODYGUARD - THE MUSICAL at Langkjær Entertainment & Live Nation

November 15, 2020

I en tid, hvor vi hungrer efter gode oplevelser, kommer "The Bodyguard – The Musical" som kaldet. Med imponerende dans, gode skuespilpræstationer og en lækker vokal i front, er der dømt underholdning i topklasse.
---
BWW Review: DIRTY DANCING at One And Only Musical Teater

October 25, 2020

Flere måtte gå forgæves for 5 år siden, da "Dirty Dancing" spillede for fulde huse. De får nu chancen, når Silas Holst og Mathilde Norholt igen spiller hovedrollerne som Johnny og Baby.
---
BWW Review: TEATERKONCERT C.V. JØRGENSEN at Aarhus Teater

August 18, 2020

Hvor går man hen, når alt går ned?! Sådan starter Siff Vintersol Aarhus Teaters 'Teaterkoncert C.V. Jørgensen'. På behørig afstand bag en skærm, mens hun nyser. Publikum forstår den fine hentydning. Svaret er egentlig også ret enkelt. For selvfølgelig bør vi gå i teateret, når alt går ned!
---
BWW Feature: HØJSKOLESANGBOGEN KLAR TIL STREAMING at Det Kongelige Teater

March 23, 2020

Det Kongelige Teater har netop sat Højskolesangbogen på deres gratis tilbud Xtra i disse Coronatider. Nu kommer teateret hjem i stuen.
---
BWW Feature: SE DET KONGELIGE TEATERS FORESTILLINGER FRA SOFAEN at Det Kongelige Teater

March 23, 2020

Et udvalg af Det Kongelige Teaters forestillinger er gjort gratis tilgængelige til streaming på KGL Xtra
---
BWW Review: DEN SKALDEDE FRISØR at One And Only Musical Teater

March 6, 2020

Med 'Den skaldede frisør' har One and Only formået at skabe en underholdende forestilling, der vil appellere til den brede befolkning. Med fængende musik af Thomas Helmig kan man gennem to timer falde tilbage i sædet og lade sig fornøje.
---
BWW Review: HELLIGTREKONGERSAFTEN at Odense Teater
February 23, 2020
---
BWW Review: VIVA LAS VEGAS at Randers Egnsteater

February 7, 2020

Iført glimmer fra top til tå, trådte jeg ind i salen på Randers Egnsteater. Med titlen a??Viva Las Vegasa?? var der lagt op til en aften i Elvis' tegn. Aftenen blev på alle måder berigende og sjov, og glimmeret passede perfekt ind!
---
BWW Review: LYDEN AF DE SKULDRE VI STÅR PÅ at Aarhus Teater

February 4, 2020

Den Reumertvindende forestilling a??Lyden af de skuldre vi står påa?? er tilbage. Den Reumert-vindende forestilling spillede i Aarhus Teaters smukke gamle sal tilbage i 2017 første gang. Med elektronisk lyd, fuldendt scenografi og lysdesign og dygtige skuespillere forføres publikum i et smukt sanseunivers med den danske sangskat i højsæde.
---
BWW Review: SKØNHEDEN OG UDYRET at Odense Teater

December 28, 2019

Med et magisk og fortryllet univers tager Odense Teater a??Skønheden og Udyret under kærlig behandling i en smuk og rørende forestilling for hele familien.
---
BWW Review: PAGTEN at Aarhus Teater

November 24, 2019

a??Uden hinanden er vi ingentinga?? bliver der sunget i hele salen, da forestillingen slutter. a??Pagtena?? er ikke en traditionel fortælling om jul, men gennem et magisk univers bliver vi suget ind i julestemningen.
---
BWW Review: SNEFALD at Odense Teater

November 23, 2019

Odense Teater tager en stor udfordring op med den norske julekalender, Snefald. Den hjertevarme og skønne historie giver da også julestemning, når du forlader teateret.
---
BWW Review: BOOK OF MORMON at Musikhuset Aarhus

November 21, 2019

Guddommelig morsom musical missionærer i Musikhuset i Aarhus i denne tid. Sendt ud på mission fra Broadway er de kommet til Danmark for at overbevise om, hvad godt teater er.
---
BWW Review: SANNE THE MUSICAL at Langkjær Entertainment

November 6, 2019

Sanne a?" The musicala?? er en stor opgave at skulle forløse på scenen. Måske for stor? Stykket blev desværre en rodet affære, hvor aftenen blev reddet af musikken.
---
BWW Review: KLOKKEREN FRA NOTRE DAME at Fredericia Teater
October 5, 2019
---
BWW Review: DEN MYSTISKE SAG OM HUNDEN I NATTEN at Odense Teater

October 1, 2019

Engang imellem rammes jeg af et stykke i særlig grad. Et stykke, som på en eller anden måde beriger mig i særlig grad. Det lykkedes a??Den mystiske sag om hunden i nattena?? på Odense Teater med.
---
BWW Review: PARAMOUR at Theater Neue Flora

September 30, 2019

ÅH! Det kommer spontant og lidt overraskende for mig selv, men da to maskuline mænd kommer flyvende ud over mig, kan jeg ikke helt kontrollere min begejstring. a??Paramoura?? i Hamborg er en spektakulær og visuel smuk oplevelse, som er helt turen værd.
---