Lorens Portalatin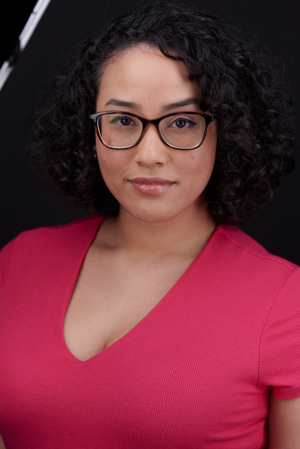 Lorens Portalatin is a bionic go-getter with a passion for the arts. She is a native Puerto Rican who has made her home in Texas. Lorens grew up with a love for theatre that was fueled by a decade's worth of dance classes and many trips to Half Price Books for original Broadway soundtracks. Back in 2019, Lorens was seen onstage at the Dallas Theater Center as Carla in IN THE HEIGHTS. During COVID, Lorens has taken on the challenge of getting a cosmetology license and melding her love of theatrical costume design and hair. For BroadwayWorld.com, Lorens serves as the Senior Editor for Broadway World's Dallas and Fort Worth area.
MAYTAG VIRGIN Announced At Theatre 3

January 7, 2022

Theatre Three kicks-off the new year with the regional premiere of Audrey Cefaly's Maytag Virgin running January 27 - February 20 at Bryant Hall on the Kalita Humphreys Campus. Directed by Whitney Latrice Coulter, this new play is packed with wit, passion, and the weight of moving forward through loss.
---
WAIT UNTIL DARK Announced at Garland Civic Theatre

January 7, 2022

Garland Civic Theatre will present the heart-pumping thriller Wait Until Dark at Granville Arts Center (300 North 5th St, Garland, Texas) January 28 - February 13, 2022.
---
LOVE LOVES A PORNOGRAPHER Announced at Rover Dramawerks

January 7, 2022

Rover Dramawerks kicks off their 22nd Season with the comedy Love Loves a Pornographer by Jeff Goode.
---
MIDDLETOWN Postponed Due to COVID at Eisemann Center

January 7, 2022

With the safety and health of our cast, crew and audiences in mind, due to the current COVID situation, GFour Productions has announced the postponement of the 2022 MIDDLETOWN national tour until further notice.
---
The Firehouse Theatre Postpones VIOLET Performances

January 7, 2022

Due to the current virus surge in the Dallas-Fort Worth metroplex and out of an abundance of caution regarding the public health concerns for our artists and audiences, The Firehouse Theatre announces the postponement of its upcoming production of Violet.
---
Dallas Theater Center Cancels Next Several Performances of A CHRISTMAS CAROL

December 16, 2021

Dallas Theater Center is cancelling the rest of this week's performances of A Christmas Carol at the Wyly Theatre along with next Tuesday's show. Despite their best efforts to ensure the health and safety of all employees within the organization, a company member has tested positive for COVID-19.
---
BWW Review: HAMILTON at Dallas Summer Musicals

November 21, 2021

It's time to rise up and catch HAMILTON at Dallas Summer Musicals from November 16-December 5! The 11-time TONY Award-Winning Musical left audiences in awe over our Founding Fathers at Music Hall at Fair Park.
---
ANNUAL A CHRISTMAS CAROL Returns to Dallas Theater Center Just in Time For the Holidays

November 21, 2021

DTC's annual tradition of A Christmas Carol returns live on stage this year. The show opens November 24 at the Dee & Charles Wyly Theatre. After transitioning to a digital version of A Christmas Carol during the 2020-21 season, this season welcomes DTC audiences back to its large-scale indoor production, right in time for the holiday season.
---
Cindy Williams to Star in New One-Woman Show: ME, MYSELF & SHIRLEY at Charles W. Eisemann Center

November 21, 2021

 Cindy Williams will take the stage of the Bank of America Theatre at the Charles W. Eisemann Center in a new one-woman show, Me, Myself & Shirley for four performances only March 18-20, 2022. Tickets range from $46-$52 are on sale now and available at the Eisemann Center Ticket Office
---
JURASSIC WORLD: THE EXHIBITION To End North Texas Run Early Next Year

November 21, 2021

Round Room Live and Cityneon announced JURASSIC WORLD: THE EXHIBITION will end their successful North Texas run on January 17, 2022. The exhibition has been entertaining North Texans since it opened to rave reviews and sold-out crowds in Dallas on June 18, 2021 at Grandscape in The Colony
---
Holiday Cheer Comes to the Coppell Arts Center With A MERRY CIRQUE: A FAMILY HOLIDAY SPECTACULAR

November 21, 2021

Coppell Arts Center invites audiences to celebrate the holiday season & enjoy an enchanted evening of entertainment with A Merry Cirque! This festive variety show features seasonal music, slapstick comedy, and legendary circus acts that the whole family will love. Performances are Friday, December 17 & Saturday, December 18
---
TCU Horned Frogs Invade Dallas Theater Center in THE SUPREME LEADER

November 21, 2021

Dallas Theater Center's (DTC) newest production, The Supreme Leader, celebrates its Texas Christian University (TCU) cast with a special night! The show stars TCU alumni Oscar Seung and Garrett Weir, with fellow graduate Ashlie Whitworth as an understudy. To celebrate, DTC hosted a TCU night on November 19 at the Kalita Humphreys Theater
---
11th Annual SCROOGE: THE MUSICAL is Coming to North Texas Performing Arts This December

November 21, 2021

NTPA (North Texas Performance Arts) will present Scrooge the Musical December 8-19, 2021. This is NTPA's eleventh year producing the beloved musical adaptation of A Christmas Carol. This will be the final show of NTPA's 30th anniversary series.
---
Dallas Theater Center Welcomes New Resident Artists

November 12, 2021

Dallas Theater Center has announced the addition of several full-time resident artists!
---
Dallas Theater Center Announces New Vaccination Policy

November 12, 2021

Dallas Theater Center announces changes to their COVID-19 policy. The theater will require audience members older than 12 to have a negative COVID-19 test or to provide proof of vaccination. The new policy will start with A Christmas Carol opening November 24. It does not affect the current production of The Supreme Leader.
---
HOLIDAY INN at Stolen Shakespeare Guild

November 12, 2021

The Stolen Shakespeare Guild will present Holiday Inn, with music and lyrics by Irving Berlin and book by Gordon Greenberg and Chad Hodge.
---
WINTER IS COMING AT CIRCO METROPOLIS, A HOLIDAY CIRCUS TENT SHOW at Samuell-Grand Amphitheater

November 12, 2021

Winter is coming and Laughter League, in collaboration with Shakespeare Dallas, will ring in the holidays by gathering a band of merry circus artists together to celebrate this most joyous time of year.
---
MENOPAUSE THE MUSICAL Announces Cast For November 12-13 Run At Richardson's Eisemann Center

November 12, 2021

MENOPAUSE THE MUSICAL performances are fast-approaching – Nov 12 and 13 at the Eisemann Center in Richardson. The cast includes Megan Cavanagh best-known for playing Marla Hooch in A League of Their Own!
---
DEAR EVAN HANSEN Comes To Bass Hall Performing Arts Center; Tickets Now On Sale!

November 9, 2021

DEAR EVAN HANSEN, winner of six Tony Awards® including Best Musical, will make its long-awaited Bass Hall debut!
---
Dallas Theater Center Announces THE SUPREME LEADER Beginning October 28th

October 27, 2021

Dallas Theater Center (DTC) proudly presents the world premiere of The Supreme Leader. The new comedy by Don X. Nguyen begins performances on October 28 at the Kalita Humphreys Theater.
---