Kathryn Kitt - Page 2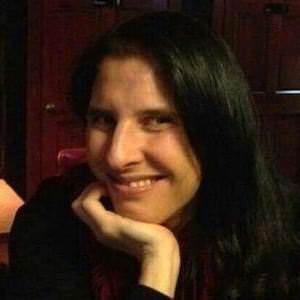 Kathryn Kitt is a Classically Trained Lyric Soprano who is comfortable singing different types of genres. She has a BA in music from Bennington College and an MFA in Opera from Suny-Purchase. She has performed in the Aspen Music Center, Tanglewood Music Center, Lake George Opera Festival and The Little Orchestra Society. She also has performed in a great many local theatres including The Armonk Players, Clocktower Players and recently Curtain Call in Stamford, CT. Kathryn also sings at Temples and Churches in which she gets to explore very demanding, yet fulfilling repertoire as well. Kathryn writes interviews for BroadwayWorld.com, CenterontheAisle.com and Theaterpizzazz.com. Kathryn is a proud member of AmericanTheatreCritics.org (ATCA). Kathryn resides in Bedford, NY with her three children, Andrew, John and Madeleine who have also been "bitten" by the music/theatre bug. Contact: Kathrynkittdiva@gmail.com.
MOST POPULAR ARTICLES
LAST 365 DAYS
BWW Interview: Joshua Bell - The Performing Arts Center at Purchase College

October 24, 2016

Joshua Bell is a classical superstar: violinist, cultural ambassador, and all-around inspiration. Musical Director of The Academy of St Martin-in-the-Fields, television performer (Mozart in the Jungle!), and subway station busker-provocateur, he's a deep and unique talent.
---
BWW Review: HEATHERS: THE MUSICAL at WPPAC

October 18, 2016

In 1989, I was a student at Bennington College, probably one of the most progressive and outwardly misunderstood student bodies in America. There were no 'Heathers' (popular girls) in the mix, but if there were, they enrolled against their parent's wishes.
---
BWW Interview: Jeremy Quinn of HEATHERS: THE MUSICAL at White Plains Performing Arts Center

October 13, 2016

*NY REGIONAL PREMIERE HEATHERS: THE MUSICAL is the darkly delicious story of Veronica Sawyer, a brainy, beautiful teenage misfit who hustles her way into the most powerful and ruthless clique at Westerberg High: the Heathers.
---
BWW Interview: Devanand Janki, Artistic Director of Bingham Camp Theatre Retreat

October 5, 2016

Bingham Camp Theatre Retreat (BCTR) develops new work for the stage that promotes and celebrates diversity. Emphasizing non-traditional casting, multi-ethnic participants, and bold theatricality, BCTR offers unique development opportunities for new plays and musicals that encourage dialogue among artists from a variety of cultures.
---
BWW Review: SATURDAY NIGHT FEVER at Westchester Broadway Theatre

September 30, 2016

First of all, I am a huge advocate of the Westchester Broadway Theatre and the variety of musicals that are staged there. The concept of 'Dinner Theatre' is such a fun, lively experience and sitting sort of 'in the round' while being served food and drinks is quite special.
---
BWW Review: CALM MOM at The New York International Fringe Festival

September 14, 2016

'Chaos plus Hysteria Equals Love,' one of the clever and melodic songs of Gaby Gold's one-woman musical in the Fringe Festival, pretty much sums up the tone of her trip down memory lane
---
BWW Review: MILLION DOLLAR QUARTET at Westchester Broadway Theater

August 1, 2016

'It's not every day you see someone play a glissando on the piano with his foot.' That in itself completely conveys what 'Million Dollar Quartet' at Westchester Broadway Theatre is all about.
---
BWW Interview: Faith Prince of FANCY FAITH at Hudson Stage Company

July 11, 2016

Tony award winner FAITH PRINCE in concert to benefit Hudson Stage Company. All proceeds directly benefit the upcoming season of Hudson Stage Company - a non-profit professional theatre dedicated to producing provocative, affordable and transformative theatre to its audiences.
---
BWW Review: RENT at Little Radical Theatrics

June 2, 2016

I had the pleasure of seeing'Rent' a few weeks ago, presented by the Little Radical Theatrics in Yonkers, NY. This particular production commemorated the 20th anniversary of the Broadway production of Rent and truly demonstrated that the subject matter is as relevant today as it was in 1996.
---
BWW Review: HAPPY DAYS at Westchester Broadway Theatre

May 18, 2016

Happy Days was an iconic show in the mid "70's and early "80's that completely powered the ABC Television lineup.
---
BWW Interview: Johanna Pfaelzer, Artistic Director of The Powerhouse Theater

May 2, 2016

Vassar & New York Stage and Film have announced a few of the projects tapped for the upcoming 32nd Powerhouse Season, the annual summer season which stages full productions of new plays, workshop presentations of new plays and musicals, and readings of other works in progress, among other developmental programming.
---
BWW Reviews: MAN OF LA MANCHA at Westchester Broadway Theatre

March 18, 2016

"Man of La Mancha" opened at Westchester Broadway Theatre in the usual grand way. It is certainly exciting to have a robust Cervantes/Don Quixote and silver voiced Aldonza/Dulcinea, but the production, itself needs to iron out some kinks.
---
BWW Interview: Patrice P. Eaton of WE'VE GOT OUR EYE ON YOU at SUNY New Paltz

March 2, 2016

SUNY New Paltz Department of Music Presents The World Premiere Workshop of We've Got Our Eye on You - A Comic Opera in Four Scenes Music and story by Nkeiru Okoye, Libretto by David Cote, Directed by Susan Einhorn Performances March 1 & 5 at 8pm At the Julien J. Studley Theatre SUNY New Paltz Campus At the Julien J. Studley Theatre SUNY New Paltz Campus
---
BWW Review: THE FINAL DAYS OF WOLFE TONE at The Antrim Theater

February 20, 2016

Going to the Theatre, for me, can do one of two things: educate me and enthrall me, or elevate me to an outer-worldly experience.
---
BWW Review: ALWAYS...PATSY CLINE at Westchester Broadway Theatre

February 9, 2016

Always...Patsy Cline made its debut at Westchester Broadway Theatre last week and will play until February 28th. This jukebox type of musical tells the story of Patsy Cline's poignant relationship in the early stages of her career with a devoted fan by the name of Louise Seger.
---
BWW Interview: Stephen Ferri of TARZAN at White Plains Performing Arts Center

December 17, 2015

In this day and age of constant human brutality and tragedy, the story of TARZAN reminds us of what's really important, especially at the holidays, the unconditional love of true family, whether biological or chosen. And although we all 'look' different, under the skin we are just the same. Disney's TARZAN is victorious in bringing to the stage a well-known story with unforgettable melodies and heart-pumping music perfect for the entire family! - Jeremy Quinn, Director
---
BWW Interview: Christine DiTota And Auggie Abatecola of PETER PAN at Yorktown Stage

November 16, 2015

PETER PAN, one of the most crowd-pleasing shows ever presented at Yorktown Stage, is about to fly high once more, entertaining audiences for the start of the holiday season. The perennial family favorite, which has played in front of 10,000 people at this venue in recent years, will have weekend matinee and evening performances during Thanksgiving week of Nov. 21-29.
---
BWW Interview: Alice Ripley of ALL SONDHEIM at The Bijou Theatre

November 5, 2015

Tony Award winner Alice Ripley brings a brand new show directly from New York City's famed 54 Below to our very own Bijou Theatre in Bridgeport, CT on Saturday, November 7th. In Alice Ripley: All Sondheim, the multi-talented star of Broadway's Next to Normal, Sunset Boulevard, The Who's Tommy, Side Show, and The Rocky Horror Show explores the provocative lyrics and enduring melodies of songs written by the legendary Stephen Sondheim.
---
BWW Review: NEXT TO NORMAL at Three Act Theatre

October 21, 2015

I had the honor of seeing 'Next to Normal' with my daughter Madeleine at the Three Act Theatre Company.. Her first time seeing it, my gazillionth.
---
BWW Interview: Ana Gasteyer of I'M HIP at Performing Arts Center

October 22, 2015

You know she's funny, a Saturday Night Live alum. You may even know that she sings - she was on Broadway in Wicked. But did you know that she swings? Really swings? Get ready to meet Ana Gasteyer, jazz singer - her I'm Hip! tour, in support of her debut solo album, is heading our way.
---