BWW Review: ANNIE 'Shines' at Westchester Broadway Theatre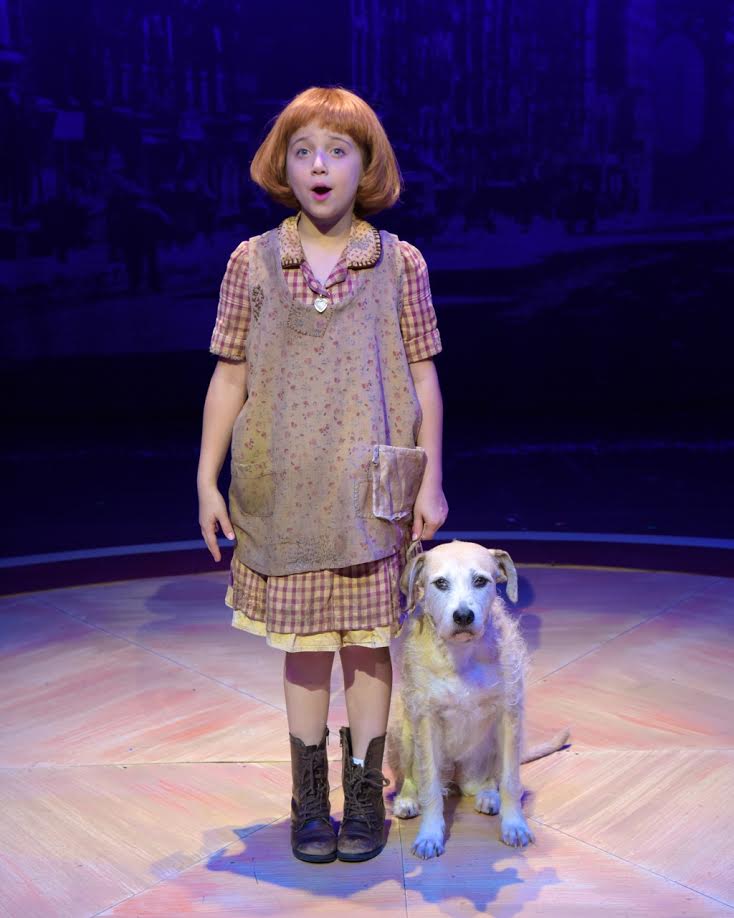 Girls and women of all ages (including this writer) filled the seats at Westchester Broadway Theatre's current production of Annie, one of the longest running shows in Broadway History. With a special menu that included a chicken finger and fries entrée, this was truly organized to celebrate theatre for all generations. Even the original Annie from years ago was there to celebrate the magic of a golden-aged show.
This production is cast with Equity actors and local girls, but one would be hard pressed to figure out who was who, for this show makes nary a stumble in the staging and choreography. Based on the 1924 comic strip Little Orphan Annie, there was no fleshed out backstory. So when these characters were brought to life, it was the intention to make Annie a character to identify with.
With a book by Thomas Meehan, and a score by Charles Strouse and Martin Charnin, Annie has inspired tween girls for years with audition anthems such as "Tomorrow" and "Maybe." Mary Jane Houdina, who also has directed countless touring revivals, keeps the heart of the show intact. Some of the dialogue has started to show its age, but that does not seem to get in the way of a feel good experience.
It is hard not to see parallels in our current administration compared to the uncertainty in the 1930's, but really, in this you are "Never Fully Dressed without a Smile." Add Ms. Hannigan and her cohorts - Rooster and Lily - and you have a moments of darkness and despair, but this is ultimately a children's show and everyone leaves happy.
With multi-layer panel sets designed by the talented team of Michael Bottari and Ronald Case and lighting design by Andrew Gmoser, the Westchester Broadway Theatre stage works to showcase the different moments in the action. William Stanley has conducted his orchestra to be sensitive to the dynamics of the score and the performer's diction was mostly strong. The sound design by Mark Zuckerman helped to keep the voices and ensemble balanced. Suzy Benziger's costumes nicely represented the era and she ultimately dressed Annie the way we have come to know her.
Peyton Ella as Annie has a strong voice with good projection. Her acting was sincere and she made for a good protagonist. Michael DeVries as Oliver Warbucks and Celeste Hudson as Grace conveyed the genuine affection for Annie, especially in the "NYC" musical number. I remember in the original production seeing a young Laurie Beechman as the "Star to be" during this number and Jesse Lynn Harte was just as memorable. It is one of the highlights of this score and I am glad they made it stand out. Sandy, played by Sunny the dog nicely integrates with the cast as well.
Susann Fletcher as Ms. Hannigan, was the right blend of evil and pathos at the same time. It was easy to hate her, but at the same time, one could feel the pain of having to run an orphanage with no hope in sight. "Easy Street" is a wonderfully bouncy
number with Adam Roberts as Rooster and Aubrey Simm as Lily that makes one want to join in the revelry.
There is a moment in this revival, when it almost seems otherworldly. During the second act, when the orphans, played by Ruby Griffin, Anika Bobra, Gabriella Uhl, Nora Kennedy, Maureen Henshaw and Haylie Shea Christiano take over the end of the song "You're never Fully Dressed Without a Smile," the staging and choreography were iso infectiously inspired, I thought I was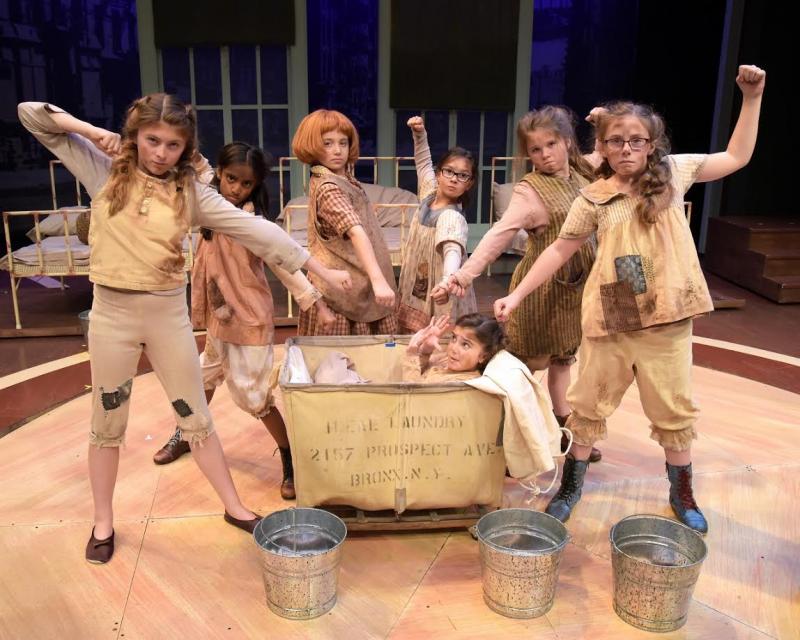 watching a different show for a second. And that is what good theatre is really all about.
Reservations: Call (914) 592-2222. Also at: www.BroadwayTheatre.com
Group Reservations: Discounts for Groups of 20 or More: Call (914) 592-2225.
Luxury Boxes: Call (914) 592-8730. For private parties of 6 to 22. Enjoy dining and theatre in an elegant private box. Additional features include an expanded dinner menu, hot and cold hors d'oeuvres, private powder room, and Luxury Box reserved parking.
Show Times: Wednesday & Thursday & some Friday Matinees: Lunch: 11:30 am & Show 1 pm.