Kathryn Kitt - Page 3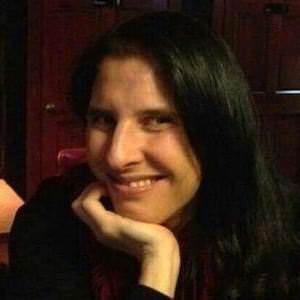 Kathryn Kitt is a Classically Trained Lyric Soprano who is comfortable singing different types of genres. She has a BA in music from Bennington College and an MFA in Opera from Suny-Purchase. She has performed in the Aspen Music Center, Tanglewood Music Center, Lake George Opera Festival and The Little Orchestra Society. She also has performed in a great many local theatres including The Armonk Players, Clocktower Players and recently Curtain Call in Stamford, CT. Kathryn also sings at Temples and Churches in which she gets to explore very demanding, yet fulfilling repertoire as well. Kathryn writes interviews for BroadwayWorld.com, CenterontheAisle.com and Theaterpizzazz.com. Kathryn is a proud member of AmericanTheatreCritics.org (ATCA). Kathryn resides in Bedford, NY with her three children, Andrew, John and Madeleine who have also been "bitten" by the music/theatre bug. Contact: Kathrynkittdiva@gmail.com.
MOST POPULAR ARTICLES
LAST 365 DAYS
BWW Reviews: SHOWBOAT at Westchester Broadway Theatre

October 7, 2015

First of all, there is the score. Jerome Kern and Oscar Hammerstein II composed an operatic masterpiece with legitimate melodies and glorious orchestrations. Listening to the score brings one back to a time when singers were sang without the luxury of a microphone and where the action alternated between comedy and tragedy, without being maudlin.
---
BWW Review: CLOSER THAN EVER at White Plains Performing Arts Center

September 28, 2015

Something very intimate is going on at WPPAC that is truly encouraging to the theatre community of Westchester; a grown up musical that enables some local staples of the Westchester community to really cut loose.
---
BWW Interview: Anya Wallach of RANDOM FARMS AND STAGESTRUCK at Random Farms Kids' Theater

August 31, 2015

The Random Farms Kids' Theater, a not-for-profit organization that puts young people center stage, is celebrating its 20th Anniversary with a commemorative production of Annie, Jr.
---
BWW Reviews: GODSPELL at Westchester Broadway Theatre

July 15, 2015

Even before the first act of Godspell began, the energy was palpable in the room. I do not think I have seen a more packed audience at Westchester Broadway Theatre in quite a while; especially since most of the shows presented there are more conventional.
---
BWW Reviews: WEST SIDE STORY at Westchester Broadway Theatre

April 27, 2015

One of the greatest shows in the history of American musical theatre, West Side Story, has made a triumphant return at The Westchester Broadway Theatre.
---
BWW Reviews: ARIANA GRANDE at Madison Square Garden

April 8, 2015

It was very interesting to experience Ariana Grande at Madison Square Garden with my 8 year old daughter - who has been a huge fan since her days in 'Victorious' and 'Sam & Cat' on Nickelodeon. Grande clearly capitalized on this audience for her 'Honeymoon Tour' gimmick.
---
BWW Reviews: A CHORUS LINE at Broadway Training Center

April 1, 2015

This weekend, I experienced 'A Chorus Line,' anew. Presented by the Broadway Training Center at the Irvington Town Hall with a cast comprised of Middle and High school students.
---
BWW Reviews: CAMELOT at Westchester Broadway Theatre

February 6, 2015

Westchester Broadway Theatre has staged a first-rate production of Lerner & Lowe's CAMELOT
---
BWW Reviews: THE LITTLE MERMAID at White Plains Performing Arts Center

December 22, 2014

Once again, White Plains Performing Arts Center has staged an inspired production.
---
BWW Reviews: BIG FISH at Broadway Training Center Of Westchester

December 1, 2014

BWW Reviews: BIG FISH presented by Broadway Training Center of Westchester (BTC) is Wonderful!
---
BWW Reviews: SWEENEY TODD at White Plains Performing Arts Center

October 21, 2014

Upon entering the re-imagined staging of White Plains Performing Arts Center's production of 'Sweeney Todd,' one is greeted with ear-piercing screams and various zombies on the stage and at a locked gate barring audience entry. Their interactions with the audience and each other, warning us to abandon all pre-conceived notions of other Sweeney Todd's.
---
BWW Reviews: SOUTH PACIFIC at Westchester Broadway Theatre

October 15, 2014

Westchester Broadway Theatre dusted off the original version of Rogers & Hammerstein's South Pacific. The show is based on the Pulitzer Prize- winning book "Tales of the South Pacific" by James A. Michener. This is not a revival of the production done a few years ago at Lincoln Center Theater.
---