BWW Review: HEATHERS: THE MUSICAL at WPPAC
In 1989, I was a student at Bennington College, probably one of the most progressive and outwardly misunderstood student bodies in America. There were no "Heathers" (popular girls) in the mix, but if there were, they enrolled against their parent's wishes. It was a college where one could explore different disciplines without judgement -- Anything went. Heathers: the Movie, came out that year and a group of us from Bennington College went to see it. It opened up a dialogue that resonates with me to this day i.e. teenage misfits who try to conform to social acceptance by compromising their principles and in addition, the musical already had a musical or even operatic element to it.
Thankfully, WPPAC agreed that this is an significant show to fight for and present. Heathers: The Musical is not a conventional musical. There are no jazz hands and 11'o'clock numbers. Instead, the score has a recitative element to it. Written and composed by Kevin Murphy and Laurence O'Keefe, the musical stays faithful to the movie, including the dark subject matters. It is a brave and thought provoking production, given that bullying is still a prevalent issue in High Schools all across the country.
Directed with ease by Jeremy Quinn, the students and adults seemed quite comfortable in their roles. Lexi Fennell Frere co-directed and choreographed musical numbers like "Shine a Light" and "Candy Store" with bursts of energy. Everyone was perfectly cast for their role. Mr. Quinn kept his actors in the moments of each scene, not shying away from the truly dark moments of teenage suicide and other horrific situations.
Stephen Ferri supported the actors musically with a technically polished ensemble, for the score required a lot of attention. Most of the it did not leave one humming, but Mr. Ferri managed to find a core to each song. The lighting design by Matt Guminski and set design by Gabriel Firestone created a stark contrast between the present and dream like situations. Molly Seidel's costumes were bright, yet had an ominous vibe.
Kerri George as Veronica Sawyer looked and acted like the musical version of Winona Ryder. The control and technique of her voice is quite impressive. She is a true singing actor, and her transition from dialogue to singing did not have any discrepancies. Nathan Cockroft as J.D. was not quite Christian Slater, but I think that worked in his favor. The role always had a trace of Jack Nicholson, so it was refreshing to see a different characterization. He especially displayEd Strong emotion in the second act.
The "Heathers," Melody Wilson, Mary Mondlock and Deanna Giuletti were convincing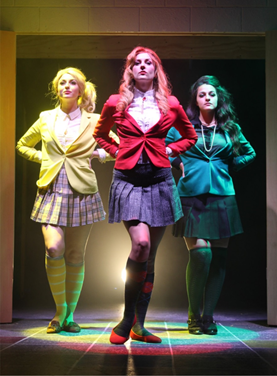 adversaries to Ms. George's Veronica and one could sense the conflicting relationship between the four of them. It is truly understandable why Veronica would want to be part of this social club, but hate it at the same time. It was also nice to see that the role of Martha, played by Kristen Kane, was fleshed out more than in the movie. She seemed less a comedic buffoon, but more substantial. I found myself really rooting and interested in her characterization, thanks to the depth of Ms. Kane's performance.
Bullying, architypes, social cliques, these are all in "Heathers the Musical" but also in everyday High School social scenes. It might make one uncomfortable to see a musical that pokes fun at such themes, given the way administrators of High Schools have to deal this situation with in today's world. However, I believe that it is a brave musical to present, and I do hope it finds a second life after this run. WPPAC has presented an important work.
HEATHERS: THE MUSICAL
PERFORMANCE DATES
October 14 - 23
PERFORMANCE TIMES
8:00 pm Performances
October 14, 15, 21, 22
2:00 pm Performances
October 16 & 23
TICKETS
$25 - $35
Related Articles View More Rockland / Westchester

Stories

Shows
Kathryn Kitt is a Classically Trained Lyric Soprano who is comfortable singing different types of genres. She has a BA in music from Bennington College (read more...)