BWW Review: YOU WILL REMEMBER ME at Hudson Stage Company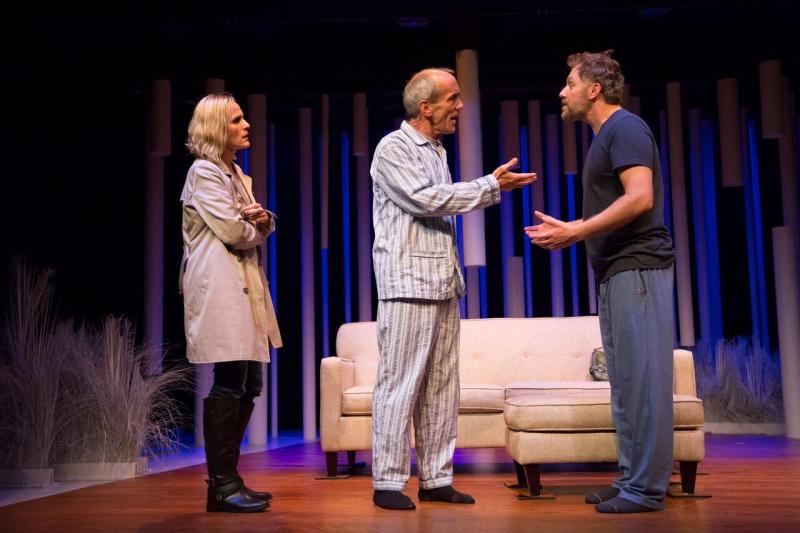 It is a story that, sadly, continues to be written and experienced. A family affected by debilitating illness. Whether it is mental or physical, the ramifications of a once vibrant and sharp individual is ravaged by a disease to the point of needing to write things down on a repeated basis.
This is the story of Edouard. A commanding presence and highly respected professor. He can spout witticisms about any topic and completely engage his students with vast knowledge and experience. That is why it is truly heartbreaking to experience his immediate decline in that he cannot remember his day to day routine. What he had for breakfast falls off his radar. Most of the action takes place in a country house in the province of Quebec, with some dreamy flashbacks in other settings.
Edouard's family consisted of his wife Madeleine, his daughter Isabelle, Isabelle's partner Patrick and Patrick's cellphone obsessed daughter Berenice. Berenice happens to be the one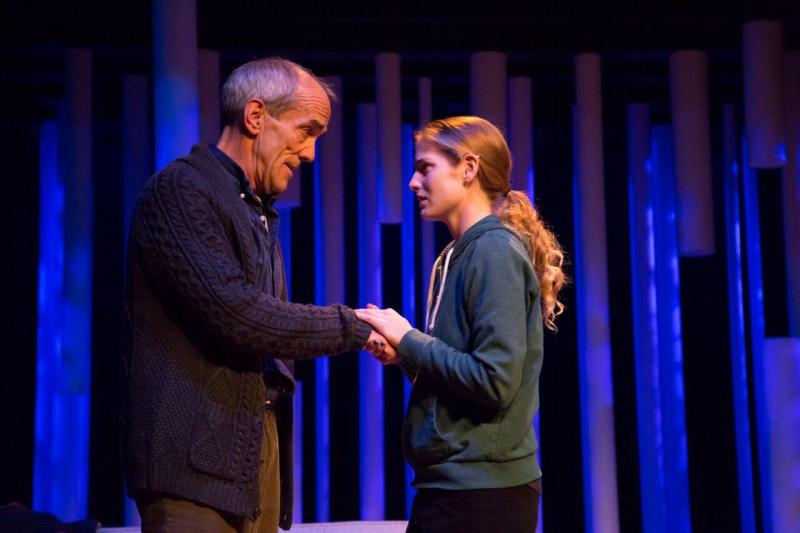 who gets through to Edouard, for she reminds him of a past family member. This evokes all sorts of emotions and memories and ultimately helps Edouard to heal - to the best of his ability.
You Will Remember Me is written by French-Canadian playwright Francois Archambault with translation by Bobby Theodore. Directed by Hudson Stage Company founder Dan Foster, the stage is transformed, from the vision of set designer Steven C. Kemp, into a disjointed backdrop. This, perhaps, reflects the broken aspects of Edouard's brain. The play in itself can be quite sad, but all is not completely lost. The staging itself invokes memories that trigger moments of clarity in Edouard and that is conveyed from the strong acting and creative team.
John Hutton conveys the multiple layers of Edouard's personality; from his vibrant presence to his decline with complete conviction. It is easy to see why the other characters are completely enamored with him. Susan Pellegrino, as Edouard's wife Madeleine could have been an unsympathetic character, for she abandons him at his time of need. However, one can truly see how heartbreaking it must be to be with a man who no longer is himself.
Susannnah Schulman Rogers as Isabelle is initially unlikeable (as a character), but once the backstories are revealed, it is evident that she has suffered enormously. Ms. Schulman Rogers undergoes a complete journey with Isabelle which in the end gathers sympathy. Chris Kipiniak as Patrick, Isabelle's good hearted boyfriend give some much needed comic relief. There are some witty moments between him and Mr. Hutton, but not in a condescending way. Patrick truly cares for Edouard, even if he does not always read situations the right way. Ella Dershowitz, as Patrick's daughter Berenice, rounds up the cast with a strong contemporary portrayal. This works, for Berenice spurs on Edouard with her knowledge of all things media and motivates him with energy to "remember."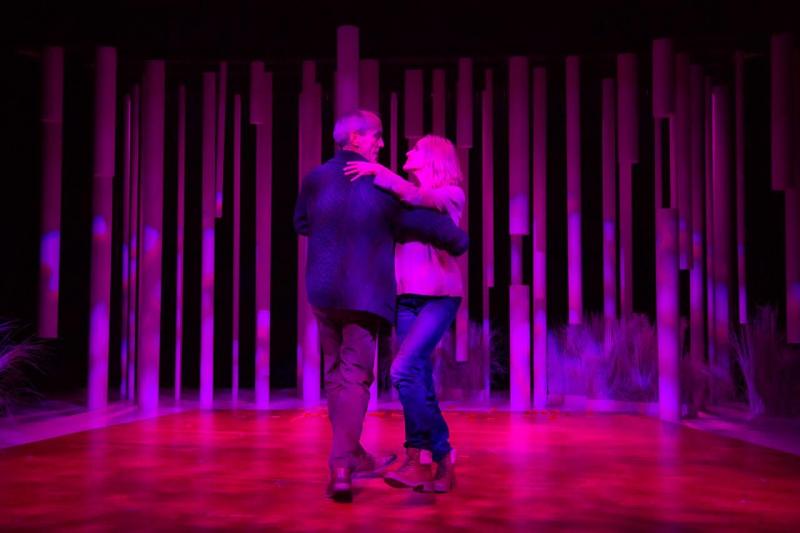 Even though You Will Remember Me is a play, there is quite a musical flow to it. Mr. Foster must have felt the same, for having Tony Yasbeck choreograph a musical interlude in the second act, it was truly inspired. The actors were choreographed to move to an original song "TU TE SOUVIENDRAS DE MOI," written by Marc Gelinas that unified the characters in one brief moment. Andrew Gmoser's lighting design and William Neal's sound design were unified. The costumes by Charlotte Palmer-Lane seemed lovingly thought out.
You Will Remember Me will definitely stay with you, for it did with me and my twelve year old son. I was not expecting him to really process the subject matter of a family's painful inner struggle with illness, but he was completely engaged and had a lot of thoughtful questions. The common theme is that there can be hope, even if things are outwardly broken. That, for me, is a powerful message to take away.
You Will Remember Me runs at Hudson Stage Company at the Whippoorwill Hall Theatre, North Castle Library in Armonk through October 29, 2016.