BWW Interview: Devanand Janki, Artistic Director of Bingham Camp Theatre Retreat
Bingham Camp Theatre Retreat (BCTR) develops new work for the stage that promotes and celebrates diversity. Emphasizing non-traditional casting, multi-ethnic participants, and bold theatricality, BCTR offers unique development opportunities for new plays and musicals that encourage dialogue among artists from a variety of cultures.
Bingham Camp Theatre Retreat envisions an American Theatre where established and aspiring artists of color have generous opportunities to practice their craft, on- and offstage. In pursuit of this goal, BCTR will:
- Provide a safe, beautiful space in Salem, CT where artists can gather to develop new works that give voice to under-represented communities;
- Engage the communities of Salem, New York City and the American Theatre in dialogue, to advance the stories and artists associated with BCTR;
- Offer youth opportunities to learn from leaders in the field, in creative and administrative capacities that support BCTR programs.
I had the opportunity to talk with Artistic Director, Devanand Janki, about this newly formed company:
I am so happy to talk to you! Tell me about your company, Bingham Camp Theatre Retreat. How did it all start?
The Bingham Camp itself is a family home that I grew up visiting as a kid. I spent my summers visiting my family in Salem, and I would often go up to Bingham Camp to visit cousins and aunts and uncles, many of whom were playwrights or musicians. I used to watch them. Basically, it's a family home that people from out of town ... We rent whenever we go there to get out of the city. I would see my aunts and uncles and cousins writing operas and performing concerts, and I always sort of had in the back of my mind that I wanted to do that as well.
Just a little history about the camp itself. It is 110 years old and sits on a hill overlooking the Salem Valley. It looks over a land trust. The whole land is protected by an environmental group, so it's really kind of beautiful. It's designed like an old Japanese tea house. In fact, the dining room is like an authentic Japanese tea house was brought over from Japan. It was built by Annie Olivia Tiffany, who was the daughter of Charles Tiffany, who founded Tiffany & Co., and the sister of Louis Comfort Tiffany, who made the lamps. She was a very Rich Woman and had houses all over the world, and this was sort of her country, rustic, roughing-it house.
Her weekend retreat.
Exactly. Her daughter was Alfreda Mitchell, who married Hiram Bingham, hence Bingham Camp, and Hiram Bingham _was the explorer who rediscovered _Machu Picchu, the lost city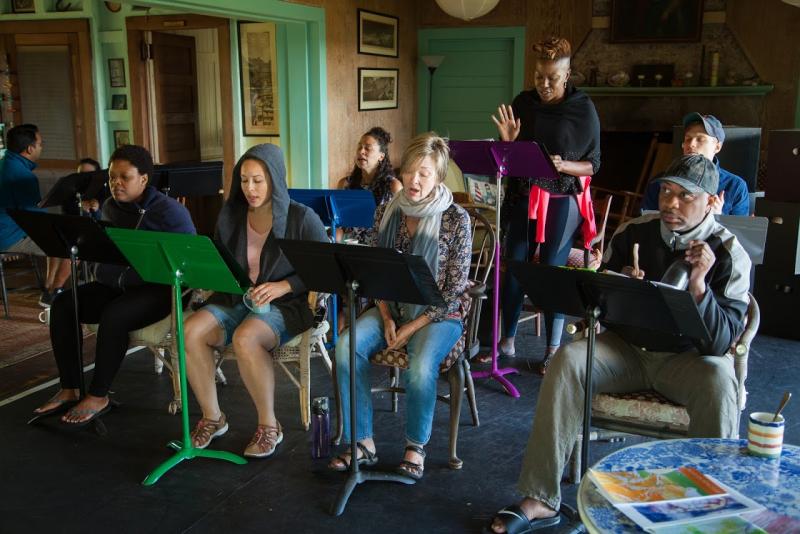 of the Incas, and who Indiana Jones is based on.
That's so fascinating!
Anyway, he is my great grandpa.
Oh. There really is a family background.
Yes, there really is a family background to it, so I sort of grew up coming up here, and I had access to this house. It's just been beautiful and very inspirational to me, and I moved to New York and then I stopped really going there during my Broadway years performing. Needing a break, I pulled a bunch of my Broadway folks together. I threw them in a car, and we went up to Salem just to get out of the city.
Right. I think we all need a place to reboot from being in NYC.
I remarked that, we should just go. Of course, it sort of became an annual thing. I started bringing my Broadway colleagues up there. We would go there for fun.
They had time with their "eight shows a week" schedule?
Yes, it was all people who weren't working at the time.
So we started doing that, and what's amazing is, inevitably, when you get creative people together, they end up being creative. Over the years, plays have been written, concerts happen, books have been written. It's had a very natural and organic progression to it.
This was more like a place to kind of collaborate and get away. It wasn't like you were actually putting on shows at the time?
Oh no. We were going up there for vacation, to just relax and be together and to unwind, but it is so beautiful that it sort of inspires that kind of ... It just does. It's the history of it and the location.
That had been in the back of my mind. The other side of it is my own career as an actor, being a person of color in the business, and then as a director, just my own little soapbox about diversity and specific casting, visibility for people of color. These are the most important things to me, and I was very frustrated with the progress. I feel like there's a lot of talk about diversity, but very little being done, especially on the production end of things, so I finally decided that I just needed to do something myself. I have so many unbelievably talented friends who just never get opportunities, who write or roles. Having performed in Miss Saigon and King and I, most of my Asian friends are relegated to do those two shows.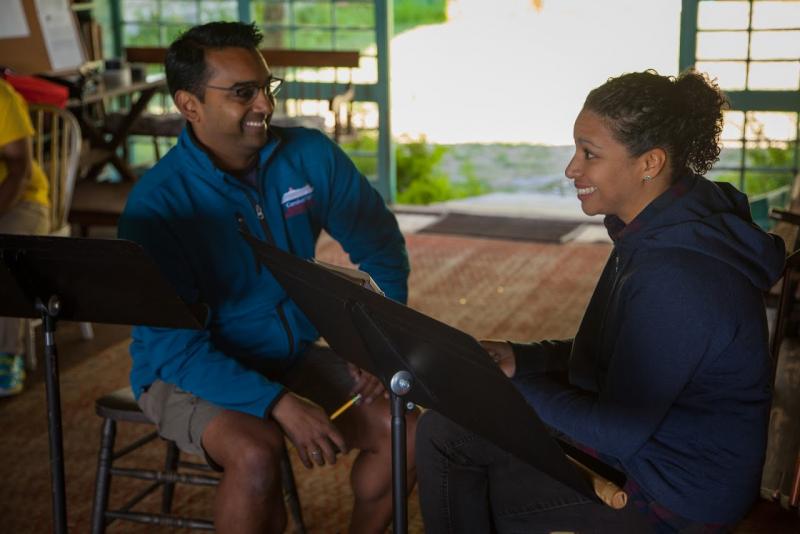 Right, right. Now would you present conventional productions? Would these all be original works, or you would maybe do a different version of Carousel or something?
Maybe down the line, but initially my passion is new work and developing new writers and new composers. I really feel that in order to make a change, it has to start at the development stage, but end with new work.
Eugene O'Neill and Sundance and all those places have a similar model, but I feel like, if you're not going into it from the beginning saying, "Okay, we want to think about subject matter and cast and what our intention is with this." I feel once a show is on its way, it's hard to backtrack, and for people to think outside the box.
For me, it was just really important that it be really diverse. Not only on stage, but behind the scenes with the stage management.
Creative team and all that.
Everything is a real mix, you know what I mean? People from all different backgrounds, and as our little motto says, stories and faces that reflect the world we live in. For me, when I go to Broadway, it just looks like the world I live in. You know, when I walk down the streets of New York, it does that.
Right. Are you having things reviewed here, or this is just a place to try things out?
It really is a developmental retreat. Basically the retreat is two weeks. We set a new piece of musical theater, and we bring it up there, and basically work on it. It's not really a workshop, it's not really a reading, and it is whatever comes out. At the end of it, we do presentations. We did two presentations to the local community and people in the business. Really, we don't have backers or auditions or anything. It really is, we're inviting people into the process. What's amazing is when you get out of the city you get so much more work done, when you don't have the distractions.
Oh, I know, or your day job, or having to go on auditions. You probably don't even get Wi-Fi up there.
Oh, no. We have really slow Wi-Fi. It's bad, one of the actors was freaking out recently because there's no TV up there, and like what are we going to do?
We did the presentation at the end, and one of the things we did was an invited dress rehearsal for local students and teachers to come and do a talk-back. Since then, the show, we paired up with a studio in New York, where I'm on the faculty, and they produced a couple presentations here. Since then, it's been picked up by commercial producers. In our first year, it's been a whirlwind for that particular show.
Yes, I read about it. It looks very impressive!
For the retreat itself, it's been very exciting, because we had a ton of new submissions for musicals. There were so many great ones to choose from, and we chose The Family Resemblance by Masi Asare, which I'm really excited about.
Are you going to direct it?
Yes, I am directing it. It's a beautiful piece, sort of semi-autobiographical about two mixed race women and their African father and white mother and an African mother ancestor who comes to visit them as a spirit. It's a very intimate piece, and really a great mix of pop and traditional Ghana music.
She has a very unique voice. She recently won the Billy Burke Ziegfeld Award for female writers. Jeanine Tesori is her mentor.
How lucky and exciting for her!
She's really quite extraordinary. I feel like she's working her way up.
Practicing hard.
Yeah, she is very smart! We are presenting her piece, and we are just going to work on it. We have an extraordinary cast of Broadway people. I lured them out to the country. Like you were saying, it's a very non-traditional type of experience. Basically we live together and eat together for two weeks, so it's rather intensive.
Does this happen through the year, or is it just at a specific time?
It just happens in the fall, right now. It is for two weeks in the fall, which is the most beautiful time. We're only in our second year, so I hope it expands. We are expanding a little bit this year. We do an evening fireside reading where we read a brand-new play. It's a special event for our donors. They get to come and meet the playwrights, we present a new work.
We're adding an educational workshop this year, which I'm really excited about. Most of the people up there are all professional Broadway people. We have some interns, and for me, it's really important that young artists get to work with professionals. For me as a young performer, I feel like I learned everything that I did from watching professionals.
Oh, absolutely.
Just being a sponge, more so than I ever did in school. This is the pilot year, and we're starting with a full-day workshop. They get to watch rehearsal, and then they get to come back and do a little Cabaret act, where a few of the people, they get to perform with the Broadway folks.
So, would you hold a Masterclasses as well?
Yes, we're doing a big musical theater master class. This year it's kids 16 and up who want to pursue musical theater, and we're catering to that.
I think once the word gets out, you might be inundated.
I hope so! It's a tricky time of year for us. You don't have to say this, but it's been hard to get the word out in the summer. It's also hard for us because we are sort of an unknown entity right now. I know that the caliber of talent, the experience is going to be life-altering for these kids.
Do you see it at some point maybe having a Williamstown Theater Festival kind of goal?
Yes, absolutely.
That's kind of like an actor's playground. I remember I used to go there back in the day. I loved going. The coffee shops, and hanging out, and doing theater, it was like summer camp for actors.
No, absolutely. As you said, it is Theater summer camp for adults. I would love for that to happen. I'm the artistic guy, and I literally last year told all my friends together. I said, hey, I have this idea, help me start a company. Called in every favor, asked everyone to work for free for me.
You'll be happy you did.
This year, it really has grown exponentially. All the actors are union, they're all equity. There's all this excitement of expanding, but of course I'm like, it's just me and a few friends. Now it's a little overwhelming, but of course I want it to grow. I'm excited. Bite off manageable sized chunks. I do feel it has huge potential and is much needed. It was interesting, last year people asked me a question, because Connecticut is primarily white, you know what I mean, especially the theater audience.
I was asking, is there an audience for this? Unanimously, everyone's like, oh my God, people are desperate for it. People want these stories.
You're also probably near Yale University, right? Wouldn't kids from Yale want to know you exist?
Yes. Part of it I would love to ... I'm working on creating partnerships with all the theaters in the community. Goodspeed has really helped us out with casting and musicians. They've been lovely.
They've been lovely. The people there are just friends. We've been working with Mitchell College, which is a college in New London. There really has been such a sense of community with it. I think the more theaters work together and there's a cross-pollination. I think it really helps.
It should be a team sport.
Actually, one of the really cool things about being up there, I was going to mention is we bring all these artists up there. We're in the middle of nowhere, so we have to cook our own meals, and it takes 25 minutes to get to the grocery store. Part of my challenge was feeding people. There's this amazing advisory committee of locals, families who banded together and basically created this board that takes care of all our food. They come and feed us full-on Thanksgiving dinner every night. We had a local vineyard donate wine.
Oh, very nice!
We had an organic farm give us vegetables for the whole retreat.
You kind of have to be that way up there, because what else is there? It's like going to college in a really small town. At some point you just integrate with everybody.
The business is already so tough, and being in the city's already so tough. It's so competitive and you can get very discouraged, and we forget why we're doing it.
What's really impressive is you're at the top with all your credentials and you still want to give back. Some artists get to your level and they're like, "okay, I'm in the zone of equity calls and workshops; I really do not have the time."
Selfishly, it's because I want to do new work, work that I believe in, but what gives me the most joy is being able to give a person a job. I cannot tell you ... I sit in auditions and watch hundreds and hundreds of talented actors who are all brilliant in their own way, but there's just no job for them, or they're just not right for the project. It breaks my heart because I wish it was all of them. Just my little thing, being able to call someone up and say, hey, I can pay you two cents to do this, and they're happy for that, is thrilling for me. Like I said, for me, the joy comes from giving people opportunities that they never had before and experiences that they never had before. I hope we expand so that I can provide more of those.
Well, it is very refreshing, because people are always looking for work and looking for opportunities, and just to know that they would be coming into an environment that's safe and warm, that's everything to an artist, I think, as opposed to, "oh my God, am I going to get hired back again if I don't do it well the first time?" People get so anxious in this business.
Absolutely. I'm a big advocate, like I said, business is so hard already, and for me, if it's not fun, then why are you doing it?
Exactly.
Yes, we work hard, and yes it can be intense, and yes, especially in musical theater, it's the ultimate collaboration, so things can get heated. When you are in a safe environment and you do feel supported and everyone's thinking alike and feels safe, it really makes a difference. I think that's why Sundance and Eugene O'Neill and New York Stage and things like that are so successful because they are out of the city.
This is true. There's not enough of those places.
No, in fact, I was called to get involved with Powerhouse Theater at Vassar College this year, and I knew it existed, but I had no idea about the mission, and it feels like there's so many companies like yours, who are out there really trying to nurture talent and new works, and nobody knows about it.
From a non-theater standpoint, what was interesting was, Salem, they support the arts, but they're not huge theater-goers. People are fascinated with the process. They just love ... They're not expecting a full show. They love meeting the artists and talking with them and learning about their experience, seeing a work. Last year, people were calling line, and some people were on script, some people off script. They really got to see the magic behind the curtain.
That's sometimes more interesting that seeing the finished project, to get to see that you guys are actually human.
Yes, exactly. You actually can sometimes miss a step. It's great. I should say, starting a not-for-profit is not for sissies, man. It's been a huge learning curve for me.
Well, I wish you all the luck in the world and I look forward to seeing and hearing more! Thank you for the great interview!
Devanand is a New York-based Director and Choreographer who grew up spending summers at The Bingham Camp. His career spans all facets of the performing arts - theatre, opera, ballet and corporate entertainment. He began as a performer, appearing in numerous productions including Broadway's Miss Saigon, Cats, The King & I and Side Show. For the past 15 years, he has been a freelance director, working regionally and in New York on over 50 shows including Aladdin, Junie B. Jones, Man of La Mancha, Rent, The Full Monty and Off-Broadway's Zanna Don't! for which he won the Lucille Lortel Award. His passion has always been creating new work for the stage. He is excited that The Bingham Camp, which inspired so much of his own creativity, is now a home for other theatre professionals. He looks forward to sharing their work with the community in the years to come. www.devanandjanki.com
Related Articles View More Connecticut

Stories

Shows
Kathryn Kitt is a Classically Trained Lyric Soprano who is comfortable singing different types of genres. She has a BA in music from Bennington College (read more...)