BWW Review: GHOST THE MUSICAL at White Plains Performing Arts Center
When "Ghost" the movie premiered in 1990, it became an instant sensation. The combination of romance, comedy and fantasy made for a movie going experience that men and women could relate to. Everyone wanted Demi Moore's haircut, pottery classes and the song "Unchained Melody" performed at proms and weddings. It stayed at the top of the box office charts for months.
It only seemed inevitable that it become adapted for the Broadway stage and the White Plains Performing Arts Center has the luxury of being the first to present it in Westchester. It helps that the venue was originally a movie theater, making it truly feel like one is attending a movie musical - so to speak.
"Ghost, the Musical" has a book and lyrics by Bruce Joel Rubin, who originally wrote the screenplay for the movie. All the memorable lines are intact including "Ditto" and "You in danger, girl" that have become catchphrases to this day. Surprisingly, the story does not seem dated and still pushed the right buttons pertaining to the romance and comedy aspects.
Stewart (Original Eurythmics founder) and Glen Ballard composed the music and unfortunately, it does not lend itself to any real hummable songs. It seemed obvious that giving "Unchained Melody" repeated play was the right idea - even interpolating the theme in counterpoint to another song. But this is unfortunate, because the rest of the production values, formidably directed by Joseph Walsh, are top tier. The set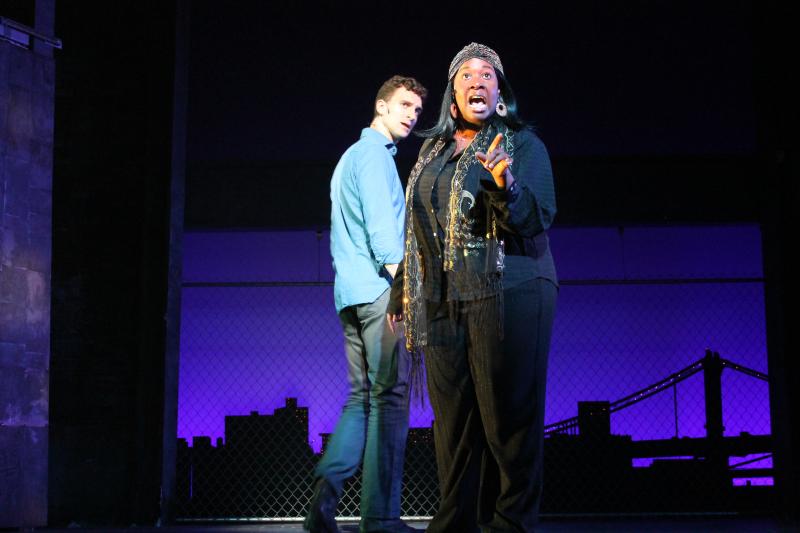 design by Ann Beyersdorfer conveys a feeling of Brooklyn and the underground Subway dimensions. Ian McClains projection design and Matthew Guminski's lighting design complete the picture, conveying all aspects of New York City and all its energy.
Stephen Ferri has gathered an incredible group of musicians and leads them expertly. Scott Tunkel's sound design was mixed just right and it never felt like the singers were pushing themselves too hard vocally. One of the highlights was the rousing number led by the scene stealing Ellisha Marie as Oda Mae Brown that incorporated gospel flair and fresh choreography by Lexie Fennel Fraire.
The cast does an impressive job in bringing these characters some distinction. Natalie Weiss (American Idol, Everyday Rapture), who is billed as the star, has beautiful pop vocals as the long suffering "Molly." Steven Grant Douglas as "Sam Wheat," Molly's boyfriend banker who spends the whole show as the title character, does not resort to caricature and gives a full bodied performance. Wayne Shuker as "Carl" is the right blend of loathsomeness and sympathy, which is not easy to do. The ensemble was lively and moved with grace and fluidity. As aforementioned, Ellisha Marie as Oda Mae Brown played the role with her own spin - never mimicking Whoopi Goldberg's Oscar winning performance.
"Ghost, the Musical" is a noble effort from WPPAC to bring something new and fresh to the Westchester audiences. That in it itself should be commended and it is always encouraging to see fresh works represented. This show is more suited to adult audiences, but all in all, it is a visually stunning show and worth seeing for that alone.
GHOST THE MUSICAL will play the White Plains Performing Arts Center Friday, October 13 8pm; Saturday, October 14 8pm; Sunday, October 15 2pm; Thursday, October 19 2pm; Friday, October 20 8pm; Saturday, October 21 8pm; Sunday, October 22 2pm; Friday, October 27 8pm; Saturday, October 28 8pm; Sunday, October 29 2pm The White Plains Performing Arts Center is located on the third level of City Center off Mamaroneck Avenue in downtown White Plains, minutes from the White Plains Metro North Station. Tickets start at $33. For tickets visit the theatre box office Monday-Friday (11am-6pm), purchase the tickets online at wppac.com or call 914-328-1600. For Group Sales, please contact boxoffice@wppac.com.

Related Articles View More Rockland / Westchester

Stories

Shows
Kathryn Kitt is a Classically Trained Lyric Soprano who is comfortable singing different types of genres. She has a BA in music from Bennington College (read more...)