BWW Interview: Joshua Bell - The Performing Arts Center at Purchase College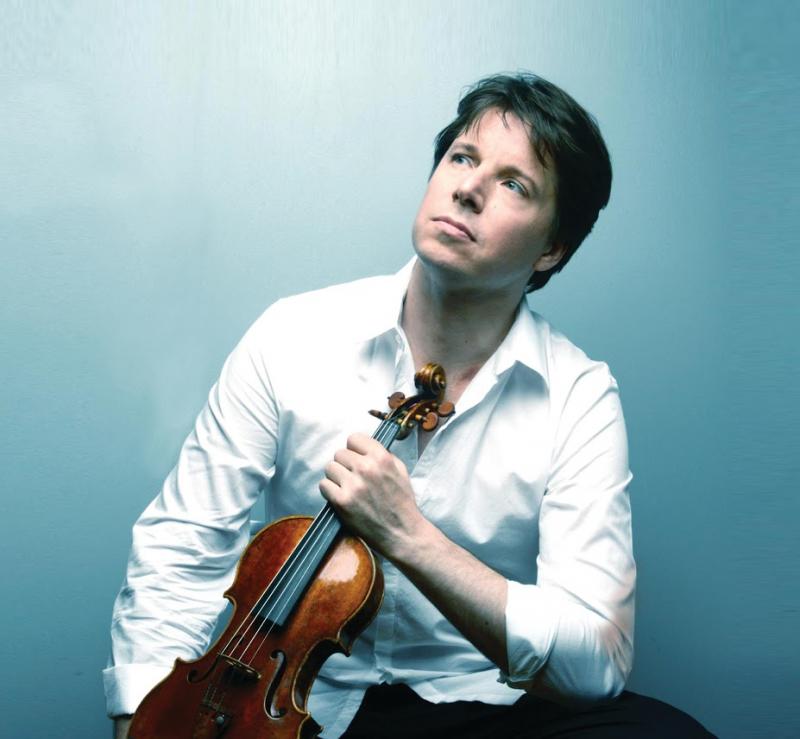 Joshua Bell is a classical superstar: violinist, cultural ambassador, and all-around inspiration. Musical Director of The Academy of St Martin-in-the-Fields, television performer (Mozart in the Jungle!), and subway station busker-provocateur, he's a deep and unique talent. I got to talk to him one-on-one recently, but first, let's check out some of what he's been up to lately
First, there's the Cuba trip that inspired an Evening at Lincoln CenterJoshua Bell Cuba this past spring as part of the Presidents Obama's Arts and Humanities Delegation, along with luminaries Adele Chatfield-Taylor, Martha Clarke, John Guare, DJ IZ, Lourdes Lopez, LarisA Martinez, Dave Matthews, Kal Penn, Smokey Robinson, and Usher he met The Chamber Orchestra of Havana.
Impressed, he wanted to perform with them in the U.S. group will come to New York City for a Live from Lincoln Center! Special titled Joshua Bell: Season of Cuba,to be broadcast December 16th with a number of artists including Dave Matthews.
Joshua Bell's new CD FOR THE LOVE OF BRAHMS with Steven Isserlis, The Academy of St Martin in the Fields and Jeremy Denk was released by Sony Classical on September 30th. It was the Strings and Gramophone September cover .
HERE IS A LINK TO JOSHUA, STEVEN AND JEREMY DISCUSSING THE CD: https://vimeo.com/184755639
His previous CD, BACH, recorded with the Academy of St Martin in the Fields was released last September, 2015. This marked Bell's second recording with the Academy in his role as Music Director. The first, recorded in 2013 was the Beethoven 4thand 7th Symphonies debuted at #1 on the Billboard Classical Chart.
Joshua was named Music Director in 2011 for the Academy of St Martin in the Fields, the first person to hold this post since Sir Neville Marriner formed the orchestra in 1958. His relationship with the Academy goes back to 1988, when at the age of 21, he made his first-ever concerto recording of Bruch and Mendelssohn's Violin Concertos. Since then he has frequently recorded with the Academy. He played on their album Romance of the Violin, which was named Billboard's Classical CD of the Year in 2004. Their recording of Vivaldi's Four Seasons (2008) also received high praise including Classics Today who said, "it scorches and sizzles...Bell and his first-rate partners make beautiful music out of Vivaldi's conceptions." SADLY, SIR NEVILLE PASSED AWAY LAST WEEK.
Joshua recently joined Turnaround Arts, which provides access to arts education in some of our cities lowest achieving schools. .
in Season 3 of Mozart in the Jungle launching Dec. 9Joshua appeared in the first two seasons of Amazon'sGolden Globe Award winning TV program Here's a link: http://www.wqxr.org/#!/story/nine-scene-stealing-cameos-mozart-jungle-season-2/ (See video #6.)
Joshua's violin, the 1713 Huberman Stradivarius, is over 300 years old. Bell is proud to be the guardian of this instrument. While it is famous for having been stolen, what Bell finds more important is that it is this instrument that Huberman performed on to raise money to found the Palestine Orchestra, and in the process, saved more than 100 musicians and their families from the Holocaust by providing otherwise impossible to obtain exit visas from Europe to Palestine. It was during the last concert of this fundraising tour that the instrument was stolen from his Carnegie Hall dressing room and recovered more than 50 years later.
In 2007, Joshua performed incognito in a Washington, DC subway station for a Washington Post story by Gene Weingarten examining art and context. The story earned Weingarten a Pulitzer Prize and sparked an international firestorm of discussion. The conversation continues to this day, thanks in part to the publication (now in its third edition) of the award winning illustrated children's book from Annick Press, The Man With the Violin by Kathy Stinson illustrated by Dušan Petri?i? which is also being published in a number of countries including China, Korea, Serbia and Brazil.
Joshua's 2016/17 season includes season-opening appearances with the Atlanta Symphony and Minnesota Orchestra and performances with the New York Philharmonic under Alan Gilbert, Los Angeles Philharmonic under Gustavo Dudamel, plus the symphony orchestras of San Francisco, Seattle, Montreal and the National Arts Centre Orchestra. Abroad he performs with the Vienna Philharmonic, Leipzig Gewandhaus Orchestra, Frankfurt Radio Symphony and Czech Philharmonic. He embarks on four international orchestral tours: To the U.K., Benelux, Germany and Australia with the Academy of St. Martin in the Fields; to Switzerland with the Verbier Festival Chamber Orchestra; to Austria, Germany, Italy and Sweden with the Swedish Radio Symphony under Daniel Harding; and to Korea and Japan with the Orchestra de Paris also with Harding. He makes recital appearances throughout North America with his recital partners Alessio Bax including at Lincoln Center and with Sam Haywood in a West coast tour.
A highlight of the season features Joshua in a week-long residency in Washington, D.C., where he will serve as 2016-2017 Artist-in-Residence at the Kennedy Center and National Symphony Orchestra. Performing and collaborating across artistic and educational mediums, he will explore the depths of artistic possibilities examining synergies between music, dance, the culinary arts, literature, education, and technology. Featured events will include an evening with Gourmet Symphony, a collaboration with Brooklyn's Dance Heginbotham, a recital with literature celebrating John F. Kennedy's Centennial, and a world premiere co-commission from Anne Dudley in a family concert based on the bestselling children's book The Man with the Violin, inspired by Bell's incognito 2007 D.C. Metro performance.
And what always remains close to his heart, is "giving back" -teaching at his Alma Mater, The Jacobs School of Music at Indiana University; and working with a number of music education groups including New York City based Education Through Music. Check this out: https://www.youtube.com/watch?v=asruQYExacA
Mr. Bell will be performing at Purchase College, October 30, 3pm. He will be accompanied by pianist Alessio Bax, known for his lyrical playing, insightful interpretations, and dazzling facility.
The music world lost a giant at the beginning of the month, a man you had a unique tie to, Sir Neville Marriner. What place did he had in your life?
Yes, I was very sad to hear about his passing. Even though he was 92, it was quite unexpected. He was supposed to be in rehearsal the next day with the Academy and perform in Vienna that week. It's a wonderful thing that one can live into their 90s performing and being active up to the very end, but it was still very shocking for all of us.
I met him when I was a teenager. I did my first album with him, the Bruch Mendelsohn
concertos when I was very young, and then met him and played with him a few times over the years. We were not close, close friends, but he was always very kind to me. I was becoming involved with the Academy, as they named me music director after he retired, he was very welcoming and very kind to me, so I really appreciated that. He meant a lot to me in that way, so it was very sad to me.
The concert at Mahaiwe on the 28th, An Intimate Evening with Joshua Bell and Alessio Bax - Music of Beethoven, Brahms. Beethoven is a relatively early phenom. Can you tell me what stands out to you about the work?
What's fun about that piece was just it's also a piece I played when I was very young and first started. I actually haven't played it in many years. I'm most often playing the Tenth Sonata, or maybe the Spring. Unlike some of those heavier works, the Second Sonata is full of humor. It's very funny and quirky, and not the kind of Beethoven that we think of shaking-his-fists-at-the-world, type of Beethoven.
You just kind of smile all the way through, although there is, in the slow movement, there's hints of the Beethoven to come. It's a really underplayed work, and so I'm glad we get to play it there.
What is the word on the week-long residency in Washington, where, among other things, you're playing with a Gourmet Symphony. First of all, when does that take place and what's going to happen and whether the gourmet is a symphony of pots and pans?
It's basically, the week there, they've asked me to sort of be involved in several things, sort of in
a festival-type atmosphere, playing. I'll get to conduct and play with the National Symphony and do some chamber music and recital. It's sort of a young people's concert. We're going to premiere a new piece for violin and orchestra which brings to life a children's book which was written about my metro experience in the Washington subway, a book called The Man with the Violin, which is a very sweet children's book. Anne Dudley, in London, is writing the music for that, which is just being finished as we speak, apparently.
It's something they're still not quite certain yet. The gourmet idea, because of my love for food ... I love food, I think it was someone's idea to try to combine music and food, which is sometimes done at these festivals. The gourmet symphony's on February 8th, and then the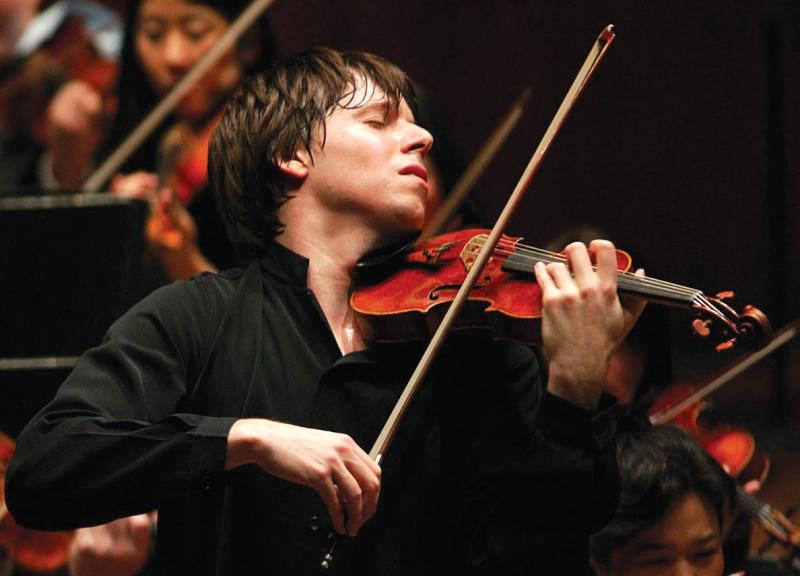 festival runs between the 7th and 12th of February.
What was your initial reaction when you found out that the baton was being passed to you as music direction of Academy of St Martin in the Fields? What was going on in your head when you found out about this?
I was certainly very excited about it. I had already had quite a nice, close relationship with the orchestra. I had been a guest for the last decade before that, very often taking them on tour. I knew that he (Sir Neville) was retiring at the age of 90. I guess in the back of my mind, since I had done so much work with them, I had thought they were going to ask someone. I was hoping I'd be considered. When I got the call saying, the orchestra ... the members have asked for me to be the next music director, I was certainly very excited. I didn't, and I don't really think about the idea of filling Sir Neville Marriner's shoes. I don't think in those terms. I wouldn't be able to. I will never do 50 years. I don't think I would be able to do that.
What I do with them is a little bit different. I lead from the violin most of the time, which is really the way, actually, he founded the orchestra. I don't use a baton. The baton wasn't officially handed over to me because I don't use one, so I didn't think of it that way. Certainly, the kind of work I did with them on occasion was what I enjoyed the most. The fact that I get to do that now 30 or 40 times a year is just sort of a thrill for me. It's what I look forward to.
What is the difference in your head between live performances and going into the studio? You have a new recording out. What does the presence of an audience do to you that's different from going into a studio and doing a recording?
I love playing in front of an audience, of course, and the musicians I worked with on that album, There's something in the pressure of a concert ... There's chemistry that happens between the audience and the player. You're excited, you have only one shot at it, that you really just give every ounce of your being into every note. To create that in a studio is much more difficult. That's the aim, is to try to create that.
There are advantages to the studio, because if you don't like the way something went, not just missing notes, but just ... It's more offense. It's not about playing notes or being slightly out of tune here or there. It's more about, we played through a section or a movement of a piece, and say, "Did we capture what we want? Let's do it again." We can aim for strife or something. We can go listen and say, "No, we should go for this more. We should do this."
There's a lot you can do in the studio, which is beneficial, but the magic of the audience is something that's harder to create. It's a trade-off.
The Brahms Trio in C Major was written when he was twenty. Do you see any similarities between yourself when you were a young musician and the way Brahms wrote this piece in his early years? You have already worked on later works.
I'm not going to put myself in the same sentence as Brahms, but I guess all of us can relate to the idea of feeling the difference in the way we feel in life when we're twenty and when we're forty. If you're forty, I don't know if I'm ... yet. I think we can all relate to that, so in that way, yes, certainly. When I look back at that work I did when I was twenty, I think, oh my , what was I thinking? I didn't have the experience, or maybe even embarrassed by the way I would have thought about things, or many aspects of life, I guess, but that's just a normal part of getting older and maturing.
In that sense, perhaps that's the reason why Brahms revisited the early trio later in life and he revised it tremendously. He changed a lot of things, eliminated a lot of things, refined it, and made it more compact. Somehow, in the process, he left on the cutting room floor a lot of amazing stuff. This early version really gives you a glimpse at the younger Brahms, a little more impetuous, a little less rounded edges, or emotionally, a little bit more raw. It's fascinating.
In the video about your album, the making of, you said that this felt like it was the right point in your career, right now, to record the Double Concerto, because you're working with the right musicians. What brought you to this decision that made this whole thing just feel right?
I want to leave behind some evidence of what I do. Finding the right time to do it, from past experience, I know I've sometimes decided to do something maybe too soon, and I realize later I should have just waited and should have performed it a lot more.
In this case, the Brahms Double, The first time I ever did it was with Steven Isserlis. We're very close friends. We've done it over the years. Finally, we had the tour scheduled with my orchestra, the Academy, and had the ingredients of my favorite players had several chances to perform it. I thought, you know what? Fine. We may not get this chance again. Even getting to schedule the Brahms Double is not something that happens every day, because the cellos are busy, I'm busy. Getting everyone together seldom happens. I figured, this is the time.
What is your thought process when you put together the program, the recital program that you're going to be doing here and Worcester and elsewhere? Is it to give the audience a range of useful emotional experience, or explore certain pieces that you find interesting?
Yes ... experiences and range of emotion. Brahms can still give me a range of emotions, but I like the more tasting menu, going back to the food program, the tasting menu idea, but yet the pieces have to be related. I think, in this case, I thought because I've been doing a lot of Brahms lately, I wanted to include as sort of the meat and potatoes ... Excuse me, I keep going back to food analogies, and that was unintentional. I wanted Brahms to be a centerpiece there, so with the Brahms D Minor, and before that, the Sonatensatz, and anything else that's been printed on the program preceding the Third Sonata. I wanted to do the single movement sonata, which he also wrote when he was about 20, back to back to see different stages of his life back to back.
With that in mind, I thought with the heaviness and depth of Brahms, I thought it would be nice to offset that with Beethoven, the lighter, more humorous Beethoven Sonata, which is a contrast, yet Beethoven and Brahms are very closely tied, related. In the second half, going really in another direction entirely, going more of the French school. The connection and Debussy, I thought they would connect well.
You've played venues both large and small, and it sounds like you're doing that on this tour again. Do you have a preference for which type of venue you play? One of the things you had told me about playing the both large and small venues.
I was saying that I love small venues. I think it's a wonderful way to make music. There's something else, though, thrilling, about what we have on stage having large volumes of people. It's exciting. The shared experience of a large group of people that holds 3800 without pews. I enjoy both.
I wonder how your relationship is with Alessio Bax and how you two work alongside each other during these concerts. What can concert goers expect?
About eight or nine years ago. We were kind of put together in a chamber music group and we got along real well both personally and musically so we become friends. We were friends for several years before we actually started playing together just a couple of years ago, but he's a very wonderful musician, very refined, very tasteful and sensitive musician which I appreciate. There's a lot of give and take. I enjoy working with those, it's a nice sort of feeling, and I enjoy rehearsing with him. He's very thoughtful and we have nice ... It's fun trying to figure out these pieces together. I think he's a very wonderful guy and also fun to tour with. He's a big foodie, which is important for when you're travelling.
You recently worked with Broadway Composer Tom Kitt on Royal Pains, which was really exciting. How was it to work on a show like Royal Pains or Mozart in the Jungle, what skills do you use as a classical artist for this medium?
I enjoyed working with Tom Kitt. He's awesome. I enjoyed doing this occasional fun side projects. I love TV and film of course, doing music for film and TV. It's just fun to be part of a world that I'm not normally part of. I get to meet really interesting people and actors and directors and see the process and also in some ways reach a different audience. I get people coming backstage at concerts occasionally and saying "You know, I'd never been to one of your concerts, but I saw you in Mozart in the Jungle," so that's cool. I figure if that gets some people into classical concerts, or my concerts, it's also a nice side benefit. Mostly it's just fun.
How do you deal with nerves and focus before you perform? Do you have any sort of rituals or things that you do?
I never suffered greatly, otherwise ... I still experience nerves, but I have my own sort of way of trying to meditate in a sense, not exactly meditating, but sort of get into a zone, relax, by practicing ... doing what I'm doing, practicing very slowly and sort of trying to slow everything down because when you're nervous everything gets speeded up. It's sort of a mind game, just trying to keep convincing myself that the world's not going to end if something goes wrong basically.
How do you divide your season between the orchestra? You do stints with the St. Martin in the Fields on tour and then you go on tour yourself. How do you divide the season, and what effect has conducting had on your violin playing?
With the Academy, I devote a portion of my time. Basically they're more of a touring orchestra though we have several concerts in London. Every year we set aside, two or three years ahead of time, but we set aside periods for touring, a US tour, a Germany tour, a Europe tour, and South America and next year Australia. I give them several [inaudible 00:05:50] of time and then I fill in the rest with recitals, chamber music, and it all kind of comes together eventually. I like to have a good balance of all those things.
Certainly doing my work with the Academy has been incredibly educational for me, getting to learn and direct Beethoven and Mendelssohn symphonies. In general just I feel like I've become a better musician because of my work doing that. Even after doing conducting or directing of Beethoven symphonies, you start seeing things that you had not seen before. It's really good for me.
"These days, I have the luxury of being asked to do more than I can take on, which is certainly better than the alternative, waiting for work. I love to play, but it's hard to be sensible and leave time for other things."
That was a direct quote from twenty years ago. Your schedule is crazy. Do you have any downtime for other things that have nothing to do with music?
I should read my own quotes. That sounds like the thing I might've said last year. I didn't realize 20 years ago I was already worried about doing too much, I guess so. I guess there's a problem with the fact that we only live once, and that there's only a certain amount of time. I want to do everything I can. I just say yes rather than no because I just enjoy doing as much as I can. Yeah, I do cram a lot. I figure I guess on one hand as long as I don't feel burned out, why not? So far, I've never really felt that way I guess because my work is varied enough that I've never felt like I just can't take it anymore.
Are there any non-musical things that you're finding time to do at all?
My three kids, perhaps. That's something that I try to do ... obviously I try to find time to come home for. I think I'm being more sensible with my schedule. I try not to go away for like three or four weeks at a time anymore, I'll try to make it ten days maximum which means sometimes I fly home from Europe just for two days and then back to Europe. Yeah, it's tough because I want to spend time with them, and then I want to be fulfilled with my work. Thank goodness for Skype because I can speak to them every day online, and I feel connected to them. Of course there's other things, sports and ... I'm watching football now during football season. If I can have a Sunday free, I love to sit in front of the TV and watch my favorite sport.
You've had so many experiences over the years, so I would like to know do you have a favorite memory from one particular moment in your career.
Just one particular moment ... It's hard to say. There's certain moments that were ... My debut when I was 14 with the Philadelphia Orchestra was something I'll never forget, or playing in Carnegie Hall for the first time when I was 17 was something very special. Conducting Beethoven's 5th Symphony for the first time that was pretty special. There are a lot of those, it's hard to say.
Do you see a lot of young faces in your audience, or would you like to see more young faces?
I see a fair amount. After the concert I tend to go to the lobby and meet people, and I tend to meet a lot of young people, which is always nice to see. I would like to see more. Classical music is something that sometimes takes some time for people to come to, often later in life. I think we should do more to reach younger people. I try to do what I can. Speaking of ... We were talking about TV earlier, I just also did a stint ... a sort of guest appearance on a show that Julie Andrews is doing on TV, I think it's a Netflix called Julie's Greenroom. It's a show that's going to reach young people. Each episode is about the arts and it involves puppets and Julie Andrews and the guest. Talking about young people, something like that is something that I think it's really important that we reach our younger audience and make sure that art and music is part of their lives, and those things help and so I try and participate wherever I can.
A question about your Stradivarius. What is it like to be a guardian of such an instrument, and what do you like to share with people most about that instrument?
It's a privilege. It's an amazing thing to every day to get to play on the ... open up my case and see that really it's a work of art and a piece of history. It inspires you know, to practice when we have something like that. People are fascinated with Stradivarius and the mystique of it, but it's for good reason. It's something really magical and what I share with the audience is really mostly it's just the sounds of the thing. It's playing in a big concert hall and having the violin at my disposal, for me it's still thrilling to play on it.
Do you still find time to study with teachers or work with people in an academic setting?
I don't work in an academic setting, really. The process of what I do is this constant learning, and you're learning from everyone you work with. Some of the conductors to rehearsing with colleagues is as good as an education as one can get because you're forced to argue your point, you hear their points, you find new insights. It's a constant learning process, but it's just not in a sort of traditional student-teacher type of environment.
Related Articles View More Rockland / Westchester

Stories

Shows
Kathryn Kitt is a Classically Trained Lyric Soprano who is comfortable singing different types of genres. She has a BA in music from Bennington College (read more...)