Jimin Lee - Page
Jimin has been an avid theatre-goer for several years, always looking for new shows to watch. She aims to write honest reviews that will help people get interested in Korean theatre. With background knowledge in English Literature and Cultural Contents, Jimin has developed a perspective that focuses on not only the performance but the story behind. She hopes to purpose as a bridge that will bring more Korean theatrical pieces to an international audience.
MOST POPULAR ARTICLES
LAST 30 DAYS
LAST 365 DAYS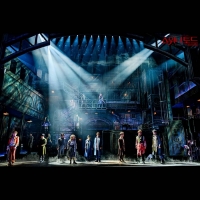 BWW Review: SWEENEY TODD at Charlotte Theater, 'Swing Your Razor Wide, Sweeney!'
Posted: Dec. 1, 2019


BWW Review: THE LEGEND OF GEORGIA MCBRIDE at UNIPLEX HALL 2
Posted: Feb. 10, 2020


BWW Review: BIG FISH at LG Art Center, 'Be the Hero of Your Story'
Posted: Jan. 2, 2020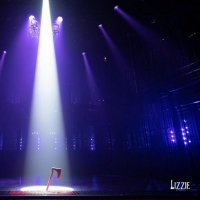 BWW Review: LIZZIE at DREAM ART CENTER THEATER 1, 'Lizzie Borden took an ax...'
Posted: Jun. 9, 2020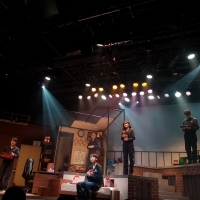 BWW Review: LEE SEONDONG CLEAN CENTER at SH ART HALL
Posted: Nov. 9, 2019


BWW Review: RENT at D Cube Art Center, 'No Day but Today'
Posted: Jul. 6, 2020


BWW Review: RENT at D Cube Art Center, 'No Day but Today'

July 6, 2020

A musical that is loved among people all over the world and continuously reproduced, a show that tells the story of the people who still lived despite all the hardships, which goes by the name, RENT. After a seven-year intermission, RENT greeted the long-awaited audience of Korea on June 13th.
---
BWW Review: LIZZIE at DREAM ART CENTER THEATER 1, 'Lizzie Borden took an ax...'

June 9, 2020

On an extremely hot August day of 1892, in the house of Borden, a terrible incident happened. All is left are two corpses, one suspect, and three witnesses. Thus begins the journey of LIZZIE the musical. LIZZIE had its first performance on April 2 at the Dream Art Center Theater 1.
---
BWW Review: THE LEGEND OF GEORGIA MCBRIDE at UNIPLEX HALL 2

February 10, 2020

When life gives you lemons, make lemonade,' is a phrase used to encourage an optimistic attitude, to change something undesirable to something more pleasant. Casey, a young Elvis impersonator uses this phrase to the fullest as his life takes a sudden turn. THE LEGEND OF GEORGIA MCBRIDE had its first performance in Korea on November 27th at Uniplex Hall 2, welcoming the Korean audience to an extraordinary story of how a young man's life entirely changed.
---
BWW Review: BIG FISH at LG Art Center, 'Be the Hero of Your Story'

January 2, 2020

The subtle scent of daffodils filled the theatre as the audience was welcomed with a beautiful scene that looked like it was straight of a fairytale. The floor of the deck opened slightly to reveal a space filled with bright, vibrant yellow flowers. 'Daffodils' and 'fairytale' are the two keywords that could be used to describe the wonderful and fantastic musical, BIG FISH. The Korean premiere of BIG FISH had its first show on December 4th, 2019 at the LG Art Center.
---
BWW Review: SWEENEY TODD at Charlotte Theater, 'Swing Your Razor Wide, Sweeney!'

December 1, 2019

With the shrieking whistle-like sound, the curtain dropped to reveal a dark alley of London. Suddenly, actors appeared from everywhere as the famous song, 'The Ballad of Sweeney Todd' began. The dim lights and fog, the detailed sets, and the actors' gruesome makeup and costumes were enough to make me feel like I was on Fleet Street. Out of popular demand, Mrs. Lovett once again opened her pie shop in Korea, inviting the audience to take a bite out of her delicious pies. The third Korean production of SWEENEY TODD: THE DEMON BARBER OF FLEET STREET had its first show on October 2nd at the Charlotte Theater.
---
BWW Review: LEE SEONDONG CLEAN CENTER at SH ART HALL

November 9, 2019

a??What comes to your mind when you hear a?oedeath?a?? Black clothes? People mourning? Commonly, 'death' has negative connotations with strong emotional connections to sadness and tragedy. However, there is one musical that will make you have a new perspective about death. LEESEONDONG CLEAN CENTER which had its first show on October 4th invites the audience to experience a heartwarming story about 'death' and those left behind.
---
BWW Review: HEDWIG AND THE ANGRY INCH at Hongik University Art Center Grand Theater, 'The Story of Hedwig'

October 13, 2019

People jumping around, loud rock music blasting, people on stage throwing water onto the audiencea?? From first glance, you would have thought that this was a rock concert, however, you are mistaken! This is no rock concert or any concert at all, it is the curtain call of a musical. One of Korea's most beloved shows, HEDWIG AND THE ANGRY INCH has come back for a new production with upgraded clothing and new actors joining the company. The captivating Hedwig returned to Korea on August 6th at Hongik University Art Center Grand Theater.
---
BWW Review: BEN-HUR at Blue Square Interpark Hall, 'A Splendid Grandeur!'

August 29, 2019

In 2017, when BEN-HUR was first introduced to the Korean audience, the response to the a?oenew, innovative, eye-openinga?? show was sensational. Not only did this Korean original musical production have continuous sold-out shows, but it also maintained an average of 98% of audience attendance rate throughout the entire run. The grand ending of their success resulted in receiving three awards, including Best Musical in the 2nd Annual Korea Musical Awards. So, it was no surprise that the show has come back for a second run this year.
---
BWW Review: THERÈSE RAQUIN at YES 24 STAGE 2, The Tragedy of Those Who Wanted More

July 29, 2019

a?oePutrida?? was the word used in a review of Emile Zola's novel, THERÈSE RAQUIN in the newspaper Le Figaro. When the innovative novel was first published in 1867, readers were shocked at the explicit illustration of adultery and murder, therefore the novel was considered scandalous and leading to the description of being a?oeputrid.a?? However, as the 21st century approached and the novel was adapted into a stage production, THERÈSE RAQUIN began to gain popularity, performed into different productions throughout the world. The play adaption was frequently performed by many theatrical companies and students in South Korea. However, it was in early May that one theatrical company announced that they will perform the first Korean musical production. The all-new musical version of THERÈSE RAQUIN premiered on June 19th at Yes 24 Stage 2.
---
BWW Review: SCHOOL OF ROCK at Charlotte Theater, 'Get Ready to Rock, South Korea!'

July 22, 2019

"The School of Rock!" as the introduction blared out through the speakers, kids rocking school uniforms holding instruments the size of their bodies ran out to the stage. The familiar tune of "School of Rock (Teacher's Pet)" began to play and I was instantly brought back to my elementary school sixth-grade classroom, the first place I was encountered with the original movie version of SCHOOL OF ROCK. This movie was probably the first movie with rock music that I have ever watched and the whole concept of a band consisted of prestigious young students was fascinating to the 12-year-old me. Therefore watching SCHOOL OF ROCK the Musical was something that I was looking forward to. Luckily, the world tour of SCHOOL OF ROCK stopped by in Korea to perform in three major cities, having its first performance in Seoul on June 7th.
---
BWW Review: SOMETHING ROTTEN! at Chungmu Art Center Grand Theater, 'It's EGGS!'

June 24, 2019

The main story of a theatrical performance could be about everything. Whether it is cats signing on stage about a Jellicle Ball or about a phantom lurking around an opera house. But did you ever imagine that somebody would write a musical about eggs? Well, that was the brilliant topic material Nick Bottom had in mind after having a second meeting with a soothsayer. The hilarious story of the Bottom brothers and their attempt to write a masterpiece, the tour team of SOMETHING ROTTEN! had their first show in Korea on June 9th at Chungmu Art Center.
---
BWW Review: GREASE at D Cube Art Center, 'All New Musical! Newtro GREASE!'

June 12, 2019

Colorful lights began to flash as the orchestra started playing the first note. With a large bang, the led screens began to move upward revealing actors with black leather jackets posing, another bang now there were women with pink jackets. Suddenly, the actors all came out together and began to sing and dance; this is how GREASE the musical started. Returning from a four-year gap, this season's GREASE was beyond comparison with any of the previous productions in that it was an upgraded version, performing at a larger venue with an entirely new cast. The new production of GREASE opened on April 30th at the D Cube Art Center.
---
BWW Review: KILL ME NOW at Sejong Cultural Center S Theater, 'I Have a Right to Choose...'

May 27, 2019

Love, death, growth, family…There are no exact words to pinpoint what KILL ME NOW is about or how to define the essence of the play. To borrow the words of the company, KILL ME NOW is a story of them who are special but ordinary and a story of us. The play deals with issues that we know are important but hesitant to talk about. Written by Canadian playwright, Brad Fraser, the black comedy KILL ME NOW had the first show of its third Korean production on May 11th at Sejong Cultural Center S Theater.
---
BWW Review: THE CASTLE at YES 24 STAGE 1, 'Welcome to My Castle!'

May 13, 2019

One of America's first serial killers, con artist, bigamist, "Beast of Chicago," and "The Murder Hotel," what do these words have in common? They all have an association with the cold-blooded murderer, Herman Webster Mudgett, better known as H.H. Holmes. When it was announced that a musical about H.H. Holmes was to premiere on April, the musical gained much attention as many people anticipated the final product. The new musical produced by Double K Film & Theatre Company, known as THE CASTLE sent out their first batch of invitations to the "Murder Hotel" on April 15th.
---
BWW Review: A DOLL'S HOUSE PART 2 at LG Art Center, 'Welcome back Nora!'

April 29, 2019

One of Henrik Ibsen's most famous works, A DOLL'S HOUSE concluded with Nora closing the door of what she used to consider as home. The most frequently asked question about the ending of A DOLL'S HOUSE is 'what happened to Nora?' Just like many of the readers, playwright Lucas Hnath wondered about the future of Nora and decided to write a sequel with a modern perspective. Having received eight nominations including Best Play at the 71st TONY Awards, A DOLL'S HOUSE PART 2 had its first performance in Korea on April 10th.
---
BWW Review: HOPE at Yongkang Hall, Doosan Art Center, 'The Book and Life Never Read Before'

April 1, 2019

In the year 1833, at a small house in Prague, Chezia, a young boy was born. Going by the name, Franz Kafka, this boy soon grew up to become one of the most influential writers in literary history. It was at his deathbed, the genius writer asked his friend to destroy all of his unfinished works. However, Max Brod, his friend refused to do so and worked on publishing them. Later, there was a long trial against whether one of Kafka's manuscripts should be owned by Germany or the Israel Public Library. What many do not know is that there was a certain female deeply related to this trial, Eva Hoffe. Based on this event, HOPE the musical shows a different perspective focusing on what the manuscript meant for this woman.
---
BWW Review: THE PIRATES at Daehangno Dream Art Center Hall 2, 'All Aboard!'

March 25, 2019

Pirates have always been a common type of villain in various different cultural contents. Starting from the infamous pirate that haunted young children, Captain Hook from Peter Pan to the most iconic pirate of all, Jack Sparrow from the hit movie series, Pirates of the Caribbean, pirates have been portrayed in a certain way with adjectives such as 'vicious' or 'greedy.' However THE PIRATES the musical introduces the audience to think of pirates with adjectives such as 'loving' or 'honest.' Having its first production ever, THE PIRATES had its departure of the darkness on March 10th, announcing the beginning of a new voyage.
---
BWW Review: THE HELMET VOL 1 at S Theater, Sejong Performing Arts Center

February 25, 2019

Before I start my review, I want to start by asking a simple question, 'When you were 9 years old, what was your dream?' Being the president or the CEO of a company? When we are young, we dream about so many things and expect a future filled with opportunities. However, does it shock you that somewhere far away in a city called Aleppo, a nine-year-old child's most desperate dream is to be an adult? Not riches, honor, or happiness, simply just to be an adult. An amazingly talented writer in South Korea decided to write a story of two different cities that each has its own narrative featuring a white helmet and a dream. With the help of a director, the story was adapted into a one of a kind theatrical performance. THE HELMET VOL 1, a play that had its second production this year, started performances on January 8th ending its journey on February 27th at the S-Theatre of Sejong Performing Arts Center.
---
BWW Review: THE NATURE OF FORGETTING at Wooran Theater 2

February 19, 2019

What comes to mind when you hear theatrical performances? The two common types of theatrical performances are plays and musicals. Despite their several differences, both have a common similarity in that they are verbal. Whether it is a heartbreaking solo or a long monologue, the two theatrical performances are filled with verbal content and minimum moments when the actors' mouths are closed. That is why when THE NATURE OF FORGETTING announced its Asia premiere in Korea, an immediate interest grew due to its unique format of being a physical theatrical performance. With positive reviews and a sold out soundtrack, THE NATURE OF FORGETTING had its last performance on the 18th.
---
BWW Review: JEKYLL AND HYDE at Charlotte Theater, The Sacrifice

February 3, 2019

What would you do when you have a brilliant scientific theory that nobody supports? Would you risk the consequences of losing yourself just for the results? Though this may seem highly unlikeable, one doctor with the name of Dr. Henry Jekyll decided to sacrifice himself to prove his theory. The story of his extraordinary experiment, JEKYLL, AND HYDE the Musical returned to Korea for a 7-month long run, lined up with an amazing cast. The first show opened on November 13th at Charlotte Theater and has been receiving many positive reviews with sold-out shows continuously.
---