BWW Review: SCHOOL OF ROCK at Charlotte Theater, 'Get Ready to Rock, South Korea!'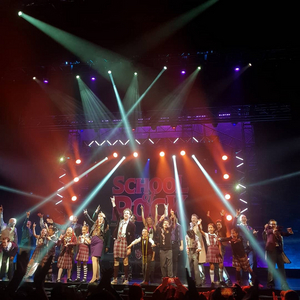 "The School of Rock!" as the introduction blared out through the speakers, kids rocking school uniforms holding instruments the size of their bodies ran out to the stage. The familiar tune of "School of Rock (Teacher's Pet)" began to play and I was instantly brought back to my elementary school sixth-grade classroom, the first place I was encountered with the original movie version of School of Rock. This movie was probably the first movie with rock music that I have ever watched and the whole concept of a band consisted of prestigious young students was fascinating to the 12-year-old me. Therefore watching School of Rock the Musical was something that I was looking forward to. Luckily, the world tour of School of Rock stopped by in Korea to perform in three major cities, having its first performance in Seoul on June 7th.
Known as a theatrical genius for his numerous musical theatre works, Andrew Lloyd Webber's most recent major work was School of Rock the Musical which had its first world premiere as while as Broadway debut on December 6, 2015, at the Winter Garden Theatre. School of Rock is based on the same title movie, which starred Jack Black. With an original score composed by Andrew Lloyd Webber, lyrics by Glenn Slater and book by Julian Fellowes, School of Rock shows the story of an out-of-work guitarist, Dewey Finn who pretends to be a substitute teacher at a prestigious prep school, Horace Green. Though his method was wronged, Dewey learns an important lesson throughout his 'acting,' and gives the children to experience something new in their rigid lifestyle.
One frequently asked question about the School of Rock is 'Are the kids playing the instruments?' The answer is a definite yes! Whether it is the guitar, the bass, the keyboards, or the drums, every single instrument is played by the actors, which makes the show more special. It is amazing to see the actors not only sing, dance but also play instruments during the entire show.
Though indeed, School of Rock is mainly about children, the show not only gives an important message to children but to adults too. Some adults who are parents could relate to the parents of the children at Horace Green and rethink if they have ever pushed their children to pursue a life that they might have thought was best for them. Some might relate to Ned Schneebly or Rosalie Mullins who forgot about their past dreams and passion while growing up.
Watching the young school children already prepare for a prestigious Ivy School at a young age was something that many people could relate too. Especially as education is an important matter in South Korea, there are many schools like Horace Green that prep children to go to top universities. Also, some children get neglected and shut down without being able to express their thoughts and explore their options. That is why; the idea of these rigid children being able to experience freedom and try something daring was fascinating.
SCHOOL OF ROCK is a show that makes the audience think about what "growing up" and "parenting" means. I think the true charm of the show is how an out-of-work adult, Dewey Finn realizes that he is capable of making a change and that the children who never knew anything else except for studying and preparing for a good school realize that they are capable of so much more. Sometimes, people, we consider immature and untalented can bring out the talents in others. Sometimes what we think is best for others might not be what they want. These are two messages that I feel School of Rock gives to others.
SCHOOL OF ROCK World Tour performs in three cities, Seoul, Busan, and Daegu in Korea. Seoul performances end on August 25th at the Charlotte Theater, Busan performances start at September 1st and ends at the 15th, while Daegu performances start at September 21st and end at the 29th, wrapping up the Korean performances. School of Rock is truly an amazing show that not only has exciting music but a heartwarming story. Do not miss the opportunity to see the pure amazing talent of the actors!
For more information, please visit www.globalinterpark.com.

Related Articles