BWW Review: BEN-HUR at Blue Square Interpark Hall, 'A Splendid Grandeur!'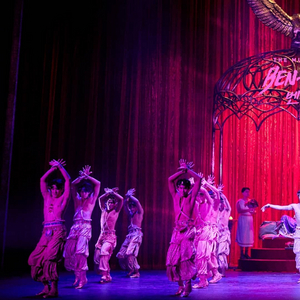 In 2017, when BEN-HUR was first introduced to the Korean audience, the response to the "new, innovative, eye-opening" show was sensational. Not only did this Korean original musical production have continuous sold-out shows, but it also maintained an average of 98% of audience attendance rate throughout the entire run. The grand ending of their success resulted in receiving three awards, including Best Musical in the 2nd Annual Korea Musical Awards. So, it was no surprise that the show has come back for a second run this year.
BEN-HUR, an original Korean musical, book and lyrics by Wang Yong-beom and music by Brandon Lee was one of the most promising new musicals introduced in the past few years. The show is based on the original novel, Ben-Hur: A Christ's Tale written by Lee Wallace and is heavily focused on the story of Jews during the Roman Empire Era. Though it is a fictional musical, there are several historic facts which make BEN-HUR more realistic, such as the execution of Jesus Christ or the importance of catacombs.
The main narrative follows a distorted friendship of two men, Judah Ben-Hur, a noble Jew and Messala, a Roman general. It all starts in A.D. 26 when Jerusalem was under the oppression of the Roman Empire. Childhood friends, Ben-Hur and Messala reunite as Messala returns to Jerusalem as an officer to escort the Roman captain, Gratus. Messala asks Ben-Hur's aid to help stop the rioters of Judah during the march of the Roman army but Ben-Hur refuses. The next day, Tirzah, Ben-Hur's younger sister has a mishap of dropping a roof tile while watching the march of the Roman army. The roof tile hits Gratus's head and Messala accuses the entire Ben-Hur family with treason. In return of promising his family's safety, Ben-Hur asks Messala to give all the punishment to him. With this, Ben-Hur is taken as a rower where he spends many years of his life until he saves a Roman captain, Qantas from a drowning ship. Later on, Ben-Hur stands face to face his once childhood friend, now worst enemy, Messala at a chariot race.
One aspect of BEN-HUR's narrative that is remarkable is that though the main storyline is based on a religious issue, the plot and characters are universal. The competition of two childhood friends who later had to walk different paths due to individual belief is not something that happens because it is the Roman Empire era. Also, a young man full of desperate want of power and success is a character that is common in modern society. There are several religious descriptions, lines, and props that clearly show that BEN-HUR is about the suppression of Jews, however, it is not heavily narrated in the lines or songs, branding BEN-HUR to be much more than a musical about history.
BEN-HUR is a highly technological musical in that video is quite frequently used throughout the show. There is a specific scene where the video usage is immersive, actually making that audience that they are there with the actors. Also, every video used in BEN-HUR was filmed with the actual ensemble actors, so the movements are highly natural and realistic. In addition to the video, the usage of fog and specific lights played a significant role in highlighting the importance of plot or character's emotions. On top of that, there is one specific prop that defines BEN-HUR, which
One unique characteristic that BEN-HUR has is that the ensemble is an all-male cast. As it is uncommon in Korean productions to have a one gender ensemble, when the show was first introduced in 2017, it received immediate attention due to the unique cast. Though I've watched this show four times total, I still have questions in why it had to be an all-male cast. It is true that there are several hardcore acrobatic movements and fighting scenes and that with an all-male ensemble, the volume seems unified and powerful, but still, I have doubts in why the 26 ensemble cast had to only consist of male.
Each year, several musicals, whether it is an international tour team, licensed performance, or an original Korean production are performed. Out of the numerous shows, BEN-HUR is one of the best original Korean productions that will surprise anyone who sees it. The amazing songs, the eye-opening choreography, the talents of every actor, the unique performance of the all-male ensemble, video usage, lights, the direction...every aspect whether it is major or minor all comes to harmony and creates an unforgettable experience. BEN-HUR is a show that is difficult to compare, it is such a grandeur that can be only described by seeing it. BEN-HUR is just BEN-HUR.
BEN-HUR performs at the Blue Square Interpark Hall until October 3rd. Tickets start at 60,000 KRW and can be purchased online or at the box office. Check the website for performance schedule and discount information. Do not miss the opportunity to see a fascinating musical!
For more information, please visit www.globalinterpark.com.
Photo credit: NCC( New Contents Company) Official Instagram

Related Articles View More South Korea

Stories

Shows