Fiona Scott
Fiona works towards her medicinal chemistry PhD by day but can usually be found in a theatre at night. She enjoys writing about science, musicals and more!
MOST POPULAR ARTICLES
LAST 30 DAYS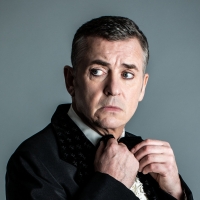 BWW Review: THE ENTERTAINER, Theatre Royal Brighton
Posted: Oct. 22, 2019


Phoebe Ellabani Talks PETER PAN GOES WRONG
Posted: Nov. 4, 2019


BWW Review: TOAST, Theatre Royal Brighton
Posted: Oct. 30, 2019


LAST 365 DAYS

David Thaxton Talks THE PHANTOM OF THE OPERA
Posted: Dec. 6, 2018


Luke Bayer Discusses EVERYBODY'S TALKING ABOUT JAMIE
Posted: Jan. 3, 2019


BWW Review: ABIGAIL'S PARTY, Theatre Royal Brighton
Posted: Jan. 17, 2019


BWW Review: ROCKY HORROR SHOW, Theatre Royal Brighton
Posted: Dec. 19, 2018


BWW Interview: Jai McDowall Talks Live At Zedel Show

September 13, 2018

Since winning Britain's Got Talent in 2011, Jai McDowall has performed around the world, and released several singles and other recordings. The Ayrshire singer speaks to BroadwayWorld about his upcoming solo show at Live at Zedel.
---
BWW Interview: Nancy Sullivan Talks FABRIC at Soho Theatre

September 10, 2018

Nancy Sullivan has been in shows such as Les Miserables and The Country Wife. She's now starring in Fabric, a one-woman play written by Abi Zakarian, which opens tomorrow at Soho Theatre.
---
BWW Interview: Rob Houchen Talks EUGENIUS! at The Other Palace

September 6, 2018

Rob Houchen is starring as Eugene in the sci-fi musical hit Eugenius!, currently enjoying a second run at The Other Palace. He has previously played Gibran in Broken Wings and Marius in Les Miserables and has also released two EPs.
---
BWW Review: I WISH MY LIFE WERE LIKE A MUSICAL, Live At Zedel

August 16, 2018

Don't we all secretly wish life was more like a musical? There's more to it than one might think. Alexander Bermange's hysterical and heartwarming revue I Wish My Life Were Like A Musical returns to Live at Zedel and examines the life of the musical theatre actor, directed by Derek Bond.
---
BWW Interview: Kerry Ellis Discusses Her Live At Zedel Residency

August 17, 2018

Kerry speaks to BWW about Wicked, the fragile nature of the theatre industry and her upcoming three week residency at Live at Zedel in September.
---
Edinburgh 2018: BWW Review: NOTFLIX, Gilded Balloon Teviot

August 11, 2018

There's a growing trend of films and TV shows being adapted for the stage. Just look at the list of this year's Tony Awards Best Musical nominees (Mean Girls, Frozen, Spongebob Squarepants and The Band's Visit) or your local UK regional theatre summer/autumn programme (Summer Holiday, Flashdance etc.).
---
Edinburgh 2018: BWW Review: AH DINNAE KEN, TheSpace

August 11, 2018

Take Shakespeare's star-crossed epic, Romeo and Juliet, and set it in a not too distant future in Scotland when a second independence referendum has been called. Imagine two families, on both sides of the debate and how far they might go to win their cause this time around.
---
Edinburgh 2018: BWW Review: CHEMO BARBIE, Gilded Balloon Teviot

August 11, 2018

It is not uncommon for cancer stories to be told by former patients in order to educate others to empathise with those going through treatment. Heather Keller brings her personal story to the Edinburgh Fringe in a solo theatre piece, Chemo Barbie.
---
Edinburgh 2018: BWW Review: THE SHOWSTOPPERS' KIDS SHOW, Pleasance Courtyard

August 11, 2018

Showstoppers! have made a name for themselves as the UK's most acclaimed and in-demand musical improvisers, creating brand new musicals in a single evening. As well as bringing their usual hit show to the Edinburgh Fringe, they present a highly entertaining family-friendly edition of the Showstoppers! experience.
---
BWW Interview: The Cast Talk I WISH MY LIFE WERE LIKE A MUSICAL

August 8, 2018

Alexander Bermange's musical revue I Wish My Life Were Like A Musical returns to Live at Zedel in August. BroadwayWorld spoke to the composer and some of the cast members, Madalena Alberto and Lucas Rush, about the show which reveals the performer life isn't as grand as it might appear...
---
Edinburgh 2018: BWW Review: YOU'RE A GOOD MAN, CHARLIE BROWN, Paradise @ Augustines

August 7, 2018

Clark Gesner's You're a Good Man, Charlie Brown first opened on Broadway in 1967, based on the Peanuts comic strip characters created by Charles M. Schulz. Charlie Brown (Cameron Kirby), Snoopy (Ellie Campbell) and friends are brought to life in this revival by Bare Productions directed by Dominic Lewis.
---
Edinburgh 2018: BWW Review: JAY LAFFERTY: WHEESHT!, Gilded Balloon

August 7, 2018

"Wheesht" is a Scottish expansion of "Shh", often used within the phrase "Haud yer wheesht' when telling someone to shut up north of the border. Seasoned Scottish comedian Jay Lafferty returns to the Fringe after being rated one of the top reviewed comedians at the 2017 Fringe Festival.
---
Edinburgh 2018: BWW Review: MESS, Greenside

August 7, 2018

Many have said to a loved one: 'If you need anything, give me a call, any time of day.'. But what happens when a friend actually takes you up on that offer in the middle of the night? MESS is a new musical that follows two best friends over the course of an evening as they counsel and confess to one another.
---
Edinburgh 2018: BWW Review: ARMOUR: A HERSTORY OF THE SCOTTISH BARD, TheSpace

August 7, 2018

Armour: A Herstory of the Scottish Bard is a new musical written by Shonagh Murray and directed by Melanie Bell that addresses who Nancy and the other women featured in his poetry were and what might have happened if they had met after his death.
---
Edinburgh 2018: BWW Review: BRAINIAC LIVE!, Underbelly

August 7, 2018

Can you run through plasterboard? How does an electric fence work? How good is your hearing? What is the best way to spin an office chair? All questions that may or may not have crossed your mind but are answered by the Brainiac team live on stage.
---
BWW Review: BROKEN WINGS, Theatre Royal Haymarket

August 3, 2018

'Love knows not its own depth until the hour of separation' is one of many wonderful lines by Lebanese-American writer/artist Kahlil Gibran. Broken Wings is a brand new musical adaption of his 1912 poetic novel.
---
BWW Review: MAMMA MIA! HERE WE GO AGAIN

July 18, 2018

You can most certainly dance, jive and have the time of your life at Mamma Mia! Here We Go Again. The sequel to Judy Craymer and Gary Goetzman's 2008 romantic comedy, based on the stage show created by Catherine Johnson, opens in UK cinemas on 20 July.
---
BWW Review: DANIELLE HOPE - LIFE FOR RENT, Live At Zedel

July 16, 2018

Part-cabaret, part-therapy, leading lady Danielle Hope brings her solo show Life for Rent to Live at Zedel. Since winning BBC's Over the Rainbow in 2010, she has entertained audiences as Dorothy Gale, Eponine Thenardier, Maria von Trapp and more in West End and touring productions.
---
BWW Interview: Danielle Hope On LIFE FOR RENT at Live At Zedel

July 10, 2018

Danielle Hope has enjoyed a number of principal roles in her career so far: she starred as Dorothy in the 2011 West End revival of The Wizard of Oz, then swapped the iconic ruby slippers for a grubby cap and trench coat as Eponine in Les Miserables.
---
BWW Review: KING THE MUSICAL IN CONCERT, Hackney Empire

July 2, 2018

A diverse cast; a score packed with many musical genres, including rap; and a sung-through treatment of an important period of American history... No, it's not Hamilton, but a superb concert presentation of the late Martin Smith's King The Musical by Hackney Empire and London Musical Theatre Orchestra about Dr. Martin Luther King Jr.
---
6