Fiona Scott
Fiona works towards her medicinal chemistry PhD by day but can usually be found in a theatre at night. She enjoys writing about science, musicals and more!
MOST POPULAR ARTICLES
LAST 30 DAYS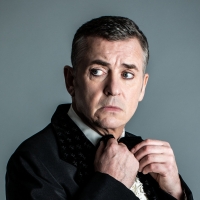 BWW Review: THE ENTERTAINER, Theatre Royal Brighton
Posted: Oct. 22, 2019


Phoebe Ellabani Talks PETER PAN GOES WRONG
Posted: Nov. 4, 2019


BWW Review: TOAST, Theatre Royal Brighton
Posted: Oct. 30, 2019


LAST 365 DAYS

David Thaxton Talks THE PHANTOM OF THE OPERA
Posted: Dec. 6, 2018


Luke Bayer Discusses EVERYBODY'S TALKING ABOUT JAMIE
Posted: Jan. 3, 2019


BWW Review: ABIGAIL'S PARTY, Theatre Royal Brighton
Posted: Jan. 17, 2019


BWW Review: ROCKY HORROR SHOW, Theatre Royal Brighton
Posted: Dec. 19, 2018


BWW Interview: Ben Forster Talks ME, MYSELF AND MUSICALS at Theatre Royal Haymarket

April 5, 2019

Ben Forster has had one of the most varied stage careers in recent years, having played the roles of Jesus in Jesus Christ Superstar; the Angel of Music in Phantom of the Opera; and Buddy in Elf the Musical amongst others. He now brings his first solo concert, Me, Myself and Musicals, to the Theatre Royal Haymarket.
---
BWW Feature: EMIL AND THE DETECTIVES with National Theatre Let's Play at Theatre Royal Brighton

April 4, 2019

Year 5 pupils from Queen's Park Primary School, Brighton, staged their own production of Emil and the Detectives at Theatre Royal Brighton this week on 3 April in a collaborative project with Theatre Royal Brighton and the National Theatre.
---
BWW Interview: Toby Peach Talks LOOKING FORWARD at Battersea Arts Centre

April 2, 2019

Around 100,000 young people in the UK live with, and beyond, cancer. Toby Peach, a writer and performer, is one of them. Amongst other projects, he has toured internationally with his award-winning show The Eulogy of Toby Peach, a creative response to his own experience as a cancer patient. Toby speaks to Broadway World UK about his latest project Looking Forward at the Battersea Arts Centre.
---
BWW Interview: Hal Cazalet Talks THE HAPPY PRINCE at The Place

April 4, 2019

Hal Cazalet is a leading operamusical theatre actor and singer in the UK and US. He now turns to directing his musical adaption of Oscar Wilde's The Happy Prince.
---
BWW Interview: Jason Robert Brown Discusses His West End Concert

March 25, 2019

Multi-award winning composer, lyricist and playwright Jason Robert Brown is the man behind the well-loved scores of Songs for a New World, Parade, The Bridges of Madison County and more. He will perform his music in concert at the Theatre Royal Haymarket later this month featuring West End stars Rachel Tucker, Tyrone Huntley and Carrie Hope Fletcher as special guests. Jason spoke to Broadway World about the upcoming show:
---
BWW Interview: Oliver Alvin-Wilson Talks THE TWILIGHT ZONE

March 15, 2019

Oliver Alvin-Wilson is known for a plethora of Shakespearean roles, Nine Night, and the previous run of The Twilight Zone at the Almeida Theatre. He now speaks to BroadwayWorld about returning to The Twilight Zone in the West End.
---
BWW Interview: Chris Bush Talks STANDING AT THE SKY'S EDGE at the Crucible Theatre

March 14, 2019

Chris Bush is an award-winning British playwright. Previous projects include TONY! The Blair Musical, Pericles and The Assassination of Katie Hopkins. She speaks to BroadwayWorld about her newest work, Standing at the Sky's Edge.
---
BWW Interview: Natasha J Barnes Talks THE TWILIGHT ZONE at Ambassadors Theatre

March 18, 2019

Natasha J Barnes is known for covering and playing the role of Fanny Brice in Funny Girl, and more recently Charlotte Bronte in Wasted at the Southwark Playhouse. She now joins the cast of The Twilight Zone, currently playing in the West End.
---
BWW Interview: Basheba Baptiste Talks MEMORIES at Lyric Hammersmith

March 7, 2019

Basheba Baptiste is a young actor and playwright. Her play Memories is being performed as part of the Evolution Festival currently running at Lyric Hammersmith.
---
BWW Interview: Layton Williams Discusses EVERYBODY'S TALKING ABOUT JAMIE

February 28, 2019

Layton Williams first appeared on a West End stage as Billy Elliot at the Victoria Palace Theatre in 2007. He now leads the cast of Everybody's Talking About Jamie and spoke to BroadwayWorld about stepping into the role of Jamie New.
---
BWW Interview: Travis Alabanza Talks THE RIDICULOUS DARKNESS at the Gate Theatre

February 27, 2019

Travis Alabanza is a performance artist based in London. They are known for their solo show Burgerz and their LGBTQ+ rights activism. Travis spoke to BroadwayWorld about their involvement in the upcoming production of The Ridiculous Darkness at the Gate Theatre:
---
BWW Interview: Mark Puddle Talks West End Stage Summer School

February 25, 2019

Mark Puddle is a West End Producer known for championing productions such as the current production of True West at the Vaudeville Theatre and the Shakespeare in Love UK Tour. He is also involved in the running of the West End Stage summer schools and spoke to BroadwayWorld UK about this year's programme.
---
BWW Interview: Rebecca Trehearn Talks RAGS THE MUSICAL at Hope Mill Theatre

February 18, 2019

Rebecca Trehearn recently led the Nottingham Playhouse's production of Sweet Charity as Charity and an Olivier Award-winning performance as Julie LaVerne in Showboat. She speaks to BroadwayWorld UK about her latest role in the Hope Mill Theatre's revival of RAGS The Musical.
---
BWW Interview: Danielle Hope Talks IN HER SHOES at Live At Zedel

February 5, 2019

In the past few months, Danielle Hope has played Sherrie in the UK Tour of Rock of Ages and Miss Snow in the London Palladium's Christmas pantomime, Snow White. She returns to Live at Zedel with a new solo show, In Her Shoes, later this month.
---
BWW Interview: Rachel John Talks WEST END WOMEN

January 30, 2019

Rachel John recently finished her Olivier-nominated run as Angelica Schuyler in Hamilton at the Victoria Palace Theatre. She has also been seen in Memphis and The Bodyguard. Rachel is now appearing in West End Women at Cadogan Hall with Celinde Schoenmaker and Lauren Samuels. She spoke to BroadwayWorld about the concert.
---
Owen Teale talks RUTHERFORD AND SON at the Crucible Theatre

January 28, 2019

Owen Teale is know to many as Ser Alliser Thorne from HBO's Game of Thrones but he has also enjoyed a varied stage career in the West End, on Broadway and beyond.
---
BWW Review: ABIGAIL'S PARTY, Theatre Royal Brighton

January 17, 2019

Those who have attended an excruciatingly awkward cocktail party will revel in this production of Abigail's Party by Mike Leigh.
---
BWW Interview: Luke Bayer Discusses EVERYBODY'S TALKING ABOUT JAMIE

January 3, 2019

Luke Bayer recently won the award for Best Performance By An Understudy/Alternate in Any Play or Musical at the 2018 BroadwayWorld UK Awards. He speaks to BroadwayWorld about playing Jamie in Everybody's Talking About Jamie at the Apollo Theatre.
---
BWW Interview: Gary Lucy Talks THE FULL MONTY UK Tour

January 4, 2019

Hollyoaks and EastEnders actor Gary Lucy first took on the lead role of Gaz in the 2014 touring production of The Full Monty. He now returns to the part for the current touring production.
---
BWW Review: ROCKY HORROR SHOW, Theatre Royal Brighton

December 19, 2018

Richard O'Brien's cult rock and roll musical Rocky Horror Show launches its 2019 World Tour with a festive stint at Brighton's Theatre Royal.
---
4