Review: The Fugard's WEST SIDE STORY at the Artscape Theatre a Musical for the Ages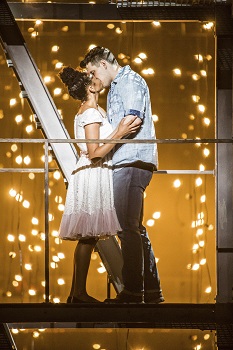 The current season of WEST SIDE STORY - produced by the Fugard Theatre in the Artscape Opera House - is still as grand as it was in 2015, when it obliterated any memories that lingered of Mark Wing-Davey's anaemic production of this iconic musical at the Spier Amphitheatre in 2001. But in 2018, The Fugard's WEST SIDE STORY is even better than it was before, with a company of actors - some returning to the roles that brought to life almost three years ago, other moving up through ensemble roles into featured parts, and still others who are completely new to the production - that truly understands Matthew Wild and Louisa Talbot's audacious staging of the piece on a visceral level. The result - achieved in collaboration with musical director Charl-Johan Lingenfelder and the host of musicians under his baton - is an emotional rollercoaster that is second to none. When I look back at the various productions and performances of WEST SIDE STORY that I have seen to date, this is the one I will remember.
Based on a conception by Jerome Robbins, WEST SIDE STORY transposes the plot of William Shakespeare's ROMEO AND JULIET to the Upper West Side of New York City, focusing on the conflict between two rival gangs, the Jets and the Sharks. The Jets are white Americans, assimilated into the socio-cultural milieu of the United States as the first generation born in the country following their parents' emigration from Europe to a supposed land of milk and honey. The Sharks are more recent immigrants, having arrived from Puerto Rico with similar hopes of prosperity.
Tony, the former leader of the Jets, falls in love with Maria, the sister of the Sharks' leader, Bernardo, on the eve of a proposed rumble between the two gangs. Employing a narrative strategy that closely mirrors its source, Arthur Laurents make one significant departure from Shakespeare's original in his book for the musical as the play hurtles towards its final curtain, one that elevates the Bard's star-crossed romance to the level of tragedy. ROMEO AND JULIET might be a favourite of many play readers and theatre lovers, but WEST SIDE STORY is as good as the best work left to us by Aeschylus, Sophocles and Euripides. The unforgettable score, with music by Leonard Bernstein and lyrics by Stephen Sondheim, contributes in no small measure to its status as a musical for the ages.
In the central role of Tony, Kevin Hack achieves something quite remarkable. Like every actor who has ever played Tony, he delivers a performance that offers romance and idealism. But unlike every Tony, he manages to make these qualities believable, finding the key to unlocking this secret in the very naivety that many cite as a weakness in the character on the page. What they have missed and Hack has seen, is that Tony's naivety is his tragic flaw, something to play with rather than against. There is no question that Hack's Tony buys into the idea that "Something's Coming," a song that is always difficult to land because of Tony's inability to articulate just what it is that has awakened in him. By the time he is singing his perfectly acted "Maria," Hack has the audience in the palm of his hand until the curtain falls.
Opposite him, as Maria, Lynelle Kenned also helped to uplift this production beyond its grand scale into an emotionally compelling experience. Already radiant in the role during its debut season, she is even better now. Kenned's soprano cuts deep into the soul from the first notes that she sings in "Tonight" until the final moments of "A Boy Like That/I Have a Love". In her scenes opposite Hack, Kenned is more layered than ever before, a testament to that ineffable quality of chemistry between actors on stage. The two have more than mere chemistry on stage through; what they bring to the piece is the kind of unbroken communion between actors that is the ultimate privilege for any audience to witness. Indeed, Kenned is so invested in every moment of the drama as it plays out that it is impossible for her final speech to be anything less than utterly devastating.
As Riff, the leader of the Jets, and Anita, Maria's sister, Stephen Jubber and Bianca le Grange have both grown in the roles that they have lived with for scores of performances. Both are more dexetrous vocally, and Jubber now exploits the full range of Talbot's choreography, cutting a witty figure as he leaps about tirelessly in "The Jet Song" that balances the menace of numbers like "Cool" and the extended opening sequence in a chilling fashion.
The actors who are either stepping into new roles this time around or who are completely new to the production all bring their best to the production. Daniel Richards plays Bernardo as a fiery upstart, which makes more sense dramatically than presenting him as a romantic supporting player. As Maria's Puerto Rican suitor, Chino, Clint Lesch endows a role that often is played in too gentlemanly a fashion with a convincing sense of small man syndrome, a choice that is at once delightful and disturbing. Michael Fullard, who plays Baby John, captures well the conflict of the youngest member of the Jets as he is forced to use the conflict around him to define his sense of self. As Action, Logan Timbre offers considerable insight into the kind of person Tony could have become had his awakening not occurred: he is not simply angry or dysfunctional, but reveals layer after layer of how living with hatred can make one behave.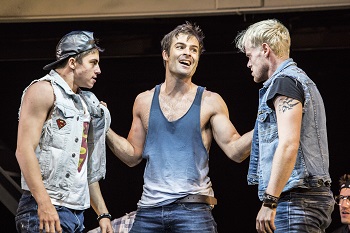 In two of the adult roles, Craig Urbani as threatening as Shrank as he is amusing as Gladhand. His portrayal of Shrank as a man on a mission rather than a cynic who has given up on his job makes the character more credible in a show that implies how much is passed down - be it in the form of social prejudice or toxic masculinity - from one generation to the next. Urbani's choices make James Borthwick's portrayal of Doc, not as a blustering fool but as a man who genuinely cannot make sense of the world around him, all the more effective.
It would be remiss of any review of this current production not to emphasise the role that every member of the company - the principals, those in the ensemble and the swings, the latter group comprising Claire Boswell, Nurit Graff, Hardy Keeve and Justin Swartz - plays in making the ideas that Wild and Talbot have conceptualised come to life. In particular, their handling of Talbot's choreography transforms the movement into language, an element that can sometimes dissipate when performers strive for perfection over storytelling. Together, this company is a force of nature, binding the languages of acting, movement, song - audiences will never have felt the "Quintet" so land powerfully before - and dance into a seamless whole.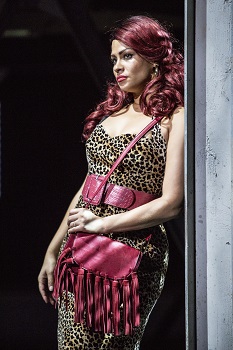 As in the original staging of the show, Conor Murphy's set design and Birrie Le Roux's costume design help to create a world that is as visually resonant as the emotions of the figures that inhabit it. A frequent designer for Fugard Theatre productions, these costumes represent some of Le Roux's best work. Tim Mitchell's lighting design recreates many of the images that Joshua Cutts established in the original production while layering it with kind of the storytelling motifs that made his design for KING KONG last year a pinnacle of the craft.
When viewing this production of WEST SIDE STORY, it is hard not to see its relevance beyond the typical comparisons with contemporary gang culture. There is so much more that WEST SIDE STORY has to say: about the way people live, the way people live with immigrants and refugees, and the way people live with particular definitions of gender norms that have been a destructive force in this world for far too long. It is also not hard to see how layered and complex these socio-political issues come across in this musical, which is sixty years old, and how limited and simplistic many of our responses, often diluted through the worst aspects of the social media revolution, are in comparison. But although it is easier to make memes than musicals, oh, how wonderful it is when a work of art like WEST SIDE STORY comes to be.
The Fugard Theatre's production of WEST SIDE STORY at the Artscape is currently booking through 22 April. Tickets cost R150 - R470 and are available through Computicket.