BWW Interview: Five on Friday with Masali Baduza of NASTY WOMXN at the Alexander Upstairs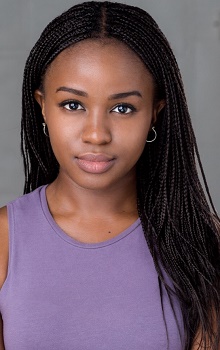 Cape Town-based actress Masali Baduza is passionately in love with theatre and film. A graduate of the New York Film Academy in Los Angeles, she has big dreams of one day starting a production company so she can empower herself with the tools to tell the stories of the voiceless and under-represented. Right now she is working with The Furies, a collective whose focus is creating space and opportunities in the theatre industry for marginalised womxn, on NASTY WOMXN, which will play the Alexander Bar, Café and Theatre starting next week. The production - which is written and directed by Dara Beth and also stars Kathleen Stephens and Maria Vos - plays with Greek mythology's tendency to turn strong women into monsters, and celebrates the different types of monsters womxn have to become to survive. She took time out of production week rehearsals to chat BroadwayWorld for this week's Five on Friday!
David Fick: NASTY WOMXN sounds like a fantastic mix of influences from mythological characters and pop culture to design and activist movements. What's it been like bringing all these diverse inspirations together into a single piece of theatre?
Masali Baduza: It's been one of the most challenging pieces for me thus far because there are so many characters we have to alternate between. In my opinion, its every actor's dream because it tests you and really makes you put in the work. I knew very little about Greek mythological characters so it's also been a learning experience for me as well. It's great to have lovely people to work with like Dara, Kat and Maria because they're all so hardworking and dedicated; it pushed me to want to do better and challenge myself.
DF: Many of your stage acting credits are from your time in Los Angeles. What's it like to be bringing a new South African piece to a South African space like the Alexander Bar, Café and Theatre?
MB: It's a little bit scary, to be honest. I had gotten so used to American audiences and performing for them, catering to their humour and understanding of politics and social issues. South African audiences have a larger grasp on world politics and social issues so the pressure is definitely on. I've known the Alexander Bar to be a lovely space for actors, writers and directors to make their debut, so to be bringing this piece, which is extremely socially relevant, to the public at this theatre is exhilarating.
DF: What has been you're the highlight of your acting career so far?
MB: The highlight of my career so far has been playing the role of Rafiki is Simmie Sangian's THE CIRCLE OF LIFE: AN ADAPTATION OF THE LION KING. We staged the play in LA, so it was highly therapeutic of me at the time as I was heavily homesick. I felt so connected to Rafiki and their contribution to the story. I had multiple out-of-body experiences during rehearsals and the shows - it was surreal.
DF: Arriving back in South Africa after spending time overseas, what do you perceive as the biggest challenge facing South African theatre at present.
MB: There aren't a lot of socially and politically relevant pieces of theatre being made in the bigger, more established theatres, which is unfortunate. I think it would be of more value and excitement to stage plays that comment on what's happening in South Africa in 2017. There are a lot of voices in the country and they too should be heard on the grand stages with large audiences.
DF: In South Africa at this time, we have a huge mix of theatre legends and inspiring new artists. Who is your South African theatre hero?
MB: My theatre heroes change almost every week. I recently saw SHAKESPEARE IN LOVE and I was completely blown away by Robyn Scott and Darron Araujo. Their unwavering commitment to the characters, focus and dedication on stage made the entire performance for me. Brilliance.
Previews for NASTY WOMXN begin on 30 October, with the official season commencing on 6 November and running through 14 November at 19:00 nightly. Tickets are available from the Alexander Bar website, with seats costing R90 if booked and prepaid online or R110 if paid on collection at the bar. For telephone enquiries, call 021 300 1652. The Alexander Bar, Café and Theatre is situated at 76 Strand Street in the Cape Town city centre and can be followed on Facebook and Twitter. For updates on the production and further information visit The Furies on Facebook and Instagram.