Review: Wit, Sequins and Feathers Fly in THE FABULOUS CERI DUPREE SHOW at Gate69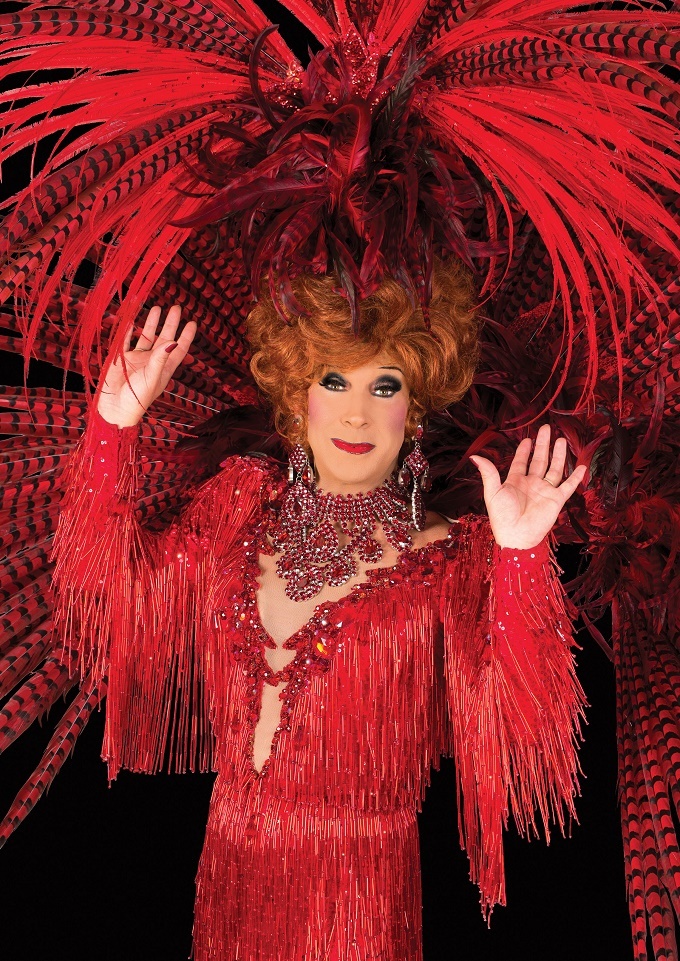 There is something thoroughly fabulous about watching a performer who knows exactly who they are doing what they were born to do. This quality goes beyond the performance itself and the performer's abilities, revealing the pure magic that lies at their very essence as an artist. THE FABULOUS CERI DUPREE SHOW offers Capetonian audiences an opportunity to see just such an artist at Gate69, with Ceri Dupree having returned to South Africa for this limited season at the Mother City's Purple Palace on Bree.
From the moment that Ceri Dupree steps onstage to proclaim - in a brilliantly witty parody of the title song of the Julie Andrews led film, STAR! - that 'the lady's a bloke,' the audience is chuckling away as the Cardiff-based star prepares them for an entertaining night of old-school drag executed in the most accomplished way. High spirits ensue as Ceri Dupree impersonates a host of divas from Amy Winehouse to Zsa Zsa Gabor, bringing them to life in songs and comic monologues, with plenty of asides that have raucous laughter echoing through the plush hallways of the country's premier cabaret theatre.
Other impersonations include a brassy Shirley Bassey, Marlene Dietrich in a white feather coat that is chicer than chic and a loving send-up of the white rose of Crete, if not of Athens, Nana Mouskouri. The superb read of the Windsors probably feels fresher than ever with THE CROWN having seeped into popular culture and making the British royal family feel more accessible than ever before, while the dynamo that is Tina Turner gets a sizzling turn and burn in a medley of her most famous songs late in the show. Only the Amy Winehouse segment feels somewhat out of place: although the impersonation is excellent, the skit feels less innovative than those that surround it. Perhaps it is too on the nose.
The undisputed highlight of the night is a meta-theatrical visit from Dame Edna Everage, a spot-on impersonation of Barry Humphries's beloved creation. With her wisteria-coloured hair and face furniture intact, Dame Edna asks for the house lights to be brought up for a heart-to-heart with the audience. You may find out some curious facts about your neighbour as Dame Edna pumps them for some juicy secrets in the most non-threatening variety of audience interaction seen in recent memory on local stages. Usually, these kinds of quips and barbs have me running for the hills, but Ceri Dupree is masterful at working an audience and making them feel at home, as are all the lovely folk on the floor at Gate69.
One innovation in THE FABULOUS CERI DUPREE SHOW really hits home. Between impersonations, Ceri Dupree disappears behind a back-lit screen, allowing the audience to see in silhouette the transformation from character to character. There is great fun to be had in guessing who will appear on stage next and the final transformation - which I shan't give away here - is one that is quite moving. It is a choice that brings all the radiant fabulosity of this show together in one fell swoop.
Performances of THE FABULOUS CERI DUPREE SHOW! take place until 24 February. Tickets are available from the official Gate69 website and range in price from R450 - R595, which includes a delicious designer mezze served on a double-tiered Lazy Susan, a separate hot soup and bread service as well as a mouth-watering purple Patron soft serve ice-cream for dessert. The suggested arrival time is 18:30 for a drink in the bar, with dinner at 19:00 and the show at 20:15.