Click Here for More Articles on SHAKESPEARE IN LOVE
BWW Review: Polished SHAKESPEARE IN LOVE at The Fugard Theatre An Artful Posture of The Film That Inspired It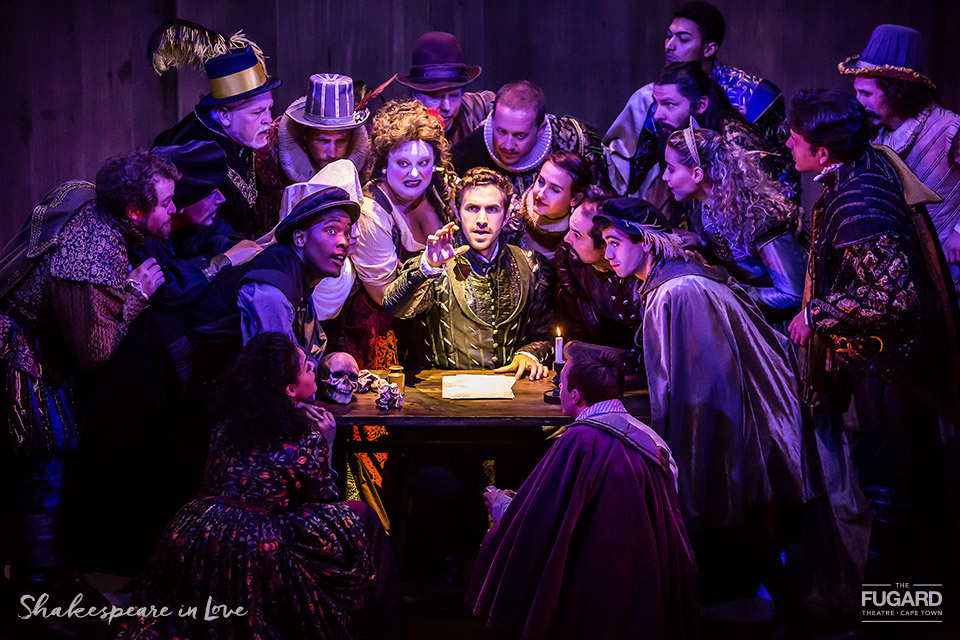 'I - will have poetry in my life. And adventure. And love. Love above all,' says Viola de Lesseps, the woman who is destined in SHAKESPEARE IN LOVE to win the titular Bard's heart. 'Not the artful postures of love,' she continues, 'but love that overthrows life.' In this most memorable of quotations lies - metaphorically, at least - the conundrum of translating the 1998 Oscar-winning film to the stage: to create something that is not an artful posture of its inspiration, but something that captures the essence of the theatre itself. Working with a script by Lee Hall that falters at the outset makes this feat well-nigh impossible for any company of players and notwithstanding a polished effort, producing SHAKESPEARE IN LOVE proves to be a formidable task for The Fugard in bringing the South African premiere of the play to the stage.
As in the film that inspired it, SHAKESPEARE IN LOVE begins with young Will Shakespeare during a bout of writer's block. His state of mind is bad news for Philip Henslowe, who needs to repay his debts to Hugh Fennyman, a ruthless loan shark who takes over the production of Henslowe's latest production at the Rose theatre, ostensibly a new play by Shakespeare titled Romeo and Ethel, the Pirate's Daughter. Although some basic inspiration comes to the young playwright via Christopher Marlowe, it is when he meets Viola that Will finds his muse. Viola is obsessed with Shakespeare's writing and disguises herself as a man so that she can audition for the play. Although love at first sight is the order of the day, Viola and Will's relationship deepens despite her betrothal to the dastardly Lord Wessex, one which has been sanctioned by Queen Elizabeth herself.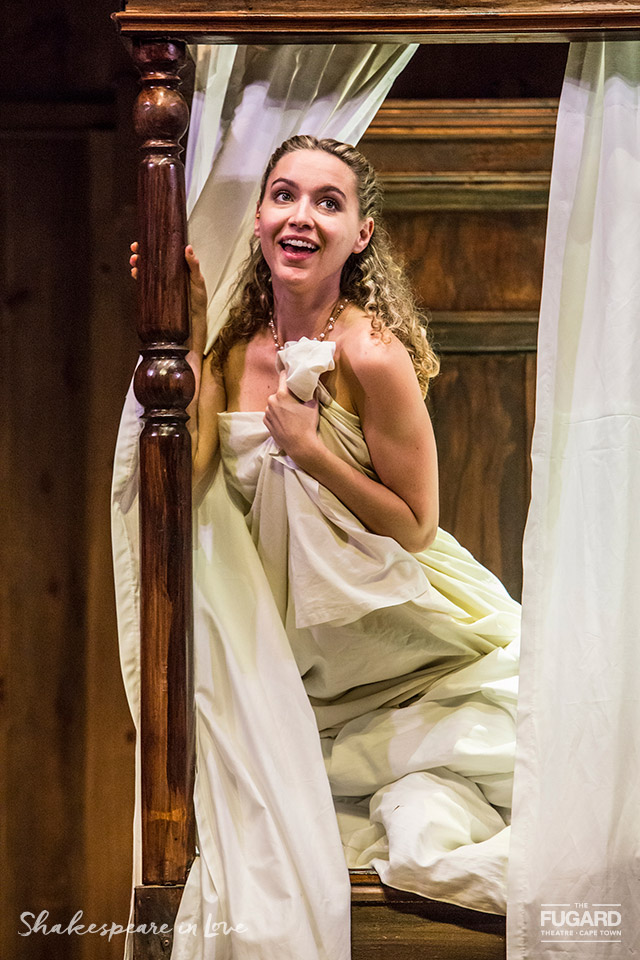 Hall's script incorporates many of the witty exchanges that make the film so memorable, but he is unable to do what Marc Norman and Tom Stoppard's screenplay achieved in collaboration with Stephen Warbeck's score, David Gamble's film editing and Richard Greatrex's cinematography: knit it all into one seamless whole. Part of the problem, I think, is that although there is a general willingness to concede that the stage property should be a horse of a different colour, Lee seems to want it to trot, canter and gallop in the same way that the film does.
The same hesitance to reinvent something that could never be reproduced infiltrates the production itself. What works about Greg Karvellas's interpretation is the decision to foreground the play's comedy over its romantic scenes, the dialogue of which could so easily be a little too bijou in isolation from the elements that help it to work on film. But although there are hints of the meta-theatricality that comes part and parcel with the play, he has much more room to explore this production of SHAKESPEARE IN LOVE as raw material for performance. The idea of using the cast to take on, in some cases, multiple roles as well as serving as an ensemble and the choice to make use of a multi-level unit set, designed by Paul Wills, nudge the piece in the right direction. It might have been refreshing to see all of the creatives - which also include musical supervisor Charl-Johan Lingenfelder, choreographer Kristin Wilson, costume stylists Birrie le Roux and Widaad Albertus and lighting designer Wolf Britz - pick up on these impulses and magnify them for all they are worth.
Although SHAKESPEARE IN LOVE is very much an ensemble play, everything revolves around Will and Viola. Dylan Edy leaps into the role of Will with a clear passion for the character, but he struggles to contrive the immediacy and fluidity that characterise Will's emotional swings throughout the piece. Roxane Hayward fares better as Viola, although greater vocal and physical play when donning the breeches of Thomas Kent would further distinguish her performance.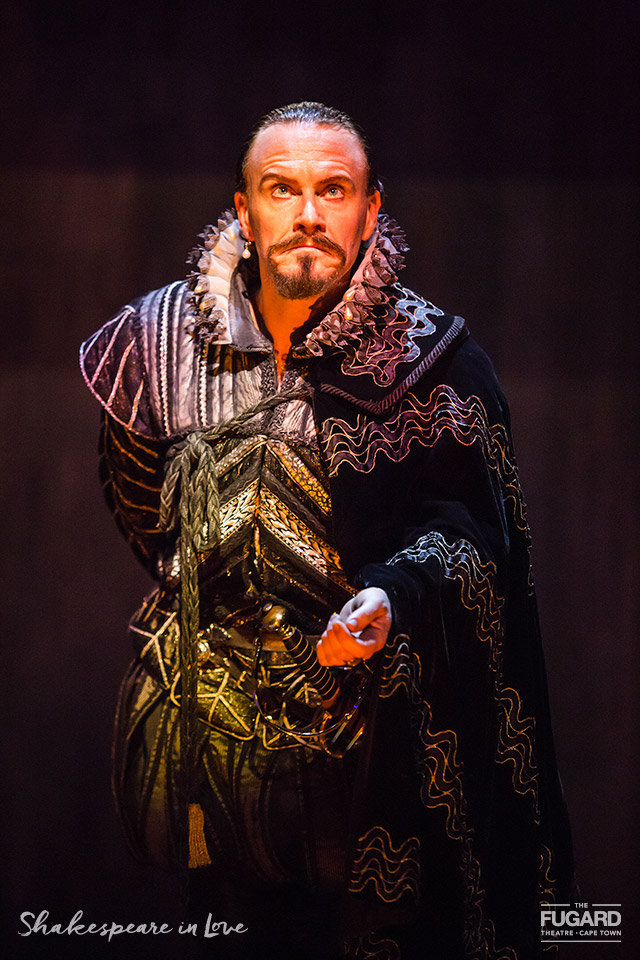 As Viola's future husband, Jason K. Ralph delivers a standout turn as Lord Wessex, rescuing the role from the pantomime villainy with which Hall seems determined to imbue it, while Darron Araujo offers a delightful reading of the pliable theatre-owner, Henslowe. Robyn Scott is as nuanced as Queen Elizabeth as she is in her ensemble appearances, and Lucy Tops offers a sympathetic reading of the Nurse. With Hall having removed many of the details that made the roles distinctive in the film, John Maytham, Nicholas Pauling and Mark Elderkin are left with little to do but chew the scenery, which they all do spectacularly well as Hugh Fennyman, Ned Alleyn and Richard Burbage respectively.
In his reflection on the musical ANYONE CAN WHISTLE in FINISHING THE HAT, Stephen Sondheim popularised a term coined by Mary Rodgers: 'a "Why?" musical.' This type of musical - often adapted from attractive source material - might be a perfectly competent piece of work, but it has no reason for being adapted to a new medium. When SHAKESPEARE IN LOVE was announced, I hoped to see a production that 'overthrows life,' as Viola would have it, to become 'a riot in the heart.' But even with handsome production values, a director who has proved his worth at the helm of a production several times over and a committed and appealing cast, SHAKESPEARE IN LOVE remains something of a "Why?" play - at least for me, if for few others. The 2014 London premiere production was received rapturously by many critics, and I think it will find an audience in South Africa too.
SHAKESPEARE IN LOVE will run at the Fugard Theatre until 25 November on Tuesdays through Saturdays at 20:00, with 16:00 matinee performances in November. Tickets range in price from R130 to R320 and can be booked through Computicket or the Fugard Theatre box office on 021 461 4554.

Related Articles
Born and bred in South Africa, David is an award-winning arts journalist who has loved theatre since the day he set foot on stage in (read more...)