Cindy Marcolina - Page 26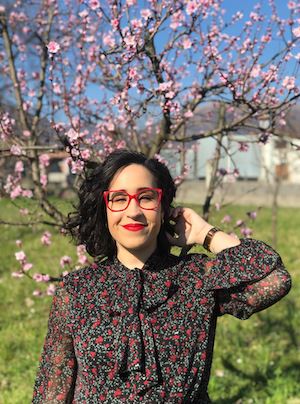 Cindy Marcolina considers herself a "critic" (yes, the inverted commas are important). Also a script reader and huge supporter of new work, she's the one wearing big red glasses and matching lipstick in the crowd. Twitter: @Cindy_Marcolina
MOST POPULAR ARTICLES
LAST 30 DAYS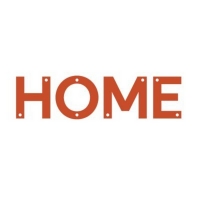 BWW Review: I AM FALLING IN LOVE WITH YOU AND IT'S MAKING ME DO STUPID THINGS, HOME Digital Channel
Posted: May. 2, 2020


Shan Ako Talks LES MISERABLES
Posted: May. 12, 2020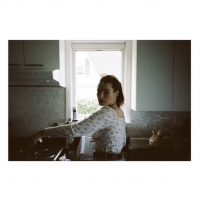 Album Review: KATHRYN GALLAGHER - DEMOS, VOL. I
Posted: May. 19, 2020


BWW Review: STUFF, The Painkiller Project
Posted: May. 6, 2020


BWW Review: MARISHA WALLACE, Royal Albert Home
Posted: May. 4, 2020


LAST 365 DAYS
BWW Review: LES MISERABLES: THE STAGED CONCERT, Digital Download
Posted: Apr. 25, 2020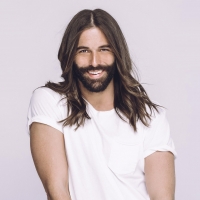 BWW Review: JONATHAN VAN NESS: ROAD TO BEIJING, Eventim Apollo
Posted: Oct. 19, 2019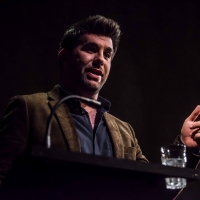 BWW Review: GHOST STORIES, Ambassadors Theatre
Posted: Oct. 10, 2019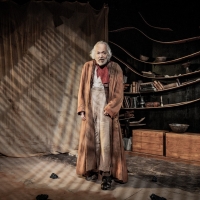 BWW Review: THE TEMPEST, Jermyn Street Theatre
Posted: Mar. 14, 2020


BWW Review: AN ACT OF GOD, The Vaults
Posted: Nov. 30, 2019


BWW Review: JOHN MAYER, The O2
Posted: Oct. 14, 2019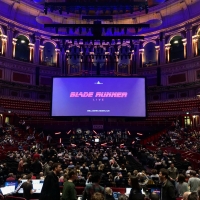 BWW Review: BLADE RUNNER LIVE, Royal Albert Hall
Posted: Oct. 26, 2019


BWW Review: HOLY CRAP!, King's Head Theatre

June 14, 2017

The Heather Brothers are back with their new heavenly blaspheme musical comedy Holy Crap!. After launching the first pay-per-view religious channel in Great Britain, the American Bobby Del La Ray (John Addison), The "Hallelujah Cowboy", soon realises that there is no market for such an enterprise in the "godless and bankrupt UK". Since his meddling with the mafia is taking its tall on his mother, who is being held hostage in Sicily, he decides to start offering his few viewers another kind of entertainment, something that he is sure will increase his figures: porn. Helped by Rex Bedderman (Arvid Larsen), a legendary British rockstar and devout Christian who promotes his channel, Bobby's influence starts to grow.
---
BWW Review: THE LAST ONES, Jermyn Street Theatre

June 13, 2017

Anthony Biggs presents the UK premiere of Maxim Gorky's 1908 The Last Ones in a highly dramatic and touching production that nevertheless feels ultimately insubstantial.
---
BWW Review: KISS ME, Trafalgar Studios

June 10, 2017

Directed by Anna Ledwich, Kiss Me is passionately and heartbreakingly intimate. Stephanie (Claire Lams), a war widow, struggles to reconcile her role as a "modern woman" with her longing to have a baby. She is met by a man, Dennis (Ben Lloyd-Hughes), whose job is to give exactly what the woman wants most. Their meeting will be the start of an unorthodox relationship in a shifting 1929 London which is still learning to adjust to the new world.
---
BWW Review: PUNTS, Theatre503

June 6, 2017

Like other young men, Jack, a 25-year-old with a learning disability, has needs and desires, and his parents don't want him to feel left out of significant life experiences, so they decide to hire a prostitute to arrange their son's first sexual encounter. Julia will slip into the cracks of a marriage on the verge of an invisible crisis, and in the end she will do a lot more than just help Jack.
---
BWW Review: SAND IN THE SANDWICHES, Theatre Royal Haymarket

June 1, 2017

Edward Fox stars in the one-man tribute to Great Britain's most acclaimed Poet Laureate John Betjeman. Following a successful UK tour, Sand in the Sandwiches is a verbal tour de force for the actor, who, at the age of 80, delivers a distinguished transposition of the artist.
---
Show-stopping Sugary Goodness At WEST END BAKE OFF 2017

May 22, 2017

On a (thankfully) sunny Saturday afternoon, the thespians who usually inhabit London theatres turned bakers for the day. Benefitting Acting For Others, an umbrella name that represents 15 charities devoted to helping people in the theatre business, the West End Bake Off was a bounty of show-stopping sugary goodness.
---
BWW Review: 5 GUYS CHILLIN', King's Head Theatre

May 20, 2017

Peter Darney brings back his highly acclaimed and disturbingly honest 5 Guys Chillin' to King's Head Theatre. After an original run in 2005, the show has touched audiences at Edinburgh Fringe Festival, Dublin Gay Theatre Festival, and the SoHo Playhouse in New York. The play challenges the uncomfortable implications that come with the practice of ChemSex, the sexualised drug use largely spread among gay men. By interviewing real consumers and transposing their words verbatim, the playwright and director is effective and straight to the point.
---
BWW Review: BLUSH, Soho Theatre

May 19, 2017

Five people face the shame that comes with being exposed in the digital age: a woman dealing with her younger sister's sex tape being published; a father coming to terms with his daughter's sexuality and his relationship with porn; a scorned woman's revenge on an ex-boyfriend; an app developer's faux pas; and a young woman's self-love discovery that turns against her. The tales are joined by a thread consisting of sex, porn, and the impulsiveness and appeal of new media.
---
BWW Review: LETTICE AND LOVAGE, Menier Chocolate Factory

May 18, 2017

Lettice Douffet (Felicity Kendal), a tour guide at Fustian House, has inherited her mother's penchant for theatricality. This inclination leads her to filling the gaps in the boring history of the stately home with embellishments and imaginative stories. Her dismissal by her supervisor Lotte Schoen (Maureen Lipman) oddly marks the start of a timid friendship that will develop into a fascinating adventure for the two lonely women.
---
BWW Review: LIVING A LITTLE, King's Head Theatre

May 11, 2017

In a zombie-raided Scotland, best friends Paul (Paul Thirkell) and Rob (Finlay Bain) have found refuge in an abandoned flat. Out of luck, they managed to surround themselves with all kinds of comforts, so they've accustomed to a shielded, secure life in their sanctuary away from the horrors of the real world. Their lives turn upside down with the arrival of Penelope (Pearl Appleby), a young woman who survived a lot more than just zombies.
---
BWW Review: NO PLACE FOR A WOMAN, Theatre503

May 9, 2017

At the end of World War Two, Annie (Ruth Gemmell) and Isabella (Emma Paetz) are being interviewed in Poland by the Allied forces. The two women tell two sides of the same story: the former - a Commander's wife whose biggest dream when she was younger was to become a dancer but is forced into marriage - recalls her married life with her husband Frederick, the latter - a ballet dancer - explains how she was picked from a concentration camp because the Commander wanted a ballet dancer for his party.
---
FAVOURITE SONGS: 'See I'm Smiling', THE LAST FIVE YEARS

June 5, 2017

The Last Five Years recounts Cathy and Jamie's five-year long relationship. With music, lyrics, and book by Jason Robert Brown, it's an intricate work: while Jamie narrates his side of the tale in chronological order, Cathy's is flipped, going from the end to the start of their happiness together. The characters interact only once in the middle of the show, when their timelines converge for the span of their wedding song ("The Next Ten Minutes").
---
BWW Review: BRIMSTONE AND TREACLE, The Hope Theatre

May 6, 2017

Dennis Potter's 1976 work finds new life with Matthew Parker. Written as a television play but never broadcasted due to its disturbing plot, it was finally produced at the Sheffield Crucible in 1977. Now, 40 years later, its revival is unsettling and relevant as then.
---
BWW Review: PAPER HEARTS, Upstairs At The Gatehouse

May 5, 2017

Even the toughest heart of stone will turn into a paper heart with Liam O'Rafferty's new musical. After winning over audiences in 2016 during Edinburgh Fringe Festival with its 75-minute version, the show has now grown in a two-act, fully developed, heartwarming, and uplifting piece of theatre directed by Tania Azevedo.
---
BWW Review: ROMEO AND JULIET, Union Theatre

May 4, 2017

Andy Bewley directs Joe Mackenzie's mostly disappointing but highly energetic adaptation of Shakespeare's tragic tale. Set in a universe where football is almost considered a religion, Romeo and Juliet are young men whose forbidden love threatens the foundation of their two families.
---
BWW Review: ALL OUR CHILDREN, Jermyn Street Theatre

May 3, 2017

Set in a Nazi-dominated Germany in 1941, Stephen Unwin's debut play is an affecting examination of humanity, hypocrisy, and morality.
---
BWW Review: WHILE WE'RE HERE, Bush Theatre

April 29, 2017

The inaugural production in the refurbished Bush Theatre's new studio space is the latest play from Barney Norris. Directed by Alice Hamilton, it's a searching exploration of loneliness and reunion set against a sympathetically drawn south-of-England backdrop.
---
BWW Review: LATE COMPANY, Finborough Theatre

April 28, 2017

During its celebrations for Canada's 150th birthday, Finborough Theatre sees the premiere of Late Company. Jordan Tennahill's play is a poignant reflection tackling bullying, sexuality, and teenage suicide from the point of view of the ones who survive the victim.
---
BWW Review: THREADS, The Hope Theatre

April 14, 2017

After breaking up five years prior, Charlie (Samuel Lawrence) writes a quite melodramatic letter to Vic (Katharine Davenport), his ex-girlfriend, confessing how he is dead inside, and how he almost feels as if he were rotting away. He is a medical mystery, his heart is not pumping any blood and his organs are de facto dead.
---
BWW Review: 46 BEACON, Trafalgar Studios

April 11, 2017

Bill Rosenfield premieres his play 46 Beacon in the United Kingdom with director Alexander Lass at the helm. His tale of identity, pride, and becoming is warm and viciously funny at Trafalgar Studios.
---
26
...