ESTRELLA WING, SHOWGIRL Comes to Melbourne Fringe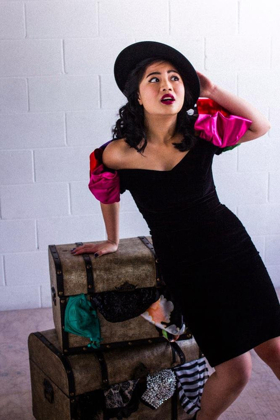 San Francisco's Forbidden City nightclub. 1942. Estrella Wing is on the brink and she needs time to think. How do you blend in and stand out? How do you tell your best friend you love her? When will you stop feeling so alone?
In a dazzling Fringe debut, writer/performer Margot Tanjutco springs into a kaleidoscopic haze of eras with an eclectic mix of jazz, pop, and soul. Doses of magical realism are combined with true stories from this forgotten gem of history as the show follows the young showgirl's attempts to conquer a city and understand her place in it.
Whilst creating the show, Margot found lasting inspiration from Jean-Pierre Jeunet's 'Amélie', Julie Koh's short stories, David Bowie, Ella Fitzgerald - and her desire to contribute to the tapestry of diverse stories being told on Melbourne stages.
"I initially wanted to tell this story for the simple sake of alerting people to the Asian-American vaudeville scene in the 1940s!" she says, "but the more I delved into those artists' lives, the more attuned I became to their daily tragedies. The show then turned into this funny, weird exploration of those moments of uncertainty, ambition, and loneliness...moments a lot of us are grappling with now."
Margot has appeared in the Butterfly Club seasons of Original Cast: The Completely Improvised Musical and Sarah Has Friends. She is currently pursuing a Bachelor of Communications (Media) at RMIT - testing those skills in the sound design for Estrella Wing, Showgirl. Recently, she also co-wrote and performed in "lesbian musical" Romeo Is Not The Only Fruit at the Union House Theatre which will enjoy a bigger season later this year. The rest of her time is occupied by Twitter, gin-based cocktails, and a call centre job that makes buying those cocktails possible.
This production opens on 18 September and runs until 24 September. It's for the romantics who feel too much, stay up late too much, and talk to themselves a little too often.
Show Details for Estrella Wing, Showgirl
Dates: 18-24 September 2017
Time: 5:30 pm (60 mins)
Cost: $25-32
Venue: The Butterfly Club, 5 Carson Place, Melbourne
Tickets available at http://thebutterflyclub.com/show/estrella-wing-showgirl or call (03) 9660 9666.
Related Articles View More Australia - Melbourne

Stories

Shows
More Hot Stories For You