BOMBSHELLS Comes to Bluestone Church Arts Space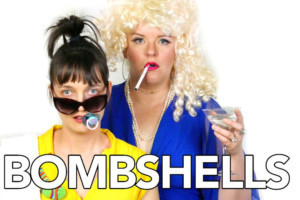 Following on from their recognition at this year's Maribyrnong Civic Awards, wit incorporated are kicking off 2018 with a bang, as they bring the uproarious comedy, Bombshells to Bluestone Church Arts Space.
Six women are about to explode. And they're not sure whether to laugh, cry, scream or tap dance.
How long do you have to fake it before you make it? Why are we still pretending that everything is okay? Join the mother, the divorcée, the drama nerd, the bride, the widow and the diva as they balance gladness, sadness and madness.
See it at Bluestone Church Arts Space from 9 to 24 March 2018.
This is the first offering of wit incorporated's year of accessible theatre. Artistic Director Belinda Campbell ensures, "...every season has an Auslan interpreted show and a relaxed performance, and wheelchair access that doesn't feel like you're coming in the service entrance."
Director Sarah Clarke says, "Coming off the back of our year of women and diversity on stage, it's exciting to tell stories that are entertaining AND important AND told by women. The characters are individuals and they are flawed, but they cope. They have to. They are real women in moments of hilarious chaos and we're right there with them as they navigate the turmoil.
"Bombshells is important because it disproves some of the feminine stereotypes that we are constantly grappling with in today's world. It takes the word 'Bombshell' and flips it on its head, and instead, we're left with real women dealing with real life, to screamingly funny results.
"Bring your mum, your nanna, your wife, your best friend and your aunties. This is a rollercoaster that we can all relate to."
Thanks to Arts & Culture Maribyrnong, local residents can get tickets to a FREE secret preview on Wednesday 7 March, by emailing their suburb and phone number to hello@witinc.com.au with 'Bombshells tickets' in the title.

Bombshells is a VCE text. VCE students are encouraged to stick around after the show, to discuss the text and its themes with the cast and creative team.
wit incorporated presents

Bombshells
9 to 24 March | Preview 8 March 2018
7.30pm Thursday to Saturday, 3pm Sunday
Bluestone Church Arts Space, 8A Hyde Street, Footscray
$30 Full | $25 Concession | $15 Preview
Auslan interpreted show Thursday 15 March
Relaxed performance Sunday 18 March
Tickets on sale now at witinc.com.au/whats-on/bombshells