The VORTEX And New Manifest Theatre Company Will Present The Texas Premiere Of GOOD FRIDAY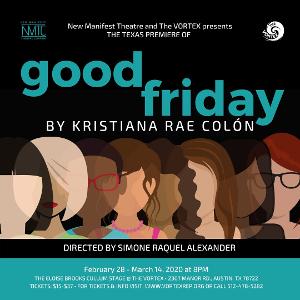 In the midst of the #metoo movement, The VORTEX and New Manifest Theatre Company present Kristiana Rae Colón's timely drama good friday. The Texas premiere, featuring an all-female cast and design team, runs February 28 - March 14, 2020 at The VORTEX. The production is directed by New Manifest Producing Artistic Director, Simone Alexander.
With situations that feel ripped from the headlines, good friday renegotiates the intersection of gun violence and sexual assault. The one-act play takes place inside an academic lecture hall as an active shooter storms the campus. Tweets fly and tensions rise as five women struggle to make sense of the situation. As more information unfolds, the question remains: What is the real cost of revolution?
After select performances, audiences are invited to attend VORTEX Connects, a 30-minute talkback discussion lead by mental health and sexual assault experts. Representatives from SAFE Alliance will provide information about local resources in the lobby during all performances.
"I was drawn to producing and directing this play because of its unabashed and honest approach to our current trauma-filled world," artistic director Simone Alexander said. "In this story, Kristiana has created these passionate and fierce women whose differences of opinion and approach are put to the test at the crossroads of several intersections. It challenges our own community awareness and activism around these epidemic issues, or lack thereof."
Cast
good friday features Oktavea Williams as Ariel, Faith Anderson as Kinzie, Payton Russell as Crete, Antora Delong as Sophia, Emma Galbraith as Emme, Bianca Ibarra as Natalie, and Eva McQuade as Asha, with Eliza Renner as understudy.
Production Team
Written by Kristiana Rae Colón. Directed by Simone Alexander. Assistant Director and Stage Management by Joi Green. Costume and Blood Design by Laura M. Gonzalez. Lighting Design by Jacqueline Sindelar. Projection Design by Ashton Bennett Murphy. Sound Design and Fight Choreography by Malyssa Quiles. Scenic Design by Megan Kemp. Dramaturgy by Yasmin Zacaria Mikhaiel.
About New Manifest Theatre Company: New Manifest Theatre Company is dedicated to reflecting our collective human experiences through inclusive storytelling in contemporary theatre. www.newmanifest.org
About The VORTEX: We conjure and navigate the storm of imagination with urgent, unashamed art that dares to dream the world in which we want to live. This magic emanates from our cultural harbor, embraces diverse communities, breaks down barriers, and opens channels for vital exchange.
good friday is funded and supported in part by New Manifest Theatre Company, The VORTEX, Motion Media Arts Center, Fractured Atlas, a grant from the Texas Commission on the Arts, the National Endowment for the Arts, and by the Cultural Arts Division of the City of Austin Economic Development Department.
Tickets and more information www.vortexrep.org
Info
When: February 28-March 14, 2020 8pm
February 28 - March 1 (Fri-Sun), March 4 - 8 (Thurs-Sun), March 12 - 14 (Wed-Sat) Live-streaming on howlround.tv, Friday, March 6-8pm CST
ASL-interpreted Saturday, March 7 (Free to deaf and hard-of-hearing audiences)
"Industry Night", Wednesday, March 11
Where: The VORTEX, 2307 Manor Rd. Austin, TX 78722 On the Eloise Brooks Cullum Stage @The VORTEX
Free Parking. Bus Route. The Butterfly Bar @ The VORTEX opens nightly at 4pm with full bar, hand- crafted cocktails, and snacks. Patrizi's @ The VORTEX opens nightly at 5pm with delicious homemade Italian food.
Tickets: $37-$15
$37 Priority Seating
$27 General Admission
$15 Discount/Child/Artist/Student/Senior
www.vortexrep.org www.newmanifest.org or 512-478-5282
Advanced Reservations Recommended. Limited seating.
Blue Star Theatre: Discounts for Military, Veterans, and their families.
Radical Rush Free Tickets: Limited free tickets for each performance in the spirit of sustainability, accessibility, and the gift economy. Radical Rush tickets released at 7pm each night--in-person only.