BWW Review: WHITE CHRISTMAS An Engaging Nostalgia Fest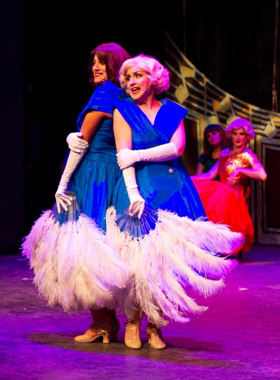 Irving Berlin's WHITE CHRISTMAS is a 2000 musical based on Paramount Pictures 1954 film of the same name featuring the songs of Irving Berlin. The film itself was a remake of the film Holiday Inn. The new book is by David Ives and Paul Blake and features all of the songs from the 1954 film, along with some trunk songs, all by Irving Berlin and hews remarkably close to the plot line of the film, with a few exceptions. It premiered in St. Louis in 2000 at The Muny, after which it opened in San Francisco in 2004. This new stage musical played a limited engagement of 53 performances on Broadway at the Marquis Theatre in 2008. It received two 2009 Tony nominations and seven Drama Desk Award nominations.

For those who've never seen the iconic holiday film, I'll briefly recap the story line set up. On Christmas Eve, 1944, somewhere in Europe, two World War II U.S. Army soldiers, one a Broadway entertainer, Bob Wallace (Creighton Moench), the other an entertainer, Phil Davis (Justin Dam), perform for the 151st Division. Word has come down that their commanding officer, General Henry Waverly (Scott Poppaw), is being relieved of command. After the war, Bob and Phil make it big in nightclubs, radio, and then on Broadway, eventually becoming successful producers. They are mouning their newest musical when their mess sergeant from the war asks them to look at an act that his two sisters are doing. When they go to the club to watch the act, Phil notices that Bob is attracted to Betty (Veronica Ryan). Phil has eyes for her sister, Judy (Samantha Watson). While Phil and Judy hit it off, Bob and Betty do not, getting into a minor argument about how Bob thinks that everyone in show business has an angle.

Judy and Betty are headed for an Inn in Pine Tree, Vermont, where they are booked to perform over the holidays. Phil gives the sisters his and Bob's sleeping-room accommodations aboard the train. Bob and Phil board later and Bob is more than a little upset that they have to stay up all night in the club car on their way to NYC. It is only when the train arrives in Pine Tree that Bob finds out what Phil has done. When the train arrives in Pine Tree, there's not a snowflake in sight, and chances of it falling are slim. Bob and Phil discover that the inn is run by their former commanding officer, General Waverly. Waverly has invested all of his savings into the lodge, which is in danger of failing because there's no snow and, naturally, no guests. To save the inn, Bob and Phil decide to stage a show adding in Betty and Judy. Bob and Betty's relationship blooms as they spend a good deal of time together. Meanwhile, Bob discovers the General's request to rejoin the army has been rejected. He comes up with a scheme to prove to the General that he isn't forgotten.

Director Ron Watson has done a nice job with this very cinematically written stage show, keeping the scene changes swift and mostly seamless and the show moving at a swift pace. He's also co-designer with Michael Davis and the set design is quite clever, especially in the two night club sequences, which are both aided by Faith Castaneda's beautiful and tasteful lighting. In both of the night club scenes everything comes together for two marvelous musical moments, the iconic numbers "Sisters"and "Love, You Didn't Do Right By Me". My only quibble with the set is one drop of a brick wall that sadly looks like a bad high school set, breaking the magic due to the extremely uneven execution. I also don't understand why they left the line about Betty being a red head unchanged when she is clearly a brunette. Why not change the line or add another wig to the budget?

The choreography, by Jesse Smart is quite good, especially when it comes to the tap dancing numbers. Musical director Rose Yurcina has done a great job and the show is beautifully sung. Rich Simms video design is also quite good, sometimes serving as the entire backdrop, as it does during "Blue Skies" and "I Love A Piano", two of the trunk songs added to the score. The costumes by A Cut Above Costumes are sadly rather unremarkable and drab for a musical.

The cast can all clearly sing and dance but one of the biggest disappointments is that there is zero romantic tension between the leads. It's supposed to be a love story. Samantha Watson is a delight as Judy Haynes and is a real triple threat when it comes to musical comedy. Leah Knight is a bright light to the proceedings as Martha Watson, knocking her number "Let Me Sing and I'm Happy" out of the park. Let's just say that Knight knows her way around a Berlin tune. She also has a great way with a comedic line. I was enchanted by a Berlin song I'd never heard before called "Falling Out Of Love Can Be Fun" which becomes a witty trio for Martha and the Haynes sisters, and it is a real highlight of this new musical adaptation. Scott Poppaw makes a great General although the script doesn't give this talented performer enough to do. Kali McBurney and LorrI Boyd have a great sense of timing that makes them memorably funny as chorus girls Rita and Rhonda. An uncredited Ismael Soto III has an extremely funny turn as country hick Ezekiel Foster, getting a well deserved roaring laugh with just a single word.

WHITE CHRISTMAS is a great nostalgia fest for the holidays and if you are a fan of the 1954 film, you won't be disappointed. Shortcomings aside, WHITE CHRISTMAS is still a lot of tuneful, tap dancing fun.


WHITE CHRISTMAS, Book by David Ives and Paul Blake, Music and Lyrics by Irving Berlin, Based upon the Paramount Pictures film written for the screen by Norman Krasna, Norman Panama and Melvin Frank.

WHITE CHRISTMAS, produced by Georgetown Palace Theater (810 South Austin Avenue, Georgetown, TX, 78626).


Fridays-Sundays, November 16 - December 30, 2018
Ticket: www.georgetownpalace.com or 512-869-7469.
Ticket Prices:
Adult-$32
Seniors (55+) / Military / Students-$29
Children (13 & younger) $15

*$1 ticketing fee will be added per ticket at checkout.
**Student Rush Tickets $18 at the door with student ID.

?For Special Needs Seating (wheelchairs, walkers, no stairs, etc.) you must call the Box Office for reservations at (512) 869 - 7469.

Group rates are available for 20 or more. The Palace seats about 295, with reserved seating paid for in the ticket price. The Palace office in the lobby of the theatre is open Monday through Friday from 10:00 a.m. until 4:00 p.m. (except for some holiday dates).
Related Articles View More Austin

Stories

Shows
A Kansas native, Frank Benge has been involved in the Austin area theatre scene as a Director, Designer, Writer and Performer for the past 20 (read more...)