BWW Review: THE UNDERSTUDY Features a Trio of Stellar Performances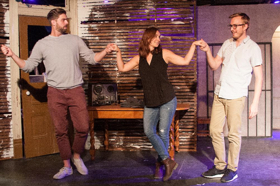 When you choose a three-person show it doesn't leave you much room for error or less than stellar acting. The current Southwest Theatre Productions company of Nicholas Kier, Devin Finn and Kristin Chiles under the direction of Joni Lorraine delivers nothing short of perfection, each character has been crafted to show without artifice or contrivance their specific needs and emotional depth. These performers show us abrasive tempers buffeted by discoveries, in Theresa Rebeck's unusual modern theatrical hybrid of drama and comedy.
Kristin Chiles, as the neurotic, overwrought stage manager Roxanne, does a remarkable job of keeping her character realistic. Her clipped tone and barking manner, particularly when engaging with Harry, is both abusive and amusing. She captures the essence of one of the industry's most stressful positions with the sense of urgency she imbues into the character.
It's the working relationship that develops between Nicholas Kier's lost understudy character of Harry and Devin Finn's blithely narcissistic character of Jake that is the driving force behind this production. Both characters are taken at face value: the big name celebrity who doesn't know the first thing about acting and the disgruntled understudy who can do no better than bit parts. But the rich development that both Kier and Finn bring to fleshing out these labels of their characters is what makes this show such a delight.
Finn finds the perfect balance between blasé yet self important and unapproachable Hollywood star and theatre nerd with a true passion to deliver the hidden meanings of Kafka to the masses. Playing both sides of the coin, often in quick rotation with one another, Finn captures the heart of the audience with his performance; a compelling study in character growth and development as the play progresses.
Together, Finn and Kier strike up an unimaginable bromance, tangling Chile's character into the throng. The three of them give sensational performances throughout the production; never faltering in moments of truth, never mugging to get a laugh.

Director Joni Lorraine, has done a great job here, keeping the action moving smoothly and the performances relatable in Rebeck's script, which is very industry specific. Susan Harris has also done a great job with the set, especially in moments where she has to substitute effects because of physical limitations of the venue.
Although the script may be very specific in subject matter, the performances are universally enjoyable.
THE UNDERSTUDY by Theresa Rebeck
Running Time: 90 minutes with no intermission
THE UNDERSTUDY, produced by Southwest Theatre Productions at
Santa Cruz Center for Culture, E. 7th Street, Austin.
Remaining Performances: September 7th, 8th & 9th - 8:00 p.m.
Tickets $22 and $25 plus service fees
Related Articles View More Austin

Stories

Shows
A Kansas native, Frank Benge has been involved in the Austin area theatre scene as a Director, Designer, Writer and Performer for the past 20 (read more...)