BWW Review: THE FEUD hits the target at Dougherty Arts Center
THE FEUD is a comedy musical based on the true Texas story of an infamous feud between two families - the Suttons and the Taylors. Audiences will be thoroughly entertained by this fast-paced and funny musical, which covers a lot of territory in just one hour.
Among the cast, an immediate audience favorite is Major Sapp (Josh Meindertsma), who is in over his head as the sole individual sent to re-establish order during the post-Civil War family feud. Meindertsma gives a spirited performance as the underdog Major and consistently brings a refreshing energy to the stage. Alongside Mindertsma, sisters April (Megan Moore Ortiz) and May (Kera Blay) are an entertaining duo as they seek revenge on April's absent groom - with impressive vocals and witty performances. Rounding out the cast are two feuding pairs - Sheriff Jack Helm (Carl Guthrie) and his partner Deputy Dubris (Creighton Moench), and the infamous Taylors - "Doboy" (Phil Rodriguez) and Beauregard (Dan Dalbout). Where Guthrie and Moench have excellent comedic timing and rapport on stage, the Taylor duo falls a bit flat at times - suffering from low energy in several scenes.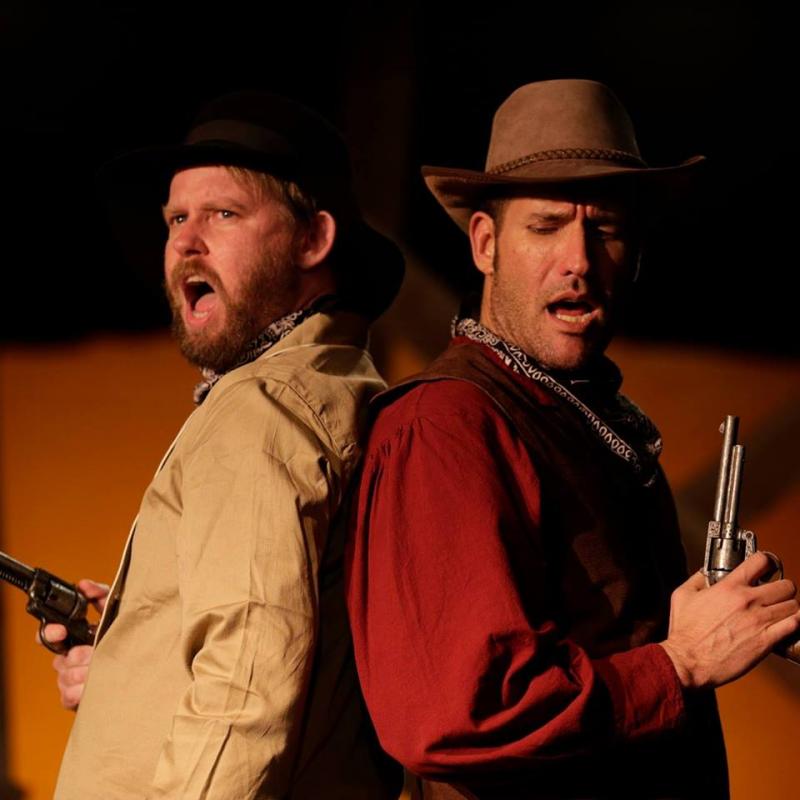 While the choreography (Megan Moore Ortiz) was relatively simple in this show, it was well-executed and entertaining. However, some of the fight sequences (Adam Miller-Batteau) appeared unpolished - with punches landing far from the intended target. But overall, the choreography, vocals, and music provided by a live band are what make this western show a memorable musical.
All in all - THE FEUD makes for an entertaining night of live theatre. After just sixty minutes, audiences will be left feeling satisfied with this humorous tale. If the show were a bit longer, a more detailed understanding of the origins of the family feud and the backgrounds of the characters involved might leave the audience with more to reflect on. But with the current brevity of the performance, every moment is filled with fun.
THE FEUD, by John Cecil & Crank Collective, is the latest in a series of stories based on Texas history by the "Texas Comedies" group. Other productions include ALAMO AFTERMATH and THE TRUE STORY OF BONNIE AND CLYDE. More information on this and other productions can be found at http://www.texascomedies.com/. THE FEUD continues February 21st - 23rd at Dougherty Arts Center. General admission tickets are $19 (senior and student discounts available) at http://www.texshows.com/.
Related Articles View More Austin

Stories

Shows