Review: THE DROWSY CHAPERONE A Delightfully Near Perfect Musical Treat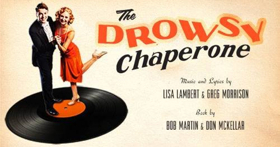 THE DROWSY CHAPERONE is a parody of 20's musicals with a book by Bob Martin and Don McKellar and music and lyrics by Lisa Lambert and Greg Morrison. It is a show within a show told by a middle-aged, asocial Broadway musical fan, known only as Man in Chair (Scott Shipman). Seeking to cure his "non-specific sadness", he listens to a rare recording of the fictitious 1928 musical comedy, The Drowsy Chaperone. As he listens to this cast recording, the characters appear in his crowded, tiny apartment, and it is transformed into an impressive Broadway set with footlights, period furniture, painted backdrops, shiny drapes and glitzy costumes. Man in Chair provides a running commentary throughout the show from the stage, and although he is onstage with the characters, he is invisible to the players. THE DROWSY CHAPERONE debuted in 1998 in Toronto and opened on Broadway in 2006. The show won five Tony Awards and seven Drama Desk Awards. It is a loving valentine to a time when shows had only the barest of plots serving to showcase the songs.
In the opening number, the entire premise and all of the characters of the show are introduced: it's the day of the wedding of oil tycoon
Robert Martin
(Connor Barr) and Broadway star
Janet Van De Graaff
(
Lauren DeFilippo
) who plans to give up her career for married life. Those in attendance include aging hostess Mrs. Tottendale (Sydney Frank); her loyal employee known only as Underling (J.
Dylan Gibson
); Robert's best man, George (Ryland Kaiser); Broadway producer Feldzieg (Morris Jude Martinez) who is hoping to persuade Janet to continue starring in
Feldzieg's Follies
; ditzy flapper Kitty (Tori Robertson), who hopes to take Janet's place in the Follies; two gangsters disguised as pastry chefs (Caroline Kinnamore and
Leslie Ann Leal
); self-proclaimed famed Latin lover Aldolpho (Matthew Rogers); Janet's alcoholic Chaperone (
Emily McIntyre
), who is supposed to keep her away from Robert until the wedding; and Trix (Toni Lorene Baker), an aviatrix. Rounding out the cast is
Ryan Alvarado
as the superintendent. Director
Nick Mayo
clearly has a fondness for these old style musicals because he handles this like the beautifully delicate souffle that it is. The end result is a nearly perfect and absolutely magical two hours of theatre. He also gets the fact that musical theatre performers of that era were not that far removed from Vaudeville, and has helped the actors develop the bigger than life personas the piece needs to succeed. Natasha Davidson has done a terrific job with the choreography here. It is tight, clever and stylishly executed. Lyn Koenning has also done a wonderful job with the music and the show sounds great. There are some lovely vocal tricks to this score and they've all been pulled off with style. The scenic design of Lino Toyos is a sheer delight. It continually surprises the audience, from Murphy beds that come out of nowhere containing people already in them to pots that magically grow plants, it is a never ending joy to behold. Barbara Pope's costumes are deliciously executed, giving the show the proper flair of the period. Especially nicely executed are the multiple period bridal gowns. Austin Shirley's lighting design does a superb job of transporting the audience to different locales. In all, the tech for this production is top notch. My only quibble would be the follow spots seemed to be having some problems periodically finding their target performers; however, I am sure that will work itself out. The cast is dynamite from top to bottom here with everyone at the top of their game. There isn't a weak link in this entire company. Leading the show is Scott Shipman as Man in Chair in a delightful performance that makes you laugh and touches you deeply. If you've ever wondered why some people love cast recordings, Shipman will make you finally get it. Connor Barr does a great job as Robert, especially impressive in his roller skating number "Accident Waiting To Happen". Matthew Rogers is hilariously over the top as Adolpho and has a very funny signature pose.
Emily McIntyre
is delightfully droll as the chaperone of the title and knocks it out of the park with her number "As We Stumble Along".
Lauren DeFilippo
is charming as Janet and has her tongue firmly in cheek for her show stopper "Show Off". Also, watch for some impressive dance moves from J.
Dylan Gibson
. Like I said, there isn't a weak link in this company, everybody shines, even the ensemble in their monkey dance. This is one you don't want to miss as it is a heart warming delight that for a couple of hours will make you forget the world outside and entertain you in high style. Watch for a little tip of the hat to the department's history when the superintendent appears. Audiences who've attended these musical performances will get the inside joke. THE DROWSY CHAPERONE, Book by
Bob Martin
&
Don McKellar
, music & lyrics by
Lisa Lambert
&
Greg Morrison
Running Time: One Hour and Fifty Minutes with no intermission THE DROWSY CHAPERONE, Produced by University of Texas Theatre & Dance, in the
B.
Iden Payne
Theatre (300 East 23rd Street, Austin, TX, 78712). Wednesday-Sunday, December 06 - December 10, 2017 at 7:30 p.m. Additional Performances: December 8-10 at 7:30 p.m. and December 9-10 at 2:00 p.m. Ticketing: Tickets $16 - $26 plus handling fees, available on-line via UT Performing Arts