Review: THE BEST LITTLE WHOREHOUSE IN TEXAS at TexARTS is A Rip-Roaring Romp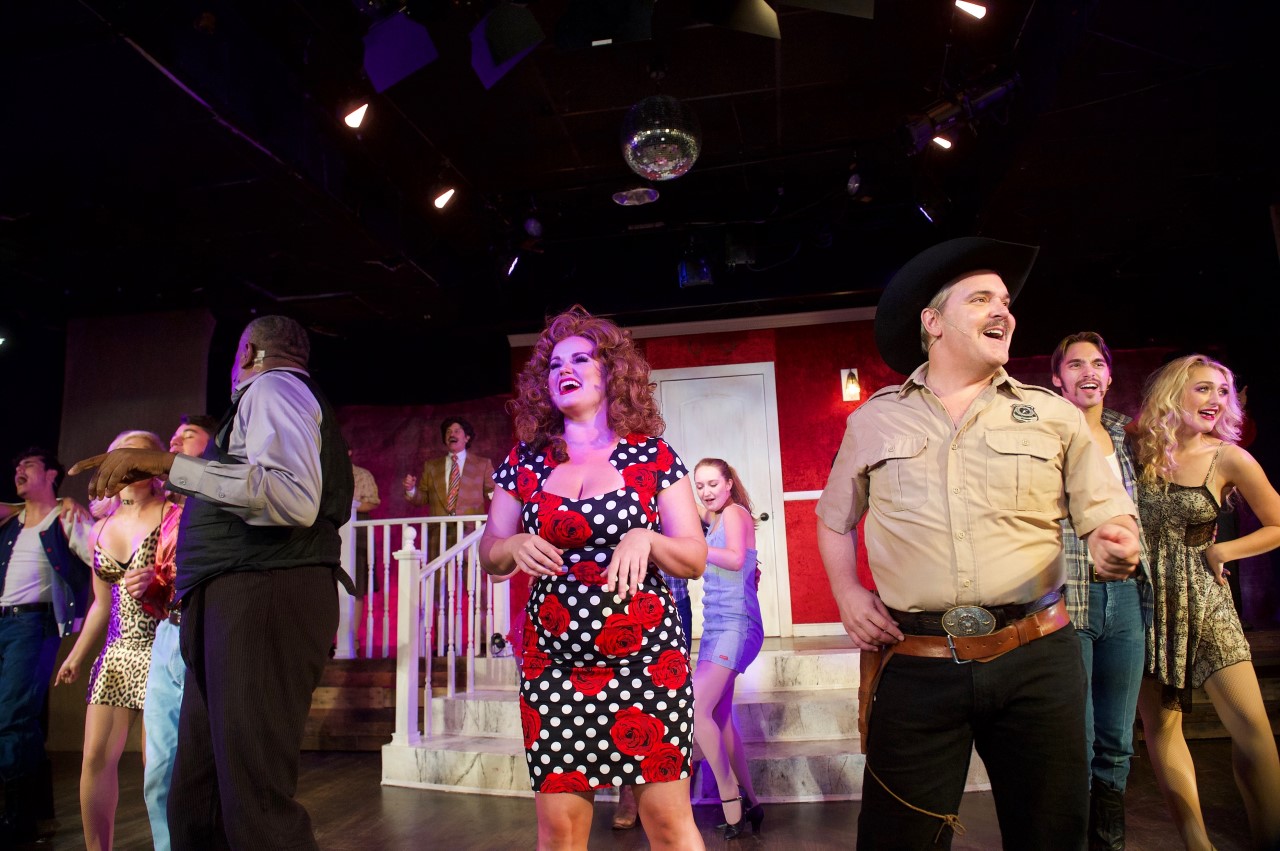 Let me get right to the point for anyone who doesn't want to read a lengthy review: This is an excellent show which should sell out quickly, and I absolutely encourage everyone to go see this, support this theater, and enjoy a fantastic, entertaining romp. Tickets are available through the website at www.tex-arts.org, and the show runs Thursday through Sunday each week until Sunday September 3rd. Evening shows are at 7:30 PM and matinees on Sunday are at 2 PM.
Having said that, I'll happily get into more specifics. If you've never heard of the show it is the story of a well known brothel, the Chicken Ranch, in a small Texas town that everyone has happily lived with for decades until an investigative reporter from a Houston news channel does a special report on it and forces the Chicken Ranch into the public eye. This forces local law enforcement and government officials to have to get involved and decide whether they will close it down due to public outcry or continue to look the other way to the business's dealings.
Director Sarah Gay has deftly manipulated this show so that it works very well in the intimate theater out in Lakeway, and she has crafted a bright, entertaining piece that is full of fun and embraces a sense of stubborn nostalgia for small town Texas. Music Director Susan Finnigan compounds this success with some stellar vocal work that results in beautiful, rich melodies and harmonies all evening. This show can easily descend into some lackluster sounds if you are not careful, and Ms. Finnigan has wrung every ounce of musical glory out of this cast and score. And on that subject, the greatest achievement of the creative team is probably having been able to assemble one of the most stellar casts I have seen in a long while.
Leading the charge are Jarret Mallon and Christina Stroup as Ed Earl Dodd, Sheriff of the town, and Miss Mona Stangley, the owner and proprietor of the Chicken Ranch. Mallon gives a hilariously bombastic performance as the cursing small town Sheriff and the music fits his voice particularly well. They also made the smart decision of giving him the opening song instead of the bandleader, and that added a lovely intro into the world of the show with the added bonus that we got to hear him sing more than just one song at the end of the show. Ms. Stroup has a hell of a voice that she uses to knock song after song out of the park. When she is singing she lays herself bare, putting such emotional heart into these moments that you absolutely find yourself routing for everyone to turn a blind eye and let her continue to operate her illegal business. I cannot praise her work highly enough, although she is SO good during the song portion that it does make it seem like some of the scene work doesn't quite reach the same level and depth she has while singing. She has the sass and the grit down pat, but in the scenes some of the tenderness and protective nature she should have for her girls is a little too subtle. Nonetheless, she's the star of the show, and rightly so, as she anchors this piece and commands the stage with aplomb.
Supporting these two is a supporting cast who can easily be counted stars themselves. First and foremost is Roderick Sanford who here has been gender blind cast as Jewel, Miss Mona's assistant at the Chicken Ranch. This was a bold choice and I was very curious to see whether it would turn out to be stunt casting or a brilliant move. I am happy to say that, in my opinion, for the most part this was the latter. He was clearly an audience favorite, eliciting constant howls of appreciation and comments from the audience during the show for his lively, sassy interpretation of the character. I will admit that I, personally, did not care for the extremely modern ad libs peppered throughout his performance as they felt out of place with the style and time period of the show, but they nonetheless were completely embraced by the crowd so I'm clearly in the minority here. And most importantly, he has the BEST rendition of 24 Hours of Lovin' I have ever heard or seen. I usually dislike that portion of the show as it stops the action and feels out of place, but Mr. Sanford makes it one of the most memorable highlights of the show. I would go back again JUST to see this number again. In addition to Mr. Sanford we also have Kristin DeGroot giving a wonderful, emotionally tender performance as Shy, the naïve girl trying to get work at Miss Mona's, and her traveling companion Angel, played by triple threat LAuren DeFilippo, who brings a finely crafted mix of bravado and humility with a surprising amount of heart that she lets peek through in some more personal scenes. Well done ladies.
But even with such great leads it gives me extreme pleasure to say that this show works so well because of the brilliant ensemble. Each of them are given key moments to shine, and frankly some of the choices these performers make are some of the best work in the show. We have Kaitlin Street's performance as Ginger, one of Ms. Mona's girls who brings such humor and effervescence to the show that she'll absolutely break your heart when things are rough during Hard Candy Christmas. And Lara Wright who gives a scene stealing turn as Angelette Imogene Charlene in one of the most gut-bustingly funny interviews ever to grace this show. And J. Dylan Gibson who we first see as the shy and naïve patron of the Chicken Ranch in the opening song who manages to put so much brilliant business in that the entire scene becomes about watching this poor boy in way over his head. Ryan Alvarado's turn as sympathetic newspaper editor Edsel Mackey, Zach Thompson's spirited turn as Senator Wingwoah... really the list could go on for every member of the cast, they all work so hard and so well together that the entire evening is a joy, and they buoy the principles up so high they have no choice but to shine.
Now, that isn't to say the evening was a full grand slam with no issues. They seem to add a reverb sound effect every time certain people sing, which was so jarring and noticeable at first I thought it was a mistake. Then when it kept happening I realized it was a sound design choice, but I don't see exactly what it was supposed to add, as it kept pulling the ear away from singing. The lighting design by Justin Beets is pretty, and pretty effective, throughout most of the show, but there are some songs where the backdrop lighting changes so much in the middle of verses that it becomes distracting (particularly noticeable in ballad songs like Doatsy Mae). And there was one directorial choice that didn't sit well with me, which was the inconsistent use of audience interaction. There are times during some parts of the show where the cast will make direct eye contact with the audience and speak or sing directly to them, but it is used sporadically. I wondered if perhaps it was supposed to be that when we are in the Chicken Ranch we are being treated as patrons or something, but it wasn't clean enough or consistent enough to discern whether it was a stylistic choice for the show or just a way to try to engage the audience at various moments. Either way, it felt odd in the lack of consistent use of the device. And while speaking of stylistic inconsistencies I will also mention that the cartoonish portrayal of Melvin P. Thorpe by Joe Falocco didn't seem to mesh with some of the more grounded performances by the rest of the cast. That character has a very difficult line to walk between being a glory hogging, self-important show boater on the news who has to still be in the same world as the down to earth denizens of the small town where the action takes place, and it was a little too much on the buffoonish side to strike true for me.
I think, though, that the element that did not meet the caliber of the rest of the show the most was, unfortunately, the costuming. Specifically, several of the pieces put on Ms. Stroup as Miss Mona. These costumes seemed to blatantly defy the actual dialogue in the play when describing how Mona and the girls present themselves. There is an entire song about how Mona demands decorum and a certain degree of class from her ladies, and does not allow unmade beds or tattoos on the thigh or other unladylike behavior. And yet, a lot of the costumes she has been given just look like some fabric sewn onto the bottom of a corset, they don't have any of the class and respectability that Stroup is trying to bring to Mona. I honestly think some of those costumes were detrimental to her performance and she was working against them instead of with them. There is also a lack of time period consistency (these events take place in 1973. It's based on actual events, so we know exactly when it happened) and some odd choices like having one of the girls apparently in a men's suit jacket when leaving the ranch at the end. I do not know what the process looked like for designer Colleen McCool-Pierce, but the result seemed to be rushed and unfinished in some areas that really needed attention.
All that being said, though, I cannot reiterate enough that this is overall a tremendously well built show with a powerhouse cast that you should absolutely go see. Once more in all caps because they deserve it - GO BUY YOUR TICKETS NOW. You don't want to miss this blissful evening of fun.
Photo Credit: Karla Ent