BWW Review: RUDDIGORE - Gilbert & Sullivan Austin's Summer Grand Production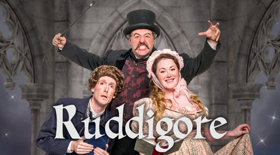 Gilbert & Sullivan Austin has a long, glorious past of traditionally amazing shows. Unfortunately their current production of RUDDIGORE is a mixed bag and doesn't come off as well as it likely could.
RUDDIGORE or, The Witch's Curse, is a two act comic opera, with music by Arthur Sullivan and libretto by W. S. Gilbert was originally staged in 1887. In the tradition of operetta, the songs are quick and light, the story a mass of subplots and misdirection. At the open find ourselves on the Cornish coast, a quaint fishing village of Rederring with a bevy of professional bridesmaids bursting into song. They lament the indecisive nature of the most beautiful girl in town, Rose Maybud (Corrina Browning). She cannot make up her mind which of the village lads to wed and therefore none of the other girls can get any male attention nor can they accomplish their duty as bridesmaids. Oh what to do! Enter Robin Oakapple (Arthur DiBianca), who is actually the cursed Sir Ruthven Murgatroyd, Baron Ruddigore in disguise as a local farmer who is secretly in love with Rose but is far too shy to tell her. The return of Robin's foster brother Richard Dauntless (Danny Castillo), a sailor from ten years at sea complicates matters when Rose falls for the handsome tar. With characters like Mad Margaret (Shelby Schisler), a gallery full of ghosts, and Despard Murgatroyd (Sam Johnson), the current cursed Baron Ruddigore the show is ripe for a great story, full of melodramatic angst and happy endings. The brilliant script is an open invitation for a delightful production.
Corinna Browning as Rose gives a world class performance, her sweet, bright and clear voice is a pure delight and her acting skills make her character charmingly classic. She is a true talent shining both as a singer and an actress in diverse productions across the Austin area. Shelby Schisler is hilarious as Mad Margaret, the wronged woman. She is quirky perfection as her character bounces between madness and sober sanity. Sam Johnson as Despard Murgatroyd is a great villain and his ultimate conversion is well acted. However most of the remainder of the cast pales by comparison. Unfortunately the performance I attended was less than stellar. Ralph MacPhail, Jr.'s direction seems haphazard, and incomplete in places. Volume problems plagued many of the leads and became a major issue, I sat on the 5th row and had to strain to hear quite a bit of the show. You can act and sing your pants off, but if the audience can't hear you, you have failed in your duties. Choreography, by McPhail, is a shambles, looking undone or half done at best. I feel compelled to point out that Jazzercise moves are not a substitute for choreography. Blocking is unimaginative and consists of walking the leads to center to sing and leaving it at that. Long lines in a 'V' formation for the chorus become boring and don't utilize the wonderful set designed by Ann Marie Gordon. Her portrait gallery design is clever, beautiful and functional. Lighting designed by Jennifer Rogers is very pretty and sets the mood well. Costumes are good for the most part but the use of an iron might want to be considered for the Bridesmaids dresses for future performances. The Gillman Light Opera Orchestra is a highlight of the evening, an absolute delight.
While I cannot wholeheartedly recommend RUDDIGORE, there are some wonderful performances and vocal volume issues may be repaired as the performances continue.
RUDDIGORE
by Gilbert & Sullivan
Gilbert & Sullivan Austin, The Worley Barton Theatre at Brentwood Christian School
June 14 - 24
Running Time: 2.5 hours with one 15 minute intermission
Tickets: $8 - $32 gilbertsullivan.org