BWW Review: MONROE A Work of Great Heart With An Important Message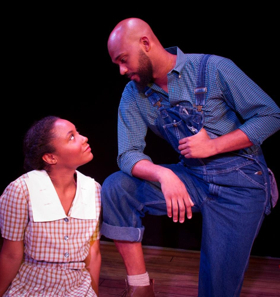 MONROE, a world premiere production, directed by Lara Toner Haddock, is the latest play by Lisa B. Thompson. The script is a heart warming and funny look at a Southern family. What makes it a remarkable evening of theatre is that it also shows how racial terror affects the minds and lives of these African Americans and their great strength that allows them to maintain their faith in a better tomorrow.Thompson has created some wonderful characters in this new play and shows that she has a deft hand at creating dialogue that leaps off the page. There's great wit here as well as heart. The scenes between the three women in the cast are absolutely delightful and the three actresses wring every possible laugh out of the audience with ease. MONROE reveals Thompson be a writer of great range as this new work is worlds away from her award winning play Underground, which won the 2017 Austin Critics' Table David Mark Cohen New Play Award.

MONROE is set in 1946 rural Louisiana during the Great Migration. Before the action of the play, Cherry Henry's (Deja Morgan) older brother was lynched. This event has had a serious effect on Cherry. For starters, she appears to be pregnant and she believes that the father is God. She also believes that God is telling her to leave the south. Although her Grandmother, "Ma" Henry (Carla Nickerson), dismisses her odd behavior by lecturing her as only a southerner can, her friend Clyde (Kriston Woodreaux) takes her seriously...and appears to be genuinely in love with her. When he invites her to come with him to California, Cherry is forced to decide between a life surrounded by her family, roots and cultural traditions or a life away from the Jim Crow mentality that was so prevalent in the South during this shameful period of American history.

Austin Playhouse is opening their 2018 - 2019 season with this world premiere by Austin playwright Dr. Lisa B. Thompson which won their annual Festival of New Texas Plays. Director Lara Toner Haddock has done a beautiful job with this script, focusing on the heart and the character relationships and getting excellent performances from her six member cast. The pacing and flow are perfect and the multiple locales are handled smoothly by Mike Toner's clever minimalist set design. His color and pattern choices set the period perfectly. Diana Huckaby's costumes are marvelous, especially her use of fabric patterns. Several of her designs appear to be using old flour sack material. Chris Conard's lighting supports the piece well as does the sound design of Robert Fisher.

The cast here is superbly at the top of their game. Huck Huckaby brings a folksy charm to the role of Dr. Wyland. Marc Pouhe is hilarious as Seymour Jones, in a suit that is as colorful as his performance. Deja Morgan brings a totally believable innocence to Cherry. She is so convincing that she makes you forget you are watching someone act. Carla Nickerson delivers a winning performance as a southern matriarch with her Grandmother "Ma" Henry. Taji Senior is marvelous as Viola Henry, the relative with airs and attitude. The scenes between Senior, Nickerson and Morgan are deliciously witty and crackle with that southern family verbal tension. Kriston Woodreaux is a charmer as Clyde James, with a performance that includes some marvelous body language. This is the best work I have seen from Woodreaux and he has created a unique southern character that is completely engaging.

In short, MONROE is a wonderful new play that contains charming characters, witty dialogue and an examination of the horrific effects of racial terrorism in a way that entertains while it educates. I give MONROE my highest recommendation. Don't miss this one. You already missed Taji Senior's performance, as Crystal Bird Caviel will be back for the remainder of the run. Don't miss MONROE, as people will be talking about this for some time to come.

MONROE by Lisa B. Thompson
Running Time: Approximately Two Hours including intermission

MONROE produced by Austin Playhouse (6001 Airport Boulevard, ACC @ Highland, Austin, TX, 78752)

Sept. 7 - 30 , Thursday - Saturday @ 8 PM, Sundays @ 5 PM.
Tickets range from $16 - $36.
All student tickets are half-price. $3 discount for Seniors 65 and up. Group rates available.
Call (512) 476-0084 or email boxoffice@austinplayhouse.com.
More information available at austinplayhouse.com.