BWW Review: I HATE HAMLET is Great Escapist Fun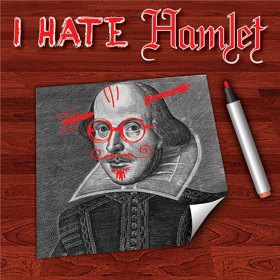 I HATE HAMLET is a 1991 comedy by Paul Rudnick, who is best known as the author of Jeffrey and The Most Fabulous Story Ever Told. It is a supernatural fantasy inspired by the time when the playwright was living in an apartment in New York that was John Barrymore's old apartment. The play is a throwback to those classic fantasy comedies like Arsenic and Old Lace, Goodbye Charlie and Bell, Book and Candle. There's no real deep message here, just witty and fun escapist entertainment.
Set in New York City, this is the story of discontented TV actor, Andrew Rally (Brady Kickhaefer), who has recently been cast as Hamlet in a performance to be presented free in Central Park. The problem is he has no interest in playing Hamlet. His girlfriend, Dierdre McDavey (Sydney Boyenga), is keeping a firm grip on her chastity, which is a major source of frustration. When his agent,
Lillian Troy
(Karen Rudy), reminisces about her romance with
John Barrymore
(Joseph Urick), the famous actor who once played Hamlet, they decide to have a seance to bring him back. Along with the real estate agent who sold Andrew his apartment (which coincidentally once belonged to Barrymore),
Felicia Dantine
(Kristy Lee Pagan), they unknowingly succeed in bringing his ghost back. When Andrew proclaims his hatred of Hamlet, Barrymore's ghost explains that every actor who plays the role can get help from an actor who has played the role previously, and he is here to coach him. Trying at every opportunity to get Andrew to abandon his stage debut and come back to television is
Gary Peter Lefkowitz
(James Lindsley). Director Tracy Arnold clearly has a feel for these kinds of plays and does a great job keeping this theatrical soufflé light and airy, with sharp pacing and clever staging. Scott Wade has done a remarkable job with the set, giving it the appearance of a castle recreated in a New York high rise. The scenic painting is astonishingly good, with exceptional forced perspective and some truly lovely painting that resembles sculpture embedded in stone walls. Jaclyn Redmon has a great lighting design that enhances the proceedings with subtle shifts in intensity. The costuming by Kathy Maldonado is mostly quite good, with the unfortunate exception of Deirdre's first dress which is worn with some truly clod hopper tennis shoes. The performances are all good and mostly believable (which can sometimes be a problem in these fantasy comedies) and the company is to be commended. I especially enjoyed Krisy Lee Pagan's kooky Brooklyn accented real estate agent Felicia and James Lindsley's artistically corrupt Hollywood player, Gary. Brady Kickhaefer delivers a nice regular guy quality in his portrayal of the discouraged and frustrated Andrew. However, the knock out performance of the evening belongs to Joseph Urick as Barrymore. He is perfectly flamboyant, outrageous and over the top as the ghost of Barrymore should be. He tears into the role with an abandon that is a joy to watch. His performance alone is worth the price of admission. All in all, I HATE HAMLET is a funny evening of escapist fare that will make you laugh while you get lost in the absurdly comic proceedings. It's a great way to forget the world outside the theatre for a couple hours and be hugely entertained. I suggest coming early, exploring the restaurants and shops of the charming hamlet of Wimberley, and making a day of it. You won't regret it. I HATE HAMLET by
Paul Rudnick
Running Time: Two Hours and Ten Minutes, including intermission I HATE HAMLET, Produced by Wimberley Players at Wimberley Playhouse (450 Old Kyle Road, Wimberley, TX, 78676). Fridays-Sundays, November 10 - December 03, 2017
Fridays & Saturdays at 7:30 p.m., Sundays at 2:30 p.m.
Reserved Seating $21; Opening Night $23; Students $14 with ID, except opening night $16. (Ticket prices include all fees.) Tickets are available online at
www.wimberleyplayers.org
or by calling
512-847-0575
.