Interview: J. Robert Moore on Sixty Years of the Zilker Summer Musical and ALL SHOOK UP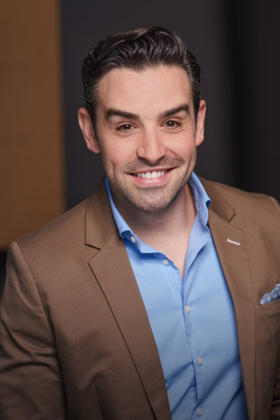 Who hasn't been to one of the Broadway musical gems that play out in the open air amphitheatre during these blistering hot Austin summers? A gift to the community, the Zilker Summer Musical has been part of Austin for sixty years now. Always free to the public, this year's offering is ALL SHOOK UP, a jukebox musical from 2004 setting Elvis Presley's music to a book by Joe DiPietro. The story is based on William Shakespeare's 1602 play Twelfth Night.
Since 1959, audiences have placed their blankets and lawn chairs under the stars at the Beverly S. Sheffield Zilker Hillside Theater to be treated to such Broadway hits as
Hairspray, The Sound of Music, The Music Man, Seven Brides for Seven Brothers, Oklahoma, The Unsinkable Molly Brown
and
L'il Abner
to name just a few. Shows that, in many cases, no other theatre in town would produce. BroadwayWorld recently had the opportunity to sit down with J.
Robert Moore
, the Artistic Director of Zilker Theatre Productions to talk about the Zilker musical as well as the organization.
BWW: Let me make sure I have the timeline correct here. This is your second Zilker Summer Musical as director? So, you are starting your second year?
JRM: That is almost correct. In the Fall of 2016, I began working on The Wizard of Oz. I was officially hired as ZTP's Artistic Director in the Fall of 2017. As the Fall of 2018 approaches, I am excited to be entering my third season with ZTP, and my second season as our year-round Artistic Director.
BWW: Can you give our readers a quick overview of your background?
JRM: I grew up in San Antonio with a love of classic movies that introduced me to musicals. There weren't many musical theatre opportunities available to me as a kid, and I entered undergrad at Texas State University, hoping to soak up all the dance and voice training I could. Quickly afterwards, I moved to New York and spent several years auditioning, acting in summer stock and some off-Broadway productions and touring the country. Eventually, I missed my home state, and I felt strongly that I wanted a louder voice at the table when it came to producing the musicals I loved. I returned to Texas State University for my MFA in Directing while also performing at theaters like ZACH and Lyric Theatre of Oklahoma. Along the way, I was also lucky to train with the Royal Academy of Dramatic Arts and the
Royal Shakespeare Company
. Soon afterward graduate school, I was offered
The Wizard of Oz
, and I quickly fell in love with the magic of the Zilker Hillside.
BWW: What, exactly, is your position with the Zilker Theatre Productions? What all does it entail?
JRM: I serve as the year-round Artistic Director. This means that most everything that passes from our organization to the public goes across my desk for approval. Responsibilities include season selection, expanding programming, increased marketing, successful production of the Summer Musical, and overall quality control. I was hired with a mandate from the board to commemorate ZTP's 60th anniversary by improving the experience on the Hillside for our audience members, donors and every participant in the Zilker Sumer Musical. It's a goal that we are taking very seriously, and one which I enjoy making progress on every day.
BWW: So, this is the 60th year for the Zilker Summer Musical. Why did the organization choose ALL SHOOK UP?
JRM: Zilker Theatre Productions chose ALL SHOOK UP because we wanted a party on the Hillside every night of the Zilker Summer Musical! We encourage audience members to dance on the Hillside and sing along with us to their favorite Elvis hits! Our show is about love, laughter, and the power of music, which are all values that are central to the Zilker Summer Musical experience each year.
BWW: What, exactly, is ALL SHOOK UP about?
JRM: ALL SHOOK UP is the story of a sepia, 1950's town, full of characters like Natalie, who are lonely, loveless, and oppressed by the values of that time. Soon, Chad, a guitar playing roustabout, arrives and turns their boring world into a colorful rock-and-roll romp! Characters break the rules and fall in love over and over again as they learn about themselves, follow their dreams, dance, and sing on motorcycles! If you love the rockabilly style, Elvis,
Grease
or
Hairspray
, you'll love this show! ALL SHOOK UP is great for all ages, and I guarantee that you will leave with a smile on your face and a song in your heart.
BWW: Who can we look forward to seeing in the show?
JRM: This year's Zilker Summer Musical features a cast of 25 terrific performers. Zilker Summer Musical fans will recognize ZTP Alums and see exciting new faces on stage for our 60th Anniversary. Andrew Cannata (
WOZ, Shrek, Little Shop, My Favorite Year, Footloose
) joins the cast, as does veteran Sue Breland, (
Shrek, Annie Get Your Gun, West Side Story, Camelot
) whose credits on the Hillside span three decades. ZTP new faces include Austin's Heather Capello, as Natalie, and Josey Pickett, as Sandra, who traveled from El Paso just for our show! Austin theatre fans will certainly recognize
Joey Banks
,
Jessica O'Brien
, and Michelle Alexander from their work all over the local theatre scene.
BWW: Who are the creative talents behind the scenes?
JRM: Behind the scenes of the Zilker Summer Musical, we have Austin directors, choreographers, designers, and technicians with resume credits from around the globe. ZTP veterans David Ponton and Karen Olson reunite their talents for our show after their work on 2015's
Hairspray
. The costume design team of
Carl Booker
, and his assistant Glenda Wolfe, join us again after collaborating on 2016's
Shrek
. Returning members of the
Wizard of Oz
team include Sound Designer
Robert Fisher
, Shannon Richey (ZTP's Director of Production), Assistant Director Jessica McMichael, and several technical staff members. Scenic and Lighting Designer, Cheri Prough DeVol, joins us for the first time, as do Stage Manager
Andrew Gutierrez
and Production Coordinator Scott Vandenberg. We have a terrific team, and I am very proud of our collaboration to bring ALL SHOOK UP to the stage!
BWW: What are the dates for ALL SHOOK UP? I presume this will be in the same location it has always been in.
JRM: As always, the Zilker Summer Musical performs at the Beverly Sheffield Zilker Hillside Theatre, 2206
William Barton
Drive, across from Barton Springs. The show begins at approximately 8:15 pm, and patrons are encouraged to arrive early to park and grab the best seats on the Hillside. More info @ Zilker.org.
BWW: And, this year is free, like it has always been?
JRM: The Zilker Summer Musical is always free to see, but not free to produce. Patrons can donate Hillside or at Zilker.org/donate to ensure another 60 seasons of free summer musicals!
BWW: How did you and Zilker Theatre Productions come to find each other? Was it through your terrific performances at ZACH?
JRM: That's so kind! Thank you! ZACH is a terrific company, and I have really enjoyed being on their stages.
Funnily enough, it was actually a relationship made at the Lyric Theatre of Oklahoma that ushered me towards ZTP leadership. I was doing
Billy Elliot
, in OKC, with Summer Musical alum Jordan Barron, whose father was the president of the ZTP Board of Directors at that time. We talked a ton about the Zilker Hillside, and about a year later, I received a call to interview for
Oz.
As it turned out, I knew several people who were involved with ZTP, and they all suggested that I might be the guy for the job.
Theatre: It's all about relationships.
BWW: It certainly is! Had you directed before last summer's WIZARD OF OZ?
JRM: Yes. I attended graduate school for Directing and produced my own musicals in New Braunfels and Seguin, when I was in college. My graduate thesis production was
Evita
at Texas State University, in 2015. I love directing at the Hillside Theatre because it is unlike any space I have worked in during my career. There is such a feeling of magic, exchange and love between the audiences and the performers. The energy is palpable, as if stage reaches out and embraces the entire audience every night. It's a great feeling as an artist.
BWW: Nicely put. I know just what you mean. So, to wrap things up, how can people keep up to date on ALL SHOOK UP as it approaches opening night?
JRM: ZTP fans can follow us on Facebook, Instagram, Twitter, and Snap Chat. Info can always be found at Zilker.org!
BWW: Is there anything else you'd like the BroadwayWorld readers to know?
JRM: Please keep an eye on our website for updates on our Fall Gala, the Spring Audition Workshop, ZTP @ the Trail of Lights, and exciting new educational programming! The Zilker Summer Musical is truly a gift from Zilker Theatre Productions and the City of Austin to readers like you. This summer, I'm so thrilled to invite you to join us for not only for ALL SHOOK UP, but also to celebrate 60 years of Austin's favorite summer musical. See You On The Hillside! BroadwayWorld thanks J.
Robert Moore
for taking the time out of his busy schedule getting ready for the July 6 opening of ALL SHOOK UP to chat with us. And we're looking forward to another summer of Broadway quality entertainment under the Texas stars! ALL SHOOK UP
26 PERFORMANCES, THURSDAY THROUGH SUNDAY NIGHTS
8:15 PM
JULY 6 - AUGUST 18, 2018
For more info check the website at Zilker.org. Photo Credit: Kirk Tuck