Review Roundup: Critics Weigh In On Serenbe Playhouse's THE SEAGULL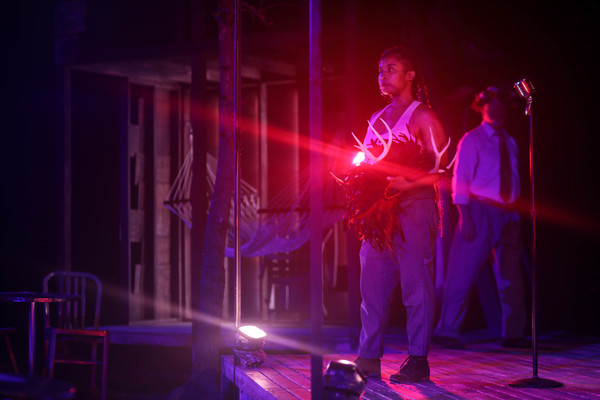 Right off the heels of their critical and commercial smash hit, TITANIC: THE MUSICAL, Serenbe Playhouse, recipient of the prestigious American Theatre Wing grant is excited to present a sexy, cutting edge, modern version of THE SEAGULL, adapted and directed by Yale School of Drama MFA graduate Elizabeth Dinkova. The show runs through September 30th.
THE SEAGULL will be produced at Peek Lake, located near Serenbe's Wildflower Meadow.
Fame, love, justice, purpose - they all want something they can't have. Join us lakeside for the party of a lifetime on a country estate, full of searing love triangles, absurd comedy, and wild art. This contemporary take on Chekhov's most action-packed tragicomedy- featuring reimagined Balkan music, dark humor, and Dinkova's distinctively Eastern European brand of mayhem - reaches into each character's heart to show you the dark, raw, secret desires within. This Seagull is a bloodsport - a ruthless competition about who will command the stage, and how. Yale School of Drama MFA Graduate and Alliance Directing Fellow Elizabeth Dinkova adapts and directs this bold, immersive version of the Chekhov classic. Chekhov's characters will come alive like never before in a daring, sexy new way!
THE SEAGULL features a cast of 7 Atlanta all-star actors, including Allan Edwards(Peter), Park Krausen (Irina), Shannon McCarren (Nina), Lee Osorio (Boris), Brooke Owens(Masha), Skye Passmore (Simon), and Maythinee Washington (Constance)
To breathe new life into one of Chekhov's greatest plays, Yale MFA Graduate and Alliance Directing Fellow Elizabeth Dinkova adapts and directs, leading the team including Barret Doyle and Joel Coady (Scenic Design), Anais Azul (Composer), An-Lin Dauber (Costume Design), Maranda Debusk (Lighting Design), Rob Brookhser (Sound Design), and Joel Coady (Production Manager).
Tickets are on sale now. Ticket prices start at $30 - senior/student, and group discounts are available. Rain Insurance is available for all tickets. All may be purchased online at www.serenbeplayhouse.com, or by calling the box office (770-463-1110), Wednesday - Sunday, 12pm - 5pm.
Wendell Brock, AJC: Irina's son Constantine, a symbolist playwright struggling to create new forms for the theater, is now Constance (Maythinee Washington). In the story's roundelay of unrequited love and heartbreak, Medvedenko (here called Simon and played by Skye Passmore) yearns for Masha (Brooke Owens), who in turn longs for Constance, who is actually smitten with the actress Nina (Shannon McCarren), who is crazy for Irina's lover, Boris (Lee Osorio).
Amy Zipperer, BroadwayWorld: There is a moment in the play where a horned monster dances behind a shimmery curtain while light bounces off of it, illuminating the faces of the spectators in the first several rows as they gape at the spectacle. It's a moment that I could watch over and over for its horrifying beauty. And this play has many moments like that. But, in the end, it's hard to carry the heartbreak of the characters away from the theater and into that beautiful space where a collective human experience is stored like a valuable gem. It's almost there. But not quite.
Andrew Alexander, Arts Atlanta: This production of The Seagull sits beautifully by a real lakeside, but it sits less comfortably in the Serenbe Playhouse season. Serenbe typically produces spectacular site-specific outdoor productions of big, appealing musicals. Theatergoers won't soon forget the company's 2016 production of Miss Saigon, which featured the landing of a real Huey helicopter, or this summer's production of Titanic, wherein performers sang about the great ship going down as they dove into the water to reenact it.