Georgia Ensemble Theatre presents MORNINGSIDE by Topher Payne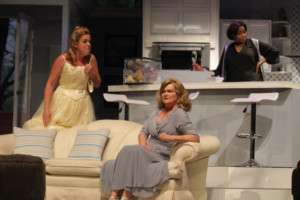 Georgia Ensemble Theatre (GET) is proud to continue the professional theatre's 25th Silver Anniversary Season, exclusively sponsored by The Thoresen Foundation. Co-Founder and Artistic Director Robert J. Farley has chosen five very special productions including three musicals for the season and says, "Our 25th Silver Anniversary is going to be one big party all year long. Each show I have selected to celebrate this occasion has been chosen as a tribute to our subscribers, donors, sponsors, and supporters."
After beginning the season receiving rave reviews for the Broadway hit Once On This Island, Georgia Ensemble Theatre will now bring audiences the next installment of Topher Payne's newest work commissioned by the theatre. Morningside is an outrageous new story surrounding nine women with secrets, surprises, and family and friendship bonds pushed to their limits. The production runs October 26th through November 12th, 2017 at the theatre's home in the Roswell Cultural Arts Center. Morningside will be directed by one of Atlanta's best, Shannon Eubanks, with assistance from Suehyla El-Attar. Northside Hospital shows its proud support of the arts by joining as the show sponsor for this production.
Commenting on Morningside Farley revealed that, "The Only Light in Reno is my favorite play by Mr. Payne thus far in his five year residency with Georgia Ensemble. Although, I suspect that Morningside will slip into the #1 position when it premieres. We're also very excited to produce an all-female production, from a cast of nine incredible actresses to the remarkable production and creative team. This is the second of five plays this season that is part of the huge celebration as Mr. Farley's farewell season, ending with his retirement at the closing performance on April 29th, 2018. The remaining mainstage shows focus on great music and big laughs as audiences will be transported from Hollywood to Paris, and then ending with the most requested musical in the theatre's history, Buddy - The Buddy Holly Story. In addition to the regular season, GET will also produce the four-play FamilyStage: Adventure Series, and a four-concert Joe Gransden Big Band series.
This shrewd and razor-sharp play from award-winning playwright Payne takes us to a sunny, spring afternoon in the Morningside neighborhood of Atlanta where different generations are thrown together to test the bonds of family and friendship. Imagine: a baby shower, nine women with secrets, and a case of champagne. This is about to be the MOTHER of all baby showers. The Women meets Steel Magnolias meets The Real Housewives...what could possibly go wrong?
Playwright Payne said, "The Women is eighty years old. Steel Magnolias is thirty years old. There's a curious set of expectations which women currently face--in particular, Southern women--that I really wanted to explore. The conflict of tradition versus progress, of social expectations versus personal desires, of duty to family (whatever her particular version of family is) versus the need for individual identity. I certainly don't have the answers to those challenges, but I find the questions quite compelling."
In speaking with the director Shannon Eubanks about the show, she commented "Morningside touches on so very many of the issues grappled with by today's women and families, from the beginning of life to decisions about its ending, and the ways in which we navigate our closest relationships in between."
Morningside brings to the stage an extraordinary cast: LaLa Cochran, Kelly Criss, Kate Donadio, Shelly McCook, Ellen McQueen, Stacy Melich, Kenna Redding Hunt, Gina Rickicki and Ann Wilson.
Ticket prices for Morningside start at $29 for Wednesdays, Thursdays and matinees; Friday nights start from $37, and Saturday nights start from $38. Book early for best prices. (Senior/Student discounts available for select performances). Tickets are available now online at www.get.org, or by calling the Box Office at 770-641-1260.
ABOUT GEORGIA ENSEMBLE THEATRE: The Georgia Ensemble Theatre and Conservatory provides quality theatre productions and arts education to the north metro Atlanta area. The Company annually produces five mainstage productions, attended by more than 35,000 patrons, as well as four Family Stage productions and year-round classes for all ages.
And the rest of Georgia Ensemble Theatre's 25th Silver Anniversary Season:
January 11-28, 2018:
Tenderly -- The Rosemary Clooney Musical
Based on the life of Rosemary Clooney
By Janet Yates Vogt and Mark Friedman
Directed by Alan Kilpatrick
March 1-18, 2018:
A Comedy of Tenors
By Ken Ludwig
Directed by Shelly McCook
April 12-29, 2018:
Buddy -- The Buddy Holly Story
By Alan Janes
Featuring the Music of Buddy Holly
Directed by Robert J. Farley
The FamilyStage: Adventure Series
The Jungle Book
By Greg Banks, adapted from the book by Rudyard Kipling
Performances on Saturdays at 11am -Apr 14, 21, 28
Miss Nelson is Missing!
by Joan Cushing, adapted from the book by Harry Allard
Performances on Saturdays 11am, Oct. 28, Nov. 4, 11, 2017 and March 3, 10, 17, 2018
And Then They Came for Me: Remembering the World of Anne Frank
by James Still
Performance 6:30pm on March 13, 2018
The Giver
By Eric Coble, adapted from the book by Lois Lowry
Performances on Saturdays, 11am Jan. 13, 20, 23, 27, 2018
The Joe Gransden Big Band Series
Joe and his band are back for another series of big band jazz concerts at Georgia Ensemble Theatre. Dates for this popular series are:
October 30, 2017 - That Macini Magic featuring Cecil Welch
December 18, 2017 - Winter Wonderland featuring Jazz legend Francine Reed
Cont'd...
March 12, 2018 - Swingin' At The Haven
April 23, 2018 - Farley's Favorites
For tickets or information, call 770-641-1260, or visit us online at www.get.org.

Related Articles View More Atlanta

Stories

Shows
More Hot Stories For You