9 TO 5 The Musical Comes to Georgia Ensemble Theatre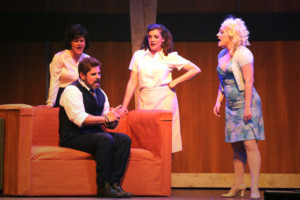 Georgia Ensemble Theatre (GET) has announced that it will open their 18-19 season with 9 to 5 the Musical at their home in the Roswell Cultural Arts Center. The show runs September 13 through September 30, 2018.
A heart-warming comedy of friendship and revenge, the musical is based on the hilarious hit 1980 movie starring Dolly Parton, Lily Tomlin and Jane Fonda and features Parton's famous musical score. The book is by Patricia Resnick with GET's production directed by Shelly McCook, music directed by S. Renee Clark and choreographed by Jennifer Smiles.
Pushed to the limit by their terrible boss, Mr. Hart, three women are dismayed by their jobs and discouraged by divorce, disappointment and disrespect. But when they "accidentally" kidnap the boss, they have the chance to take over their office and turn around their lives. Dolly Parton's snappy musical score takes center stage, led by the best-selling title song. A silly, sincere, empowering story of what it's like working 9 to 5.
9 to 5 the Musical features an extraordinary cast of actors. The lead roles of Violet, Doralee and Judy will be played respectively by Jill Hames (Freaky Friday at Horizon), Alyssa Flowers making her GET debut, and Wendy Melkonian (Becky's New Carat GET, Hand to God at the Alliance). Brian Kurlander (last seen in Comedy of Tenors at GET) will take on the role of boss Franklin Hart Jr. The rest of the Atlanta cast is: Paige Mattox (My Fair Lady at GET), JD Myers (Family Stage Series at GET), Kayce Grogan-Wallace, Josh Brook, Stephanie Zandra, Alex Hubbard, Christopher Holton, Daniel Burns, Dayanari Umana and Christopher Ciulla.
Ticket prices for 9 to 5 the Musical start at $33 for Wednesdays, Thursdays, and matinees; Friday nights start from $40, and Saturday nights start from $43. Book early for best prices. (Senior/Student discounts available for select performances). Tickets are available now online at www.get.org, or by calling the Box Office at 770-641-1260.
More Hot Stories For You