ZIPPERZ Recording, Featuring Manoel Felciano and Robin Coomer, Out This Today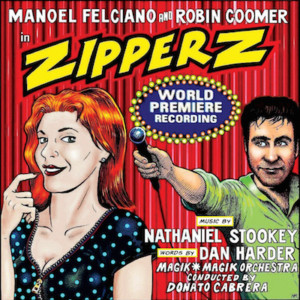 Ghostlight Records will release the World Premiere Recording of ZIPPERZ in physical, digital and streaming formats on Friday, August 4.
The album will feature a full color booklet with a synopsis and liner notes from composer Nathaniel Stookey. The recording is produced by Nathaniel Stookey with Minna Choi and Andrew Vernon serving as co-producers.
To order the album, visit www.sh-k-boom.com/zipperz or wherever music is sold.
ZIPPERZ, a hip and edgy romantic comedy for two singers and symphony orchestra, starring Manoel Felciano and Robin Coomer, tells the story of a love affair from two different perspectives at the same time through "dance numbers, pop ballads, and terse little melodic interchanges" (San Francisco Chronicle).
"Nathaniel Stookey is the composer of the hour," raves 21st Century Music. "With a growing list of compositions that includes The Composer Is Dead with Lemony Snicket, Junkestra for found percussion, and incidental music to Bertolt Brecht's The Caucasian Chalk Circle, Stookey has struck it rich again with a brilliant ZIPPERZ. Dan Harder's "zipper" poems provide the libretto, presenting a love story simultaneously from the perspectives of both lovers, in interlocking lines that yield third meanings when combined."
The creative team of ZIPPERZ also includes Donato Cabrera (Conductor), Minna Choi (Artistic Director, Magik*Magik Orchestra), and Jeff Mars (drums).
ZIPPERZ tells the story of two singers at a club that's been there for as long as anyone can remember. Night after night, they put on the same boy-meets-girl routine, but tonight, at intermission, their carefully rehearsed set takes an unexpected turn. The insightful and unique structure of Stookey and Harder's piece- like being inside two people's heads at the same time - brings out the complex he-said-she-said of a blossoming relationship.
ZIPPERZ was commissioned and premiered by The Oakland Symphony, with funding from The Baker Street Foundation.
NATHANIEL STOOKEY, the composer hailed by All Music as "a highly imaginative and original talent," has worked with a dizzying array of collaborators, from The Mars Volta - on their Grammy-winning album The Bedlam in Goliath - to the world's great symphony orchestras. Stookey's signature work, The Composer is Dead (with text by Lemony Snicket), has been performed by hundreds of orchestras on five continents and cited by BBC commentator Norman Lebrecht as one of the five most performed orchestral works of the 21st century, worldwide. Other recent collaborators have included Kronos Quartet, Frederica von Stade, and Jonathan Aibel - co-writer of the Kung-Fu Panda franchise- with whom Stookey is creating an original comic opera entitled High Resolution. Of Stookey's music for Tony-winning director John Doyle's production of Caucasian Chalk Circle, Charles McNulty of the Los Angeles Times raved "I can't recall when I've found a music drama this eclectically satisfying."
DAN HARDER is a poet/playwright whose most recent theatrical work, A Killer Story, was described by the San Jose Mercury News as "a crackling noir" whose "snappy banter and overlapping dialogue pops like gunfire." Harder has published three books of poetry: Rave (Back Alley Press), Generous Misgivings (Studio 301), and Askew: Found and Lost in the Almost South of France (Pince-Nez Press), the last of which was selected by the Oulipo group to be included in their collection of experimental poetry at the Bibliothèque Nationale de France.
Manoel Felciano, best known for his Tony-nominated performance as Tobias in Sweeney Todd, has appeared on Broadway in Amélie, Brooklyn, Jesus Christ Superstar, and Cabaret, and Off Broadway in The Changeling (Red Bull Theater), Trumpery (Atlantic Theater Company), Shockheaded Peter, and Much Ado About Nothing (New York Shakespeare Festival). Felciano's regional credits include the world premiere of Terrence McNally's Mothers and Sons with Tyne Daly (Bucks County Playhouse), The Exorcist with Brooke Shields (Geffen Playhouse), Elektra with Olympia Dukakis (Getty Villa), George in Sunday in the Park with George directed by Jason Alexander, and Tateh in Ragtime at The Kennedy Center.
ROBIN COOMER, as a founding member of Loop!Station, has appeared at Outside Lands (San Francisco), Bumbershoot (Seattle), and Vegoose (Las Vegas), sharing the stage with such groundbreaking artists as David Byrne and Thomas Dolby. In addition to 4 studio releases, Loop!Station has created full-length commissioned works for San Jose Ballet and the Permanent Collection of SFMOMA. Coomer has appeared on recordings with Third-Eye Blind and guitarist Eric McFadden, among many others. Her most recent project is the concept band Shakewell, with Pat McDonald of Timbuk 3.
DONATO CABRERA is the Music Director of the California Symphony and the Las Vegas Philharmonic, co-founder of the American Contemporary Music Ensemble, and served as the Resident Conductor of the San Francisco Symphony from 2009-2016. Cabrera has conducted the Chicago Symphony Orchestra, the National Symphony Orchestra, and the Saint Paul Chamber Orchestra, among many others. He is equally at home in opera, having conducted multiple performances at the San Francisco Opera, and worked on productions at the Lyric Opera of Chicago and Metropolitan Opera in New York City.
MAGIK* MAGIK ORCHESTRA, founded by artistic director Minna Choi, has collaborated with over 150 artists including Death Cab for Cutie, Jonny Greenwood, Sting, Nick Cave, Third Eye Blind, Weezer, The Dodos, John Vanderslice, The Walkmen, Nicki Bluhm & The Gramblers, and cellist Zoë Keating.
"ZIPPERZ" TRACK LIST:
1. Well, isn't he polite?
2. But, wait, that was a glance...
3. Well, that wasn't so hard!
4. But I don't call
5. Well, fella, two can play at that game
6. Hello, it's... Yes?
7. Any first date is a strange thing
8. Like the two sides of an emotional equation
9. Suddenly
10. Oh, god, this wasn't supposed to happen
11. We kiss
12. Duet for two cigarettes
13. But now, what do we do?
14. Excuse me, dear
15. Love is blind
16. I've thought and thought
17. If
Ghostlight Records has become the leading independent force in Original Broadway Cast Recordings - building a library of over 150 records in the last 17 years, featuring some of the most successful Broadway musicals and solo albums by Broadway's brightest stars. Founded by Grammy Award winner Kurt Deutsch, Sh-K-Boom/Ghostlight has won three Grammy Awards (for The Book of Mormon, In the Heights and Beautiful - The Carole King Musical) and is a frequent nominee, most recently for the OBCR of the 2016 "Best Musical" Tony Award nominee Bright Star by Steve Martin and Edie Brickell. Other notable recent releases include the 2017 "Best Musical Revival" Tony Award nominee Falsettos, the 2016 "Best Musical Revival" Tony Award nominee She Loves Me, the 2015 "Best Musical" Tony Award nominee Something Rotten! andDisney's Newsies. The label has also released solo albums from Patti LuPone, Billy Porter, Sutton Foster, Adam Pascal, Lea DeLaria, Kelli O'Hara, Ben Vereen, Christine Ebersole and more. The label continues to support the new generation of musical theatre composers with their extensive relationships with Michael John LaChiusa and Michael Friedman, as well as Lin-Manuel Miranda, Tom Kitt, Pasek & Paul, Joe Iconis, Ryan Scott Oliver, Shaina Taub, Dave Malloy, Kerrigan & Lowdermilk and Adam Gwon. The label recently created a new joint publishing venture with Razor & Tie to represent songwriters that fuse theatrical and pop music. Sh-K-Boom Entertainment is a producer of the acclaimed film version of The Last Five Years, written and directed by Richard LaGravenese and starring Anna Kendrick and Jeremy Jordan. Visit www.sh-k-boom.com for more.
Related Articles
More Hot Stories For You
Breaking: Steve Buscemi, Chris Messina & More Join Greta Gerwig and Oscar Isaac in NYTW's THREE SISTERS
Complete casting, creatives, and more have been announced for New York Theatre Workshop's adaptation of Three Sisters by Anton Chekhov, for the previo... (read more)

Photo Flash: COMPANY Cast Strikes a Pose in Character!
Following the critically acclaimed, sold-out engagement in London's West End, the visionary new production of Stephen Sondheim and George Furth's land... (read more)

Hudson Loverro and More to Star in TREVOR; Full Casting Announced
Producers Roy Furman John Ambrosino / Josie Bray / Mark Woods have announced the 19-member company of Trevor, the new musical making its New York prem... (read more)

Photo Flash: First Look at FLY at La Jolla Playhouse, Starring Storm Lever, Lincoln Clauss, Isabelle McCalla, and More!
La Jolla Playhouse presents the new musical Fly, based on the J.M. Barrie novel Peter and Wendy.... (read more)

Photo Flash: First Look at Alexandra Billings, Lindsay Pearce and More in WICKED on Broadway
Get your first look at the latest company defying gravity in WIcked on Broadway!... (read more)

WHAT THE CONSTITUTION MEANS TO ME Will Be Filmed For Future Release; Submit to Be in Live Audience!
As BroadwayWorld previously reported, What the Constitution Means to Me is in the process of being recorded for eventual future release. BroadwayWorld... (read more)