World Premieres by Robert Askins, Will Power & Lindsey Ferrentino Headed to La Jolla Playhouse in 2018-19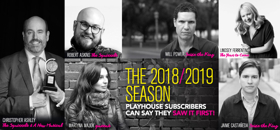 La Jolla Playhouse announces three world premieres and one west coast premiere for its 2018/2019 season, including: The Squirrels, by Tony Award nominee Robert Askins (Broadway's Hand to God), directed by Playhouse Artistic Director and 2017 Tony Award winner Christopher Ashley; Seize the King, by Will Power (Playhouse's The Seven), directed by Playhouse Associate Artistic Director Jaime Castañeda; The Year to Come, by Lindsey Ferrentino (Ugly Lies the Bone) and queens, by Martyna Majok (Ironbound).
Two additional productions for the 2018/2019 season will be announced shortly, including a world-premiere musical to be directed by Christopher Ashley.
Tickets to the Playhouse's 2018/2019 season are currently only available through a subscription purchase at LaJollaPlayhouse.org or by calling (858) 550-1010.
"Continuing our tradition of - and deep commitment to - new play development, the 2018/2019 season marks our fifth in a row to showcase primarily new work. Will Power returns to the Playhouse with Seize the King, a propulsive and timely retelling of Shakespeare's Richard III; Robert Askins brings to his latest work the same scathing wit and untethered imagination as in his Tony-nominated Hand to God; Martyna Majok weaves an exquisite and heart-breaking tale about female immigrants in queens; and Lindsey Ferrentino shines light on a modern American family in her time-shifting new play The Year to Come," noted Ashley. "These four fascinating plays represent four potent and perceptive voices, each tackling societal themes in a way that is at once highly specific and utterly universal."
---
ABOUT THE 2018/2019 SEASON:
THE SQUIRRELS
World Premiere
Directed by Christopher Ashley
Winter is on its way, and the squirrels are restless. Mistrust is growing between the Grey Squirrels, who enjoy a rich cache of nuts, and the outcast, hungry Fox Squirrels. When a wily outsider ignites a savage war, the consequences are catastrophic. This epic play reveals the animal instincts driving us all. Tony Award winner Christopher Ashley (Come From Away) directs Tony Award nominee Robert Askins' (Hand to God) ambitious, outlandishly funny (and downright furry) new play.
SEIZE THE KING
World Premiere
By Will Power
Directed by Jaime Castaneda
Will Power (The Seven) returns to the Playhouse in a five-person, full-throttle reinterpretation of Shakespeare's Richard III. With England's throne empty, Richard knocks down threats to his rule, fueling his insatiable ambition and paranoia. Even if he can be stopped - who can ensure it won't happen again? Jaime Castañeda (Guards at the Taj) directs this time-blurring story of tyrannical power.
THE YEAR TO COME
World Premiere
Every New Year's Eve a family gathers in their Florida backyard to ring in the coming year. In between dips in the pool, politically-incorrect banter and a highly-anticipated onion dip - their relationships grow and fracture in moments that become family legend. Unfolding backwards from 2017 to 2000, The Year to Come shows how the promise of our future is shaped by the lens of our past. Rising playwright Lindsey Ferrentino (Ugly Lies the Bone) introduces us to a distinctly American family whose evolution mirrors the turbulence of the 21st century.
QUEENS
West Coast Premiere
In 2017, a young immigrant looking for answers arrives at a tenement in Queens, New York. This strange visitor stirs up the memories of her new landlord, another immigrant who first stood on the same doorstep 16 years earlier. As they find out more about each other, the old brownstone reverberates with the voices of the fierce and proud women who preceded them. This exquisite new play from Martyna Majok (Ironbound) is a moving study of the things we run from and toward, and the people who shepherd us - and challenge us - along the way.
---
ABOUT THE ARTISTS:
Christopher Ashley (Director: The Squirrels) has served as La Jolla Playhouse's Artistic Director since October, 2007. During his tenure, he has helmed the Playhouse's productions of Hollywood, The Darrell Hammond Project, Chasing the Song, His Girl Friday, Glengarry Glen Ross, A Dram of Drummhicit, A Midsummer Night's Dream, Restoration and the musicals Escape to Margaritaville, Xanadu, Memphis, which won four 2010 Tony Awards including Best Musical, and Come From Away, for which he won the 2017 Tony Award for Best Director of a Musical. He also spearheaded the Playhouse's Without Walls (WOW) series, the DNA New Work Series and the Resident Theatre program. Prior to joining the Playhouse, he directed the Broadway productions of Xanadu (Drama Desk nomination), All Shook Up and The Rocky Horror Show (Tony, Drama Desk and Outer Critics Circle Award nominations), as well as the Kennedy Center Sondheim Celebration productions of Sweeney Todd and Merrily We Roll Along. Other New York credits include: Blown Sideways Through Life, Jeffrey (Lucille Lortel and Obie Awards), The Most Fabulous Story Ever Told, Valhalla, Regrets Only, Wonder of the World, Communicating Doors, Bunny Bunny, The Night Hank Williams Died and Fires in the Mirror (Lucille Lortel Award), among others. Mr. Ashley also directed the feature films Jeffrey and Lucky Stiff, as well as the American Playhouse production of Blown Sideways Through Life for PBS. Mr. Ashley is the recipient of the Princess Grace Award, the Drama League Director Fellowship and an NEA/TCG Director Fellowship.
Cypress, Texas-born Robert Askins (Playwright: The Squirrels) is the author of the Tony-nominated and Obie Award-winning Broadway hit, Hand to God, which enjoyed a run on London's West End and was nominated for the Olivier Award for Best New Comedy. His comedy Fish Display was part of the 2012 Ojai Playwrights Conference, and his play Permission, also developed at OPC, had its world premiere off-Broadway at MCC Theater in spring 2015. Askins is currently working on a new a musical and plays with La Jolla Playhouse, The Alley Theatre, and Joey Parnes Productions. In addition, he's a writer on the AMC series The Son, starring Pierce Brosnan. He is the recipient of two EST/Sloan grants, the Helen Merrill Emerging Playwrights Award, and an Arch and Bruce Davis Award for Playwriting. Askins is a graduate of Baylor Unversity in Waco Texas.
Jaime Castañeda (Director: Seize the King) joined the Playhouse in 2014 as Associate Artistic Director, where he has directed At the Old Place by Rachel Bonds, Tiger Style! by Mike Lew and Guards at the Taj by Rajiv Joseph. Other productions include: The Elaborate Entrance of Chad Deity by Kristoffer Diaz (Dallas Theater Center), Chimichangas and Zoloft by Fernanda Coppel (Atlantic Theater Company), How We Got On by Idris Goodwin (Cleveland Playhouse), The Royale by Marco Ramirez (American Theater Company), Welcome to Arroyo's by Kristoffer Diaz (The Old Globe), and Red Light Winter by Adam Rapp (Perseverance Theatre). He has also developed new plays with the O'Neill, Rattlestick Theater, Portland Center Stage, Denver Center Theater, The Kennedy Center and the Atlantic Theater Company, where he spent five seasons as Artistic Associate. He is a Drama League fellow and has received the Princess Grace Award and the TCG New Generations Grant. M.F.A. in Directing from The University of Texas at Austin.
Lindsey Ferrentino (Playwright: The Year to Come) is a New York-based playwright originally from Florida, where many of her plays are set. Her critically-acclaimed Ugly Lies the Bone was a New York Times Critic's Pick and played a sold-out, extended run at Roundabout Theatre before being produced at The National Theatre in London. In the 2017/2018 season in New York, her play Amy and the Orphans will premiere at Roundabout Theatre and This Flat Earth at Playwrights Horizons. Other plays include Kokomo, Magic Man, Moonlight on the Bayou and Paradise Bar and Grill. Ferrentino is the recipient of the 2016 Kesselring Prize, Laurents/ Hatcher Citation of Excellence, ASCAP Cole Porter Playwriting Prize, Paul Newman Drama Award, 2015 Kilroys List, finalist for the Susan Smith Blackburn, nominated for the Outer Critics Circle John Gassner Award, and is the only two-time finalist for the Kendeda Playwriting Prize. She is currently under commission from Roundabout, The Geffen, and South Coast Rep. She holds a B.F.A. from New York University's Tisch School of the Arts, and has two M.F.A.'s in playwriting from Hunter College and The Yale School of Drama.
Martyna Majok's (Playwright: queens) plays have been presented at Williamstown Theatre Festival, Manhattan Theatre Club, Actors Theatre of Louisville, Steppenwolf Theatre Company, Rattlestick Playwrights Theatre, Women's Project Theatre, Ensemble Studio Theatre, and The John F. Kennedy Center, among others. Awards include The Dramatists Guild's Lanford Wilson Award, The Lilly Award's Stacey Mindich Prize, Helen Merrill Emerging Playwright Award, Charles MacArthur Award for Outstanding Original New Play at The Helen Hayes Awards, The Ashland New Plays Festival Women's Invitational Prize, The Kennedy Center's Jean Kennedy Smith Award, David Calicchio Emerging American Playwright Prize, New York Theatre Workshop's 2050 Fellowship, Aurora Theatre's Global Age Project Prize, and the NNPN/Smith Prize for Political Playwriting. Commissions from Lincoln Center, The Bush Theatre in London, The Geffen Playhouse, La Jolla Playhouse, South Coast Rep, and Manhattan Theatre Club. BA: University of Chicago; MFA: Yale School of Drama; Juilliard. Alumna of EST's Youngblood and Women's Project Lab. Currently, a Core Writer at Playwrights Center and a member of The Dramatists Guild, The Writers Guild of America East, and New York Theatre Workshop's Usual Suspects. Martyna was a 2012-2013 NNPN Playwright-in-Residence and the 2015-2016 PoNY Fellow at the Lark Play Development Center. Upcoming: queens at LCT3/Lincoln Center.
Will Power (Playwright: Seize the King) is an award-winning playwright and performer. His Playhouse credits include The Seven and the Performance Outreach Program (POP) Tour of Honey Bo and the Goldmine. Other plays include Stagger Lee (Dallas Theater Center), Fetch Clay, Make Man (New York Theater Workshop, Roundhouse Theatre, True Colors Theater); Steel Hammer with Siti Company (Humana Festival, Brooklyn Academy Of Music); Five Fingers of Funk! (Children's Theatre Company); and two internationally-acclaimed solo shows: The Gathering and Flow. Current projects in development-The Midnight Special (Burt Sugarman Productions), The First Grader (featuring Ben Vereen), the Gospel musical Wade in the Water and Detroit Red (Arts Emerson). Power's numerous awards include a Doris Duke Artist Award, United States Artist Prudential Fellowship, TCG Peter Zeisler Memorial Award, Jury Award for Best Theatre Performance at the HBO US Comedy Arts Festival, and the Trailblazer Award from The National Black Theater Network. His numerous film and television appearances include The Steven Colbert Report (Comedy Central) and Bill Moyers on Faith and Reason (PBS). Power spent his early years as a key member in two critically-acclaimed avant-garde music groups, Midnight Voices and the Omar Sosa Sextet. He has also held a number of artist fellowships and guest teaching positions at institutions such as CCNY, Princeton University and the University of Massachusetts, Amherst. He was a guest of the U.S. State Department on five separate occasions, traveling to South Africa, Botswana, Lesotho, Turkmenistan and Kyrgyzstan. On these trips and others, Power taught community workshops in shantytowns, worked with poets in former regimes of the Soviet Union, and lectured at various libraries, grammar schools and colleges. He is currently on the faculty at The Meadows School of the Arts/SMU, and is the Andrew W. Mellon Foundation Playwright-in-Residence with Dallas Theatre Center.
The Tony Award-winning La Jolla Playhouse is internationally-renowned for creating some of the most exciting and adventurous work in American theatre, through its new play development initiatives, its innovative Without Walls series, artist residencies and commissions. Currently led by 2017 Tony Award-winning Artistic Director Christopher Ashley and Managing Director Michael S. Rosenberg, the Playhouse was founded in 1947 by Gregory Peck, Dorothy McGuire and Mel Ferrer, and reborn in 1983 under the artistic leadership of Des McAnuff, La Jolla Playhouse has had 30 productions transfer to Broadway, garnering 38 Tony Awards, among them the currently-running, Tony Award-nominated musical Come From Away, Jersey Boys, Memphis, The Who's Tommy, Big River, as well as Billy Crystal's 700 Sundays and the Pulitzer Prize-winning I Am My Own Wife, both fostered as part of the Playhouse's Page To Stage Program. Visit www.LaJollaPlayhouse.org.