Wake Up With BWW 3/19: OKLAHOMA! on Broadway Begins Previews, and More!
Good morning, BroadwayWorld, and happy Tuesday! Kick off another work day by catching up on the latest Broadway news!
First, we'd like to wish a happy first preview to Oklahoma! on Broadway which begins previews tonight at the Circle in the Square Theatre!
It's official! Jeremy Jordan is headed to the diner as the new Dr. Pomatter in Waitress! He will take over the role on April 8 and perform opposite Shoshana Bean as Jenna through May 12.
Ginna Claire Mason will take over the role of Glinda on Broadway! She joins the company after having spent the last year playing Glinda on tour!
The Wanderer is eyeing a Broadway run following its just-announced run at Paper Mill Playhouse. It will play the New Jersey theatre in the Spring of 2020, before transferring to Broadway at a time yet to be announced!
Speaking of Paper Mill, the theatre just announced its next season! In addition to The Wanderer, the 2019-2020 season will include Unmasked, Chasing Rainbows, and more!
Read more about these and other stories below! Want our morning reports delivered via email? Subscribe here!


1)

THE WANDERER Eyes Broadway Run Following Paper Mill Debut
The Wanderer, a new musical based on the life of Rock n' Roll Hall-of-Famer Dion DiMucci, the multi-platinum selling American music pioneer, will open at New Jersey's Paper Mill Playhouse in the Spring of 2020 prior to a Broadway run.. (more...)
---
2)

CONFIRMED: Jeremy Jordan Will Play Dr. Pomatter in WAITRESS
It's official! Tony Award nominee Jeremy Jordan will take over the role of Dr. Pomatter on April 8 and will perform opposite Shoshana Bean as Jenna through May 12. As previously announced, Joey McIntyre will play his final performances on April 7.. (more...)
---
3)
UNMASKED, CHASING RAINBOWS, THE WANDERER and More Announced for Paper Mill's 2019/2020 Season
Paper Mill Playhouse announces the lineup for its 2019-2020 season with three premieres and a total of five musicals.. (more...)
---
4)

Leicester Curve Addresses THE COLOR PURPLE Cast Member's Homophobic Comments
Last Friday, on Twitter, Hamilton actor Aaron Lee Lambert shared a screenshot of a Facebook post by Oluwaseyi (Seyi) Omooba - who had just been announced as playing Celie in Leicester Curve and Birmingham Hippodrome's revival of musical The Color Purple.. (more...)
---
5)
Thank Goodness! Ginna Claire Mason Will Join WICKED As Glinda
Beginning performances Tuesday, April 9, Ginna Claire Mason will assume the role of Glinda in the Broadway production of WICKED.. (more...)
---
---
Today's Call Sheet:
OKLAHOMA! begins previews on Broadway tonight!
Rodgers & Hammerstein's Oklahoma! plays Broadway's Circle in the Square Theatre with performances beginning Tuesday, March 19, 2019 and an official opening on Sunday, April 7, 2019. It will play a limited engagement through Sunday, September 1, 2019.
Directed by Daniel Fish, Rodgers & Hammerstein's Oklahoma! comes to Broadway direct from a critically acclaimed, sold out run at St. Ann's Warehouse this past fall. The cast stars Will Brill as Ali Hakim, Anthony Cason as Cord Elam, Damon Daunno as Curly McLain, James Davis as Will Parker, Gabrielle Hamilton as Lead Dancer, Rebecca Naomi Jones as Laurey Williams, Will Mann as Mike, Mallory Portnoy as Gertie Cummings, Ali Stroker as Ado Annie, Mitch Tebo as Andrew Carnes, two-time Tony Award-nominee Mary Testa as Aunt Eller and Patrick Vaill as Jud Fry. The cast also includes: Chris Bannow, Demetia Hopkins-Greene, Sasha Hutchings, Denver Milord, Kristie Dale Sanders, Chelsea Lee Williams.
---
BWW Exclusive: LITTLE KNOWN FACTS with Ilana Levine and Special Guest Mario Cantone!
BroadwayWorld has teamed up with Broadway actress Ilana Levine, who makes her entrance onto the podcast stage with her critically acclaimed show Little Known Facts. Ilana's unique brand of celebrity interview, "Podcast Vérité," is unfiltered, raw, honest and uniquely funny.
Mario Cantone, the celebrated New York stage actor and stand-up comedian gained critical acclaim with his Tony-nominated one-man show Laugh Whore, from its appearance at the Cort Theatre on Broadway to the Showtime Network special. Read more about Mario Cantone here!
---
Set Your DVR...
-Phoebe Waller-Bridge will appear on LATE NIGHT WITH Seth Meyers tonight!
-Taye Diggs will appear on BUSY TONIGHT!
---
What we're geeking out over: Go Way Down and Meet The Cast of HADESTOWN on Broadway!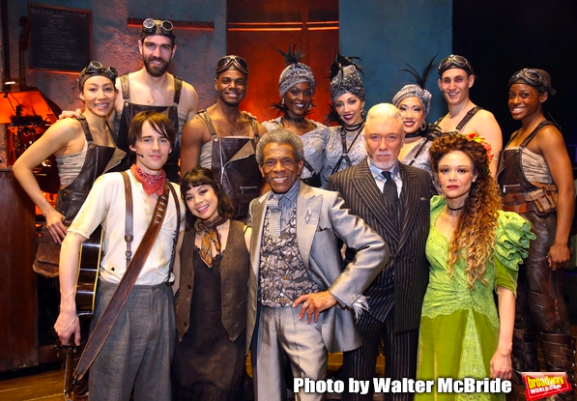 Later this week, on March 22, Hadestown will begin preview performances at the Walter Kerr Theatre, ahead of a Wednesday, April 17 official opening night. The company just met the press and you can check out a photo preview from the big day here!
Hadestown follows two intertwining love stories - that of young dreamers Orpheus and Eurydice, and that of King Hades and his wife Persephone - as it invites audiences on an epic journey to the underworld and back. Mitchell's beguiling melodies and Chavkin's poetic imagination pit nature against industry, faith against doubt, and love against fear. Performed by a vibrant ensemble of actors, dancers and singers, Hadestown delivers a deeply resonant and defiantly hopeful theatrical experience.
---
What we're watching: Max von Essen Sings 'Father to Son' from FALSETTOS on Tour
BroadwayWorld has a first look at Max von Essen singing Father to Son in Falsettos on Tour! Check out the video!
The full cast is led by Broadway superstars Nick Adams as "Whizzer," Nick Blaemire as "Mendel," Eden Espinosa as "Trina" and Max von Essen as "Marvin," with Audrey Cardwell as "Cordelia," Bryonha Marie Parham as "Dr. Charlotte," and just-announced Thatcher Jacobs and Jim Kaplan sharing the role of "Jason." Rounding out the company are Josh Canfield, Melanie Evans, Megan Loughran and Darick Pead.
---
Social Butterfly: Hugh Jackman Teases Star Turn in THE MUSIC MAN
BroadwayWorld reported earlier this week that the star of stage and screen, Hugh Jackman, will be returning to Broadway late next year in The Music Man. Jackman posted a video to his Instagram that further teases his upcoming role!
This return comes after a smash turn in the musical film The Greatest Showman, for which he received a Golden Globe nomination and launched him into his worldwide tour beginning this year.
Jackman is no stranger to the stage having appeared on Broadway four separate times and earning a Tony Award in 2004 for his performance as Peter Allen in The Boy from Oz. He has also adapted one of the most iconic stage characters for the screen, playing Jean Valjean in Les Misérables, which earned him his first Academy Award nomination.
---
And a Happy Birthday shout-out to Glenn Close, who turns 72 today!
A six-time Academy Award nominee, Close recently starred in the title role of the film adaptation of Meg Wolitzer's bestselling novel, The Wife, with Jonathan Pryce and Christian Slater for Swedish director Bjorn Runge.
Close reprised her Tony Award-winning role in Andrew Lloyd Webber's musical Sunset Boulevard in a new production at the London Coliseum in the Spring of 2016. For that performance she won a London Evening Standard Award and was nominated for an Olivier Award. The full production, starring Close, opened on Broadway this February, for an exclusive limited engagement.
Close made her feature film debut in George Roy Hill's The World According to Garp, earning her awards from the Los Angeles Film Critics Association and the National Board of Review as well as her first Academy Award nomination. She was subsequently Oscar-nominated for The Big Chill, The Natural, Fatal Attraction and Stephen Frears' Dangerous Liaisons.
Close received her sixth Academy Award nomination in 2012, along with Golden Globe and SAG nominations, for Albert Nobbs. She wrote the screenplay with (Man Booker prize-winning novelist) John Banville.
Her recent film appearances include What Happened to Monday, The Girl With All the Gifts, Wilde Wedding and the upcoming comedy Father Figures. Her film credits include Richard Marquand's Jagged Edge, Barbet Schroeder's Reversal of Fortune, Franco Zeffirelli's Hamlet, István Szabó's Meeting Venus, Ron Howard's The Paper, Stephen Herek's 101 Dalmatians, Kevin Lima's 102 Dalmatians, Wolfgang Petersen's Air Force One, Robert Altman's Cookie's Fortune, Rose Troche's The Safety of Objects, Merchant Ivory's Le Divorce, Chris Terrio's Heights, Rodrigo García's Things You Can Tell Just by Looking at Her and Nine Lives, Evening, Low Down, 5 to 7, Anesthesia, The Great Gilly Hopkins and Guardians of the Galaxy.
Close made her theatre, and Broadway, debut in Harold Prince's revival of Love for Love. Her theater credits include The Crucifer of Blood, The Singular Life of Albert Nobbs (Obie Award), Barnum (Tony nomination) and Tony Awards for her performances in The Real Thing and Death and the Maiden, both directed by Mike Nichols. In London, she reteamed with the director of the original Sunset Boulevard stage production, Trevor Nunn, in his Royal National Theatre revival of A Streetcar Named Desire. She returned to Broadway for the 2014 revival production of Edward Albee's A Delicate Balance.
Upcoming, Close will reprise her role in Sunset Boulevard's film adaptation!
---
See you bright and early tomorrow, BroadwayWorld!
Related Articles