WAR PAINT Now Available for Licensing Through Samuel French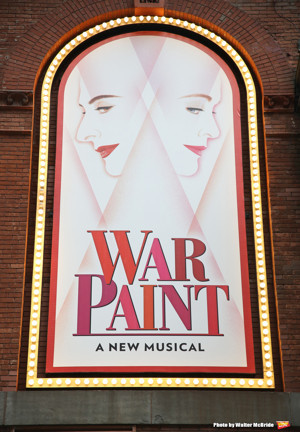 Samuel French, the world's premier theatrical publishing and licensing company, has announced the representation of performance rights for the American musical War Paint.
War Paint is an original musical with book by Doug Wright, music by Scott Frankel, and lyrics by Michael Korie, and focuses on the lives of and rivalry between 20th century female entrepreneurs Elizabeth Arden and Helena Rubinstein. The musical is based on Lindy Woodhead's 2004 book War Paint and the 2007 documentary film The Powder & the Glory by Ann Carol Grossman and Arnie Reisman.
"I'm delighted that Samuel French is handling War Paint, " Doug Wright commented. "In these challenging times, it was a joy to write a musical that's a rousing tribute to two of the most unapologetically ambitious, strong-willed, and colorful women in American history."
The musical premiered at The Goodman Theatre in Chicago and was followed by an acclaimed 2017 run on Broadway where it garnered four Tony Award nominations. Now that the title is available for licensing, regional theaters around the country can look forward to strong leading women taking their own stages by storm.
"We are excited to add War Paint to our musical catalog," adds Bruce Lazarus, Executive Director of Samuel French, Inc. "It features two of the juiciest women's roles in the musical theatre canon."
War Paint starred Patti LuPone and Christine Ebersole in their tour de force performances as two women with contrasting humble beginnings: Rubinstien, as the Jewish Polish immigrant, and Arden, as the Canadian farm girl, both of whom rise to formidable beauty-industry magnates and opponents. Wright's decade-spanning book focuses not only on the cosmetic industry, which these ladies forged, but to the glass ceilings that these women absolutely shattered. Yet each held a complex relationship with their male subordinates, who are richly captured in the tuneful songs by composer Frankel and evocative lyrics of Korie.
MORE ABOUT SAMUEL FRENCH
Samuel French is the world's leading publisher and licensor of plays and musicals. The company's catalog features some of the most acclaimed work ever written for the stage and titles by writers at the forefront of contemporary drama. Samuel French is proud to have served as a leader in theatrical publishing and licensing for over 180 years and is committed to the future by championing for playwrights, innovating the industry, and celebrating all those who make theatre around the world.
Photo Credit: Walter McBride / WM Photos

Related Articles
More Hot Stories For You