Travis Moser Releases New Broadway Tribute Album THE MIDTOWN SESSIONS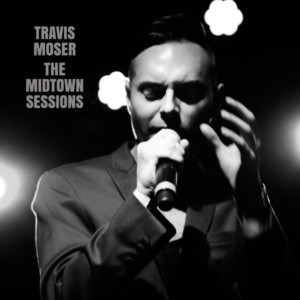 Travis Moser, a staple of the New York City cabaret scene, has released a new album of songs in tribute to the women who have inspired him along the way. His latest EP titled The Midtown Sessions celebrates the iconic divas of Broadway and beyond who have influenced Moser's recording and concert work to date.
Covering the diva gamut, the track list includes Betty Buckley, Patti LuPone and Barbra Streisand's "As if We Never Said Goodbye," Chita Rivera's "All That Jazz," Dorothy Collins and Barbara Cook's "Losing My Mind" and Linda Ronstadt's "Adios." From an early age of lip-syncing their songs in his childhood bedroom, these distinguished artists have impacted Moser's work to date (including continued lip-syncing sessions in his adult bedroom!).
Conceived in the style of the great cabaret artist, Julie Wilson-just the singer and piano-The Midtown Sessions and was recorded live at The Smooth Spot Recording Studio in Midtown Manhattan.
Download now via iTunes, Apple Music, Spotify, Amazon and everywhere music is sold or streamed.
Next up, Travis will be a headliner at this year's 15th Annual Madonnathon at the legendary Highline Ballroom along with a rotating line-up of performers that includes Brian Charles Rooney (Bway: Threepenny Opera), Amber Martin (Mattachine, Amber Alert), Shannon Conley (Bway: Hedwig, Led Zeppelin) and many more! Visit www.TravisMoser.com for more information.
Cabaret, concert and recording artist Travis Moser has packed houses and won acclaim for his solo shows in NYC and around the country. His solo show, This Can't Be Love: The Songs of Rodgers and Hart, played sold out stints at Feinstein's/54 Below, The Metropolitan Room and The Strand Theater, among others. Other recent shows include Love Bites at Joe's Pub at The Public Theater, Madonnathon at Brooklyn Bowl and The Highline Ballroom, where he'll be performing this October, and Remembering Elaine, a salute to the great Elaine Stritch, which also featured Annaleigh Ashford, Tony Danza, Lisa Brescia and Pia Zadora. Travis has also performed his solo shows at Joe's Pub at The Public Theater, Feinstein's/54 Below, Birdland, The Laurie Beechman Theater, The Duplex, The Iguana, The National Arts Club and The Strand Theater, among countless others.
Travis is also an accomplished recording artist. His many albums and singles can be found on iTunes, Apple Music, Spotify, Amazon and everywhere music is sold. Recently, Travis teamed up with Broadway Cares/Equity Fights AIDS for his recording of "Fifty Percent" from the Broadway musical, Ballroom. Both of Travis's full-length albums were nominated for the Broadwayworld.com Album Awards.
Regionally, Travis had the opportunity to work with two-time Tony® Award nominee Margot Sappington in the Pittsburgh Playhouse production of Jekyll and Hyde. Other regional credits include Action in West Side Story, Jack in Into the Woods, Master Nick Cricker in The Mystery of Edwin Drood and Joseph in Joseph and the Amazing Technicolor Dreamcoat, and was a featured soloist in Disney and More: The Music of Menken and Rice at the historic Strand Theater, among others.
On camera, Travis has been a featured soloist on The Children's Hospital Free Care Benefit Show for CBS and is currently a National Anthem soloist for the New York Roadrunners (NYRR) organization and the Staten Island Yankees.
Travis is THRILLED to have the distinction of being officially inducted into the Guinness World Records as a featured vocalist in the Metropolitan Room's Longest Variety Show! Visit www.TravisMoser.com for more info!