TILL WE MEET AGAIN Premieres At The Theater At The 14th Street Y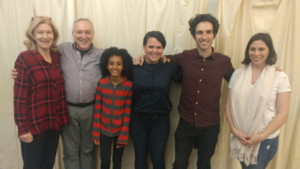 Planet Connections Theater Festivity in partnership with The Theater at the 14th Street Y present a powerful new play written by Glory Kadigan and directed by Broadway veteran, Tonya Pinkins:
The horrors of war confront a former WWII surgeon in Glory Kadigan's riveting play featuring David L. Carson as Robert, a former surgeon having served in Guadalcanal during World War 2, Kadigan's work explores the regrets of his youth and how his granddaughter helped him confront them. Broadway veteran, Tonya Pinkins, helms this premiere at the Theatre at the 14th Street Y, 344 E 14th St, New York City.
The production features Mehret Marsh,* June Ballinger,* Perri Yaniv,* David L. Carson,* Mary Monahan, and Gina Lemoine
Running January 11-26. Tickets available at https://14streety.secure.force.com/ticket#details_a0S36000007OsctEAC.
Glory Kadigan ( Playwright) founded Planet Connections Theatre Festivity and served as The Producing Artistic Director for six seasons. Her work as a playwright has been presented in Singapore, London, and New Zealand. Her plays have received staged readings at La MaMa, The Actors Studio, TADA, and Dixon Place. She is also a director who recently directed Vivian's Music 1969 at 59E59, Clover by Erik Ehn at La MaMa, Bank by Lucy Thurber, Mean Girls by Lyle Kessler (World Premiere), Biting The Bullet by Regina Taylor ( World Premiere). Ms. Kadigan is a member of The League of Professional Theatre Women which looks to promote the viability of women in the arts.
Tonya Pinkins directed Paul Robeson: The Opera at TRILOGY OPERA Company in 2018. BRING IT ON at Black Spectrum Theater in 2018. Tonya's short film "WHAT CAME AFTER which she produced, directed and adapted with Christopher Oscar Pena's from his play by the same name at the 2016 at Eclectic Festival. Tonya Directed EXIT: An Illusion by Marita Bonner in American Bard Theater's "Visionary Voices" She directed "Miss Roj" from THE COLORED MUSEUM for Project One Voice at The Kimble Theater.She directed A Visit Home by Jeffrey Sweet in 2013. Tonya co-directed by EASY TO LOVE by Larry Powell in the Fire This Time Festival.FOR COLORED BOYS by Jesse Alick in 48 Hours in Harlem. She has been developing Blaine Teamer's # BoxSeats at NYTW and in National Black Theater's Monday Night Reading series. She has directed V-Day the Vagina Monologues at The World Health Ministry Conference in Mexico. The Klucking of Hens by Carol Lockwood at New Professional Theater, Camille Darby's LORD'S RESISTANCE at The National Black Theater Festival in Winston Salem. DEAD PEOPLE's THINGS by Patricia Ione Lloyd at Red Circle Rising. Tonya is a Tony, Obie Drama Desk, Outer Critics Circle and Lortel Award winning actor, She teaches privately.. Tonya is the author of Get OVER YOURSELF : How to Drop The Drama and ClaimThe Life You Deserve (Hyperion Books), Tonya is the Producer, Director and a Co-writer of the TRUTH and RECONCILIATION OF WOMYN Plays which will be presented at The Commons in Brooklyn on February 4, 2019 and excerpted on WBAI Radio produced by EnGarde Arts, #HealMeTooFestival March 28-April 14, 2019 at IRT Theaters and at The 14th Street Y in July 2019. To make donations to this empowering social justice project by and about womyn visit https://thefield.org/sa/620277.